We have compiled a list of filters and how you can use them to make your pictures PERFECT for the world to see! Make the most out of your Instagram experience by using Instagram filters. These are specific effects that you can add to your posts and stories to enhance their quality.
Instagram filters are a great way to lend an artsy feel to your posts and stories. They are very straightforward to look for and apply, making them an attractive option for users. From high-contrast filters like 'Clarendon' to immersive AR filters that can turn you into angels and fairies, there are a variety of options for you to choose from.
Instead of just posting boring everyday pictures why not have some fun by adding dragon face or satan ears to your images just like this:
When posting photos, Instagram allows you to choose from a list of 25 filters, so you're spoilt for choice. In this article, we'll take a detailed look at how to find and apply different types of Instagram filters.
How to Apply Instagram Filters for Photos
Open your Instagram application and on the home screen, tap on the plus sign towards the bottom at the center of the screen.
From here, you can choose to post a new picture or scroll through your gallery to select an existing one to upload. Once you're done, tap the 'Next' button in the upper right corner of your screen.
The app will now redirect you to a screen showing the picture you selected. Below the picture, there will be a row of filters for you to choose from. Keep scrolling right to see the whole list.
In order to apply an Instagram filter, simply tap on that filter once. To further adjust the filter's strength, tap on it one more time.
To edit the order of the filters as they appear, hold a specific filter and drag it left or right.
To choose the right Instagram filter for yourself, you can check out this study by Canva. It takes an in-depth look at the most popular Instagram filters for photos.
How to Edit Your Photos After Applying Instagram Filters
Once you have applied your chosen filter, there is a chance you still might not be satisfied with the result. This is where Instagram editing tools come in. Next to the 'Filter' option, you'll see the 'Edit' option. Tap on that, and you'll see many editing choices, ranging from 'Brightness' to 'Tilt Shift'. Choose any of the options available to edit your photos further. You can read more detailed descriptions about each editing option here.
How to Apply Instagram Filters to New Stories
If you want to create an Instagram story with cool AR effects, follow these steps.
Swipe left on your Instagram homepage to open the camera. Near the bottom of the screen, next to the shutter button, you'll find a list of filters to choose from. If you want, you can also just click on the shutter button, and then swipe left for the 'City' filters. We'll discuss them in the next section.
If you want to see more filters, keep on scrolling left till you arrive at the magnifying glass (Browse Effects).
This brings you to the 'Effects Gallery'. Tap on any filter you like or swipe through the categories available at the top. To search filters by keywords, simply tap on the magnifying glass at the top right of the screen.
Once you have chosen your filter, tap on the 'Try It' option on the bottom left of the filter screen. To save the filter effect, tap on the down arrow pointing downwards, towards the bottom right of your screen.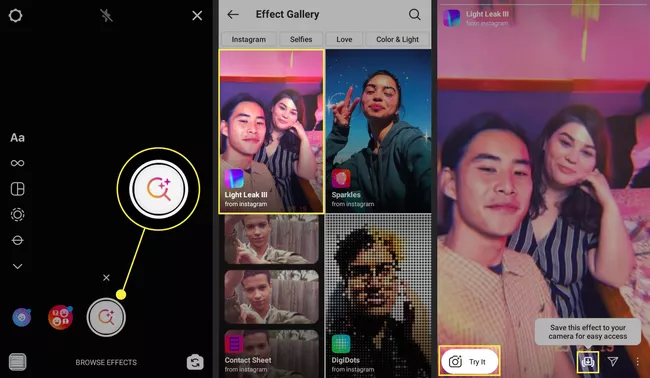 To help you decide the best filter for yourself, you can view this detailed list of some of the best Instagram filters for stories.
How to Apply Filters to Pre-Existing Stories
Above, we have walked you through the journey of applying a variety of filters to new stories. Now, we'll guide you through applying Instagram filters to pre-existing stories, or stories you choose from your gallery.
Swipe left on your homepage to open the camera.
On the bottom left of your screen, choose the gallery option.
Once you have chosen your photo, simply swipe left to check out the available filter options. There are 11 filters in total, each named after different cities in the world. Select the one that best fits your story and let it do the magic!
How to Get Instagram Filters From Others' Stories
You can also find and use Instagram filters and AR effects from other people's stories. They could either be your followers, an account you're following or any public account.
Whenever you view a story featuring an AR Instagram filter, the name of the filter is shown. For example, In the picture below, the filter name is 'DXTRIX' by the creator 'haroldmintah'.
If the effect creator has enabled the swipe-up link, that's good news. You can swipe up from the bottom of the device while viewing the story. This will redirect you to your camera screen with the filter in effect. You can then save the filter by tapping on the down arrow towards the bottom right of your screen, or by simply clicking on the filter name.
Final Words
For almost a decade, people have been using Instagram filters to make their profiles more attractive and interactive for visitors. They provide a great way to give your photos and stories a specific tone and style. With the recent introduction of AR filters, Instagram has really taken filters to the next level.
Today's social media users give huge importance to the aesthetics of their posts and stories. Instagram filters provide them the best way to quickly edit their photos without resorting to expensive and time-consuming software. It is safe to say that in the coming years, Instagram filters will continue to evolve to meet the changing needs of users.
The steps to apply different Instagram filters are very easy, as shown in this article. Once you're done applying your favorite filters, get ready to marvel at the end result!
Have anything to add? Let us know your thoughts in the comments below!
---