You love to shop online, right? But sometimes you add items to the cart but don't always buy it; that's called cart abandonment. This happens when either a loyal or prospective customer visits your ecommerce store looking for something they want. But before checking out and confirming payment details, they back out. This can happen due to a plethora of reasons which we will be highlighting in this article. Abandoned cart recovery has become more important than ever. If cart abandonment rates increase, it can be a cause of concern for business owners. Hence, adopting strategies once you start noticing this recurring problem is important. 
What Causes Cart Abandonment?
When cart abandonment occurs, brands tend to blame the customer and move forward. This, however, shouldn't be the case. In order to recover abandoned carts brands must understand what is the cause of such a thing.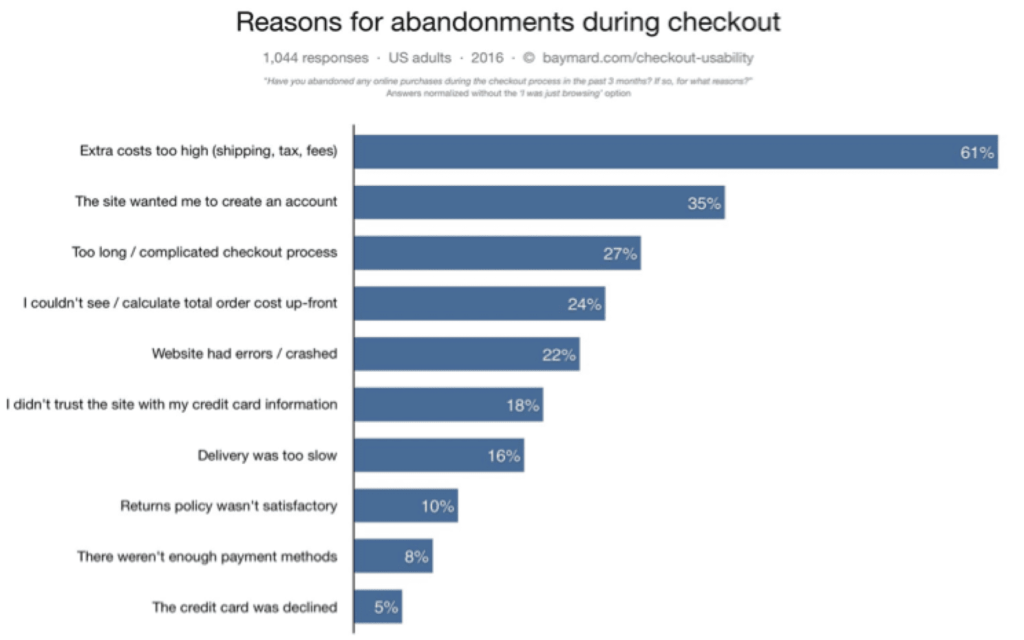 Sky-High Additional Costs
Imagine that you are shopping and you find something interesting. You add it to your shopping cart. But when you see additional expenses such as high shipping costs or even taxes. This literally makes one's eye pop out, making them just close the tabs. Some customers even add products to their shopping carts so they can see what the final amount is. If the total exceeds their budget, it's unlikely that they will go forward with the purchase.
Time-Consuming Checkout Process
Consumers won't make a positive buying decision if the checkout process requires multiple clicks and verifications. This is why a vast majority of customers don't complete their purchase. It's like building stairs instead of an elevator; with each added step, the prospective client would regret ever getting on them. Similar is the buying experience in an e-commerce store. Anything that doesn't lead a customer towards checkout is a hurdle. The additional steps also hurt the user experience to such an extent that they may never want to visit your store again.
Security Issues
If you want to make payment through your card, you would want the store's website to be secure. This prevents the risk of your credit card information being used by fraudsters. So if you have a secure payment gateway, convey that information to prospective customers. This would allow them to complete the checkout process without worrying about anything.
Website Performance Issues
If the website is being unresponsive, individuals won't even spend a second on your store. They would much rather buy from your competition, even if they offer similar products at a higher price. If your website shows an error message or crashes, it's a sign that you need to update its build. When such a thing becomes common on your website, you will experience a dip in sales.
Limited Payment Methods
In this era where Fintech companies are rapidly developing, people are opting for financial services from companies offering better rates. If an e-commerce store doesn't offer the customer's preferred payment method, they may lose the sale. An online store should practice flexibility in this regard. Individuals are more than likely to abandon carts if the business has a rigid payment method.
Abandoned Cart Recovery: How to Recover?
Cart abandonment is a serious issue that brands face but resolving it instantly is essential. Companies can recover their carts by implementing the following strategies:  
Include CTAs
Ensure that shoppers are provided with clear instructions once they have added items to their carts. It is important to make it obvious that the items have been successfully added to the cart. Some websites can be too subtle in this regard, but it is advantageous to be explicit. Reebok, for instance, displays a message confirming the addition of the products and suggesting the shopper's next steps.
Providing the option to proceed directly to checkout is also a convenient shortcut. Following this, a distinct call to action (CTA) is presented on the shopping cart page, with two prominent links that lead to checkout. With a well-designed CTA, shoppers should not abandon their purchases due to confusion about what to do next.
Flexible Delivery Options
The determination of customers to purchase can be heavily influenced by the shipping times and prices. A major cause of shopping cart abandonment is the practice of some websites that only reveal actual shipping costs at checkout.
This means some customers may add items to their cart or even intend to buy, only to be discouraged by the high delivery charges. Additionally, customers have different shipping preferences, with some seeking free or low-cost delivery while others prioritize speed and convenience. Websites should strive to offer various delivery options that cater to the diverse preferences of their customers.
Allow Guest Accounts
Requiring shoppers to register and create an account before proceeding to checkout can impede the purchase process. This can be perceived as an additional effort for shoppers, and consequently, some customers may abandon their shopping carts due to this requirement.
When it is not entirely essential (although some sites like grocery stores have a more compelling argument for registration), it is advisable to avoid this obstacle and provide alternative guest checkout options.
Send Reminders
During the checkout process, customers may experience uncertainties regarding costs or may question whether they have selected the right product. Displaying a cart summary throughout the checkout process enables shoppers to confirm their order's accuracy before finalizing the purchase.
This practice eliminates the need for shoppers to leave the checkout page to verify their order, minimizing the risk of cart abandonment. For instance, Reebok presents a comprehensive summary of the contents and costs, and sends reminder emails with accompanying images for a swift visual reference.
Opt for Conversion Messages
Implementing targeted on-site conversion messages can mitigate cart abandonment. This happens when shoppers are indecisive and want to leave without purchasing anything. For instance, it can convey the product's popularity and even highlight discounts customers will miss if they abandon their cart.
Cart Abandonment Rate: The Future
In 2023, e-commerce stores would use exit-intent pop-ups. It is going to be a useful tool that can be utilized to retain potential customers who are on the verge of leaving your website. By detecting when users are about to switch to another tab or close the current one, exit-intent popups can be activated, offering customers an irresistible deal. Implementing exit popups on every page of your website is recommended to reduce ecommerce cart abandonment. To maximize the effectiveness of these pop-ups, they can be added to both product and checkout pages, accompanied by enticing offers, coupons, or additional information.
Featured Image: Moosend
---