Are you looking to buy a new smart TV? Have you grown bored with the old box of technology you have had in place for years now? Well, you have come to the right place then. We have done thorough research to provide you with quality options for the best smart TV available in the market.
To make things simpler, we will be dividing this review into the following sections so you can choose which TV best suits your needs.
Best-LED TV
Best-OLED/AMOLED TV
Best-AMOLED TV
Best-4K/8K/UHD/Full HD resolution TV
Our focus will be on recommending you options that have the latest smart TV features and provide the best viewing experience. The aim is to ensure you invest money in the right place.
The Best Smart TV – Understanding the Basics
Not everyone is aware of all these complicated terms such as LED, OLED, and their difference. Things like these make it challenging to understand what you want. For this purpose, let's first go over the basics to have an idea about what you are getting yourself into.
Difference Between LED, OLED, and AMOLED
The first thing you need to know is that LED TVs are simply LCD TVs that use LED backlights. The same is the case for OLED TVs; however, there is a small (or a technologically advanced) difference between them.
An LED TV uses light-emitting diodes (LEDs) that produce the required backlight instead of CCFLS, which was done in older LCD TVs. However, for an OLED TV, they use an organic substance that lights up when current is passed through it.
OLED TVs are more advanced as they use a technology in which each pixel self-light (or switch on and off) individually. This provides a better contrast ratio, wider field of view (FoV) – upto 180 degrees, lighter in weight, and greater sense of depth, as compared to LED TVs.
What about AMOLED TVs? They use the same technology as an OLED TV but comprise an extra layer(s) of thin-film transistors (TFT). The extra layer of transistors and capacitors helps maintain the pixels and lessen the darkness of black compared to an OLED TV. This is also why you can't see an AMOLED TV screen under direct sunlight.
AMOLED (pioneered by Samsung) can be considered the most popular sub-category of OLEDs and they are widely used in large displays. The display quality of AMOLED is much higher than OLED.
Best LED TV
Now that we've discussed the fundamental differences between the latest technologies that have been introduced for smart TVs, let's jump into our first recommendation – the best-LED TV.
SAMSUNG Smart TV – Q80T QLED
If you're looking for a LED TV that provides excellent viewing quality, then this Samsung smart TV is what you need. It has a high-resolution pixel quality, with a resolution of 4K.
Another thing we love about Q80/Q80T is that it has an Ultra Viewing Angle layer added to its panel, which helps maintain a great contrast ratio, wide viewing angles, and decent local dimming. It also comes in varying screen sizes; 50″, 55″, 65″, 75″, and 85″.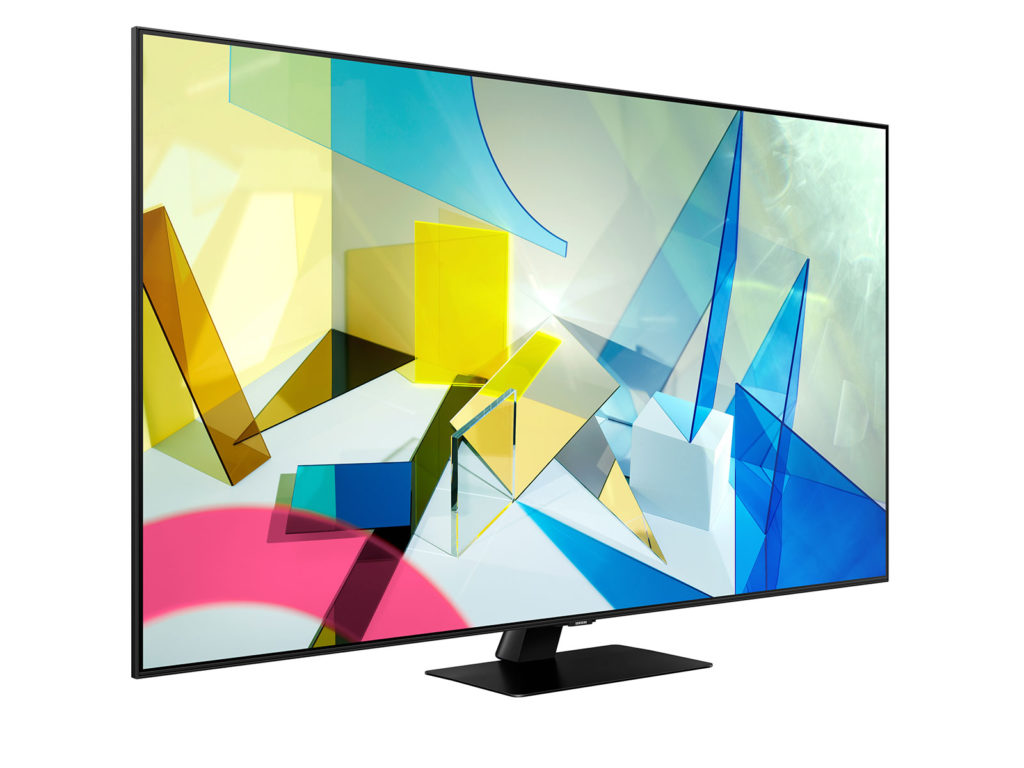 For all the gamers out there, this is an excellent purchase because of the quick response time, low input lag, and FreeSync VRR support that it has to offer. Even if you have this TV placed in a well-lit room, the viewing or screen quality won't get affected – has a great tendency to deal with direct sunlight.
Since it has a fairly wide viewing angle, we'd consider Q80/Q80T the right choice also for those users who like to stream Netflix or just watch movies. All-in-all, this Samsung smart TV is high on our list for the best-LED TV and provides decent value for money.
Vizio P Series Quantum X 2021
After Samsung, which is also considered to be the best TV brand, Vizio is next on our list. There are two main benefits of buying it; you get to witness high-quality HDR content, and it's an LED TV.
P Series Quantum is the latest series Vizio have launched in 2020. This collection has premium televisions that deliver great overall performance. The 4K resolution ensures users get to enjoy a high-quality entertainment experience. Vizio comes in varying screen sizes, so you can choose whichever best fits your needs; 65″, 75″, and 85″.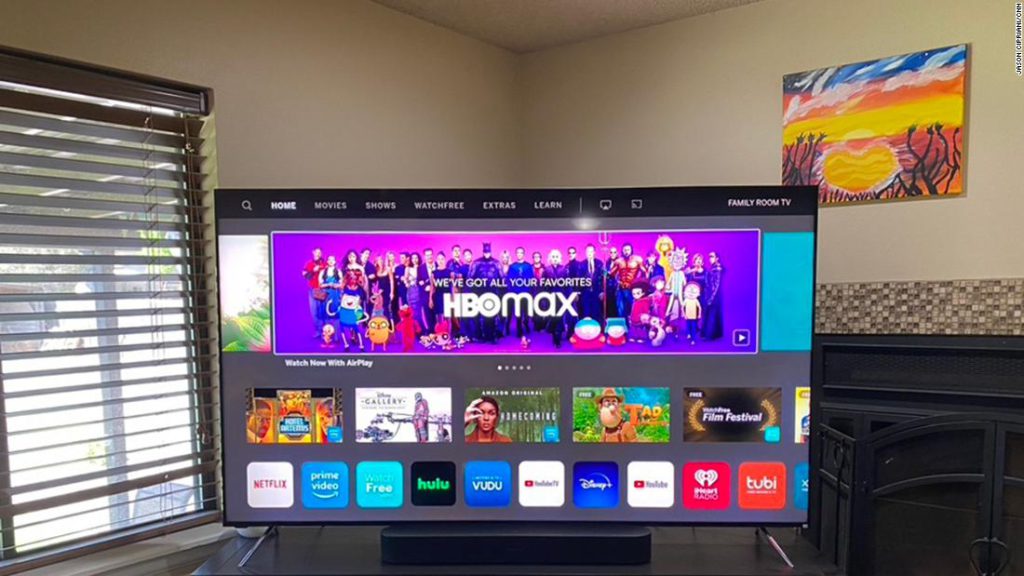 If you like to watch movies, stream Netflix, Amazon Prime, Apple TV, and more, this TV is perfect for you. It has a VA panel that provides an excellent contrast ratio and black uniformity; the television set has a full-array local dimming feature that displays deep blacks when viewed in the dark. So, here's to enjoying all the horror movies that you want in full HDR!
However, there is one disadvantage for gamers – Vizio P Series supports VRR technology but doesn't currently work. There are chances in future you'll have to get a firmware upgrade for it to work correctly. The rest is all good in terms of responsiveness, colors and even has a low input lag.
READ: HBO Max hits 4 million+ subscribers in the first month
The viewing angles are narrow, which means it's better to avoid wide seating arrangements. P Series Quantum x 2020 also faces difficulty in upscaling 420 and 720p content. So we wouldn't recommend Vizio's P Series collection for DVD and cable box movie streaming.
Best OLED TV
OLED TVs are the new and advanced form of LED televisions, and we have chosen some of the best recommendations for you.
LG CX Series OLED TV
Want to know why LG CX Series has made it on top of our list for the best OLED TV? Because this beauty here is an all-rounder! It has excellent design, picture quality, contrast ratio, provides value for money, and is an upgrade of the LG C9 Series launched in 2019.
It comes in four different screen sizes; 48″, 55″, 65″, and 75″. Moreover, this TV supports 4K resolution and makes use of LG's WebOS smart platform.
The WebOS smart platform makes LG CX Series amongst our top picks for the best smart TV 2020. Moreover, it also comes with four HDMI 2.1 ports and has an incredibly low input lag which is great for gaming. So, even if you own a PS5 gaming console or the latest Xbox Series X, you're all set for the sessions.
LG CX also supports Dolby Atmos and Dolby Vision. According to the market's predictions, these TV sets are suspected of becoming cheaper in the months to follow.
Pro tip: If you're planning to buy this TV for a well-lit room, then don't purchase it.
Panasonic HZ2000
Next up on our list for the best smart tv and OLED television is – one of the finest smart TVs in the world right now – the Panasonic HZ2000. If you're obsessed with movies, then you're going to have a cinematic experience of a lifetime with this purchase (don't forget to get some popcorn).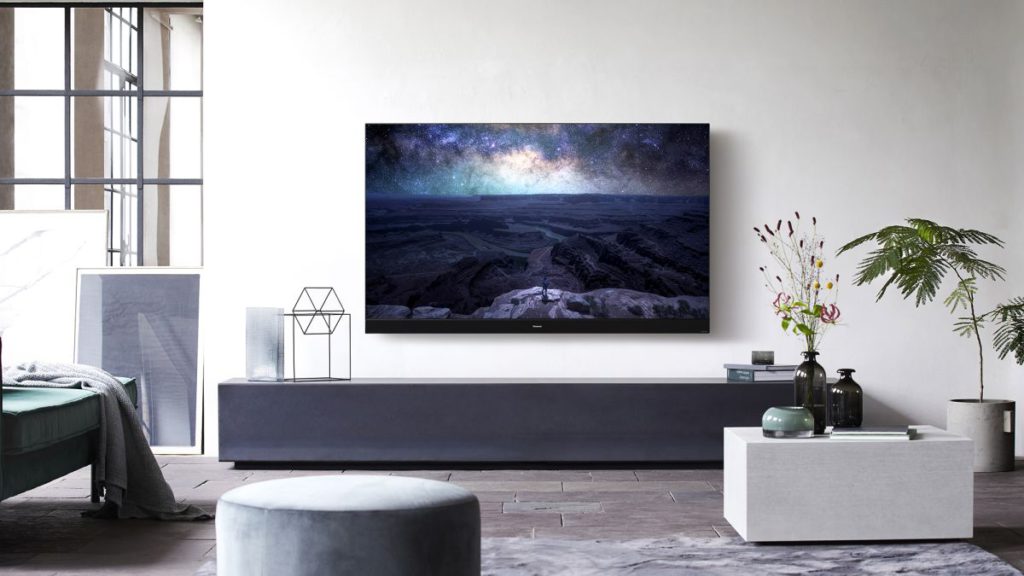 Panasonic launched HZ2000 earlier this year and the TV is already hitting the charts. Even though it's an outstanding buy, this TV is not available in the US market. HZ2000 comes in two screen sizes; 55″, and 65″, and 4K resolution.
This beast is a little heavy on the pocket. However, the experience that it provides is worth it. Panasonic upscaled its game by launching the HZ2000. Technics came together with them to tune the 140W Dolby Atmos speakers and upward-firing drivers. It is powered by the My Home Screen 5.0 smart TV platform.
The picture quality has been improved to such an extent that it provides saturated colors and great contrast even in well-lit environments. This is something you don't mostly get to witness in AMOLED TVs.
Best 8K Resolution OLED TV
Samsung Q950TS 8K QLED
Samsung makes it to the list of best smart tv 2020 in the 8K resolution category as well. They improved their game by being the pioneers to upscale to 8K TVs from making just HD or 4K televisions.
Available in 65″, 75″, and 85″, the smart OLED Q950TS is tight on the budget, but it is worth it. Samsung has enhanced the audio quality compared to the 2019 sets and has added an element of height, scale, and a near to zero-bezel frame structure for a premium look.
The picture quality is impressive beyond compare, as the number of pixels has doubled – 8K pixels horizontally. This provides an unmatchable gaming experience as well, as it does come with an improved version of low-input lag and higher response time. It is also great for the cinematic experience that users strive for; however, Dolby Vision would've made it better.
Sony Z9G 8K MASTER Series TV
Sony decided to upscale its smart TV collection as well by introducing the Z9G in 8K resolution. The plus-point of this TV is that it masters in displaying content on both 8K and 4K resolution.
The Z9G 8K Master Series comes in 85 and 95-inch screen sizes. The TV provides high viewing quality with the 3,600 nits brightness and HDR picture quality that it has to offer. The Z9G Master series also is an expert in lower-contrast SDR images while meeting the same picture standards. How is that possible? This Sony expert makes this happen with its X1 Ultimate processor's object-based HDR Remastering system by bringing them up to speed and making the most of this excellent panel.
However, Q950TS comes with only one HDMI 2.1 port and faces a lag in its backlight blooming, which decreases the brightness standards that we had hoped for. Had it not been for these two flaws, we probably would've kept the Sony Z9G 8K TV as a tie with Samsung Q950TS.
It received the CES Innovation Award in 2020.
Our Recommendation For Your Next Smart TV
Considering what we had set as the basis of our judgment – latest smart TV features, viewing experience, and value for money – we would recommend the following two as our top picks:
Panasonic HZ2000
LG CX Series OLED TV
We've put Panasonic HZ2000 on number 1 because it is light on the pocket, has all the top features of a smart TV, and can be put in rooms with varying lighting conditions. The LG CX Series is just as good – even better since it uses AMOLED technology – but the only drawback is its screen quality doesn't remain the same in well-lit rooms. This is mainly because AMOLED TVs lessen black darkness, which makes it difficult to see the screen under direct sunlight.
However, at the end of the day, the choice is yours. Both of the TVs meet the criteria we had set for judging a good quality smart TV, which has led them to be our final two picks for the best smart TV. Let us know what you think in comments below.