Artificial Intelligence (AI) is a well renowned concept in the marketing industry today. Offering businesses innovative and effective ways to reach and stimulate their target sector of consumers. With the increasing demand for personalized customer experiences and data-driven insights. AI tools are changing the way marketers approach their marketing strategies. They make use of algorithmic patterns and advanced programming techniques. Both to automate and optimize various marketing processes. Making them more efficient and accurate. In this article, we will delve into the world of AI tools for marketing. Exploring how they are revolutionizing the industry and breaking stereotypical norms of the way businesses connect with their consumers.
Role of AI in Marketing
Artificial Intelligence (AI) is single handedly changing the way companies approach marketing. They do this by making it easy to access data-driven decision making. Improving personalization and simplifying automation processes. AI algorithms are well versed at gaining insights into vast amounts of customer data. This ranges from demographic information to buying habits, to create highly targeted marketing campaigns.
Eventually, marketing in AI helps with optimizing ad spend. By predicting the channels and tactics will have the best impact. And measuring the return of investment of marketing campaigns. AI chatbots and virtual assistants are also adept at providing customers with quick and personalized support.
Finally, AI-powered recommendation engines and personalized product suggestions can help increase conversion rates and customer loyalty. Overall, AI is helping businesses to streamline their marketing efforts. Improving customer experiences, and making data-driven decisions.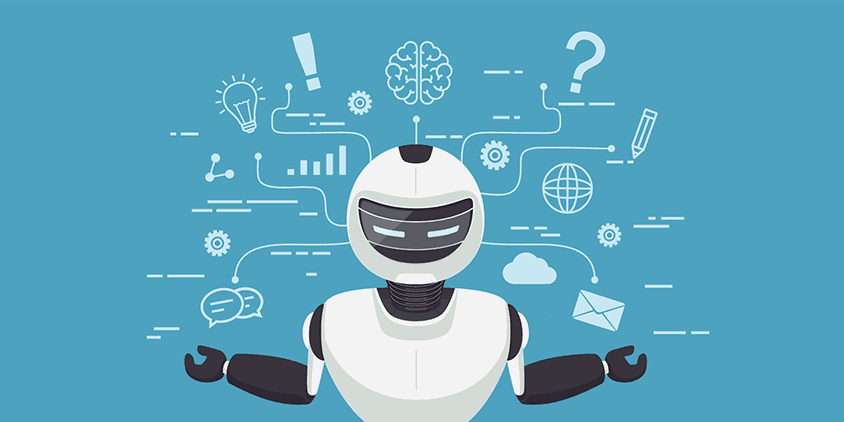 Top AI Tools For Marketing
Since AI has taken over the marketing industry, there have been an abundance of options available to businesses.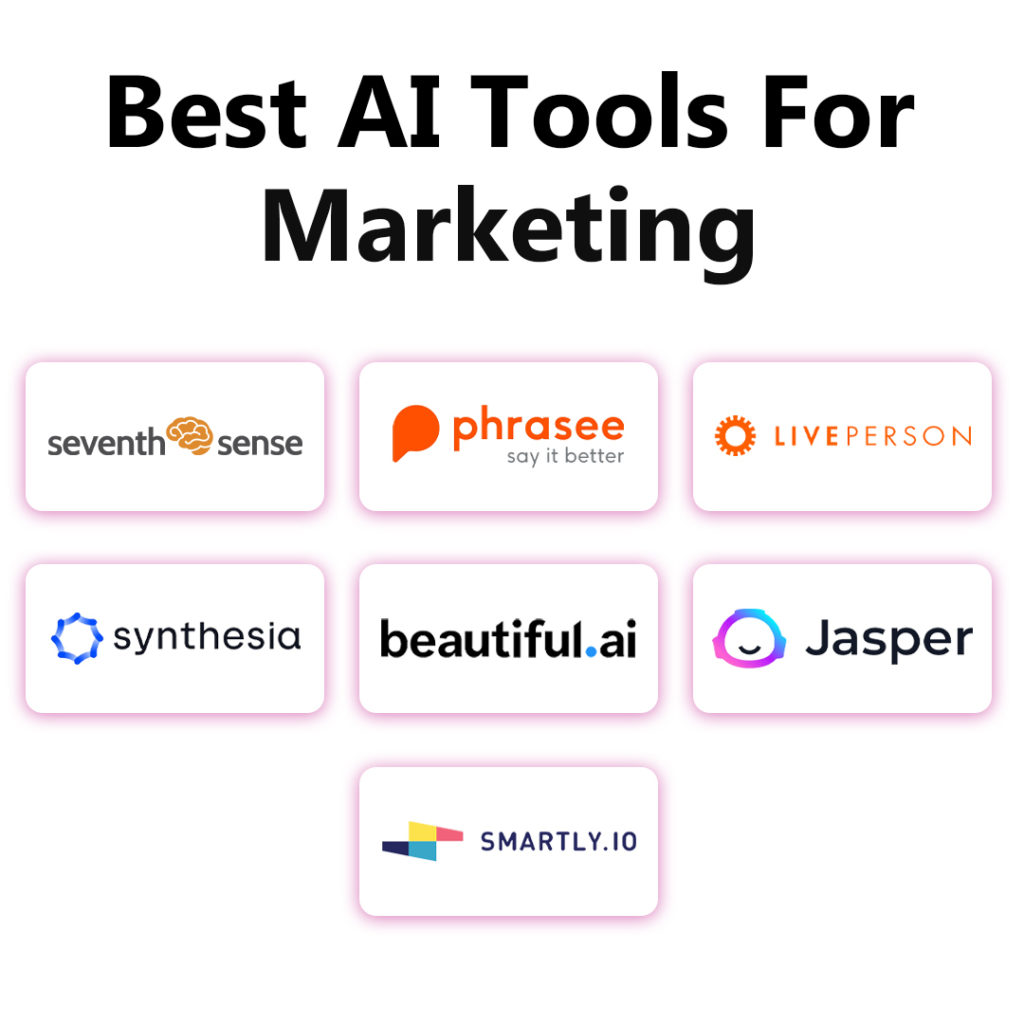 Let's take a deeper look at them: 
Seventh Sense
Seventh Sense is a leading AI marketing tool that focuses on capturing customer attention through behavior profiling. Its main focus is on emails, which can often be challenging for both individuals and businesses to execute effectively. Seventh sense is well versed at deciding the best time and approach for email campaigns. This takes into account each individual contact by shifting to a predictive model based on customer actions. This ensures that emails are sent at the best possible time for maximum open rates. Some of the key features of Seventh Sense include personalized service, individual predictive modeling, and behavior profiling.
Phrasee
Phrasee is one of my personal favorite tools on the market today. Its emphasis is on brand language optimization. The platform relies on AI-based Natural Language Generation (NLG) to produce better subject lines. Along with generating millions of copy variants that sound natural and align with the brand's voice, personalized for each customer. The system is end-to-end. Meaning the results are fed back into the system and the prediction model continually improves over time through learning from the audience response. Some of the key features of Phrasee include:
Natural and brand-aligned copy variants generated
Tailored language models for each customer
End-to-end system for continuous improvement
Prediction model that adapts based on audience feedback.
LivePerson
LivePerson is the perfect AI marketing platform for automated messaging and voice experiences. Strictly designed to manage customer conversations across various marketing channels. It allows for building and distributing both voice and messaging experiences. The handy tool utilizes bots to facilitate engaging conversations that convert and retain customers. While enhancing the purchasing process through various messaging or social apps. The platform's effectiveness is largely due to its use of supervised learning, which trains algorithms through labeled data. Some of the key features of LivePerson include management of customer conversations and conversion through bot-led conversations. That's not all, we have algorithm training through supervised learning, compatibility with popular platforms such as Twitter, Facebook Messenger and Google Assistant as well.
Synthesia
Synthesia.io, founded in 2017, has become a top AI-driven marketing tool for creating professional videos with voiceovers and AI avatars. Trusted by thousands of businesses worldwide, it allows for easy and efficient video production on a large scale. With a user-friendly interface, anyone can make professional videos without prior video creation experience. Simply select a template, avatar, and input text, add visual elements, and generate your video in over 60 languages, reaching a global audience. Synthesia.io is ideal for companies of all sizes seeking high-quality videos for newsletters, product demonstrations, and tutorials.
Key features include a platform offering over 70 AI Avatars to choose from. Synthesia.io has the innate ability to personalize your brand identity with options to upload colors, fonts, graphics, logo, and icons. It is home to over 50 video templates available to speed up the process of creating professional videos. Updates are simple, as you can duplicate, generate, and edit videos within minutes. The app also features a screen recorder, allowing you to record videos directly.
Beautiful.ai
With Beautiful.ai, creating marketing presentations is made easy. The software eliminates the hassle by allowing you to transform your ideas into visual presentations with ease. It features hundreds of customizable pre-made slides. Saving you time and effort from having to create everything from scratch. The software's user-friendly slide controls make editing your presentations simple and straightforward. Allowing you to easily adjust the size, position, and value of your content.
Additionally, Beautiful.ai has smart templates with built-in layout options. Enabling you to view your content in various ways. Beautiful.ai is the ideal solution for business individuals and companies looking to quickly create professional presentation slides.
Jasper AI
Jasper is a versatile AI writing tool that assists in crafting impactful content for your clients, including marketing materials, SEO articles, personal blogs, and stories. It boosts creativity by offering suggestions for phrases. Along with keywords, and sentences from its database of millions of elements. Jasper also boasts high accuracy in its word suggestions. Hence it is a top choice for writing business emails and landing pages. The AI writing assistant is adept at detecting spelling errors, grammatical issues, and missing punctuation.
Jasper AI offers excellent added features. For example, generating comprehensive product descriptions, engaging titles, and optimized meta descriptions for retail stores. It also utilizes various templates for innovative writing, advertisement scripts and promotional emails. Enjoy the ability to translate content into over 25 different languages. Benefit from standard editing tools like word search, find and replace, etc.
Smartly.io
Smartly.io is an ad generation platform that automates your social media outreach. This includes prices for various social media platforms. The tool has a specialized systematic algorithm. This aids in determining budget, bidding, and target audience. Helping to create high-converting promotions. With real-time publishing and updates, you never miss an opportunity to deeply connect with the target sector. Companies can monitor ad performance in real-time, allowing for adjustments to your strategy based on Smartly.io's feedback.
The handy tool is blessed with the added ability to manage multiple social media accounts. This includes popular social media platforms such as Instagram and LinkedIn. Business owners can streamline your social media presence and effectively increase your outreach. From a single dashboard, you can create impactful social media posts that cater to each individual channel. This allows them to schedule for future posting. Smartly.io has features where you can track your real-time performance on social media. This enables marketers to monitor progress and make data-driven decisions.
AI Marketing Tools: Choose The Best One
So there we have it, the best AI marketing tools, explained from A-Z for our viewers. We hope this makes it easier for you to choose as the above mentioned platforms are all excellent for both long term and short term use. Feel free to reach out in case of any queries and comment for added insights. Feedback is always welcome!
Featured Image: Sprout Social
---