Communication can never be surface level if it is one of the fundamentals in making a business go from good to great. No matter how small or globally recognized a business is, the communications strategy needs to be sorted before the business is viewed by the audiences. A fool-proof method of making communication seamless within the business universe is by joining hands with Integrated Marketing Communications. We all know, communication cannot be dealt with single-handedly. Since businesses are now more prone to branching out to newer avenues, every area that they expand towards needs a different strategy when it comes to communication.
Also, since post 2020, the world has taken a massive digital turn. Physical interactions or in store shopping had become the last resort. Every business now depends on whether they can be trusted, if they can maintain a relevant brand image and whether they can effectively communicate with their customer base. What makes all of this a reality? It is when organizations know that they have to incorporate integrated marketing communications as their core strategy to look for all marketing solutions.
It is true that all businesses rely heavily on their communication but there can never be a standard way which can be implemented on every model. With integrated marketing communication, responding to such instances becomes easier since it monitors all fronts that are present within an organization. Moreover, it pays attention to what is on stake in regards to the future so campaigns are made accordingly.
Before we unpack how integrated marketing communication has been implemented, let's have a look at what it really means. 
What Is IMC In Marketing?
Simply put, integrated marketing communication is an answer to all business pleas. Business owners can wreak havoc not being able to find the most suitable way for handling the way their team communicates with their customers. But, with integrated marketing communication, everything can be taken under the same roof. The best part about this marketing approach is that it is designed as a one-stop solution.
When companies choose to adopt this approach, not only are they making a progressive decisions but they are also spending their finances wisely. Integration means combining all aspects into one. Similarly, integrated marketing communication means connecting all marketing tactics under one umbrella. This is to make business practices more efficient and cost-effective. A single way of communicating cannot work out for years. 
With integrated marketing communication, it gives its users the chance to experiment and see what suits their company the most. After all, strategies need to submit themselves to the "trial and error" rule. There are several mediums that come under integrated marketing communication. They include public relations, digital marketing, promotions, content marketing and much more. It makes it evident that companies will be sorted if they take up IMC as their core marketing strategy.
The Impact Of Integrated Marketing Communication
When all sorts of communication marketing tactics are easily found under one source, the impact is going to be revolutionary. It is obvious that companies that do not take up this approach will be outlasted by their competitors who do so. Also, not connecting practices with integrated marketing communication can reflect badly on the company's image. After all, these times are about being forward, fast and progressive. And that is exactly what IMC entails.
The impact is genuine and long-lasting. An organization should not heavily depend on one marketing channel. This is because with time, it can become dated. And when it does, finding an alternative can be stressful. By incorporating IMC into routine processes, the results can be predicted in a realistic way. Moreover, this age and time demands advertising and digital solutions in many ways. This goes for the business and the client. Businesses can boost their success rate by being visible on different mediums.
Also, users do not align with one online platform at all. They use multiple platforms for various reasons. And this is why IMC is the need of the hour. With looking over all mediums that can be used for marketing, it integrates all methods to give its user and fool-proof experience. The idea is to be well prepared for every situation. And then be equipped to counter it. The results of a campaign or promotion become more solid when a single marketing method includes all mediums. This makes IMC a dream for businesses when it comes to making an impact on their audiences.
Why Is Integrated Marketing Communication Used?
To Make A Brand Visible
Whenever a company takes its first step in the business world, their aim is to be seen. Brand visibility is a core goal which should always be worked on. This is because a business can take the audiences by storm at one time and then completely loses its relevance in a few months. In order to be constantly connected, organzations needs to experiment with different marketing channels.
IMC makes this a possibility. Even though it incorporates multiple mediums of marketing, every platform will still have the same voice. Customers can trust the brand immediately and will always stay loyal. IMC enhances a brand's visibility by helping them keep a unified approach for every channel that they use. This helps in not confusing the audience so that they get the same quality no matter which channel they reach out to.
IMC Can Boost Sales
More marketing channels means more sales. When a brand relies on a single channel, their customer base is also restricted to it. But at present, all businesses want to be globally recognized. Relying on a single medium is not an excellent idea now. IMC allows companies to market on various platforms so that they have a different customer base on each one of them. This inevitably leads to an increase in customers and outreach.
Moreover, an increase in customers also leads to a higher chance of selling products. And when companies choose platforms that are globally recognized, there are no such restrictions. One cannot stress about their audience not increasing if they do not branch out to other options. When companies are aware of this reality, they can take steps with the assistance of IMC to generate more leads and sales.
Improved Team Performance
When there will be different departments to handle, it is an obvious thing for allocating different teams for it. This is an ideal situation for companies and their audiences because it is less time consuming and promotes improvement in team performance. Also, efficiency becomes a reality and making a brand successful is not a difficult task anymore.
Integrated marketing communication paves the way for more employment opportunities since it involves multiple marketing channels. There is a different skill set required for every medium which is why employment can also witness a positive boost. With an increase in such areas, a dedicated team for every category can ensure that they are working effectively. It also helps in creating a better customer experience since customers will get prompt responses on every channel that they choose.
It is a definite win for the company because they will become accessible and can provide assistance seamlessly. Workplaces that adopt this approach will welcome a diverse and inclusive culture as well. This adds to their value and can lead to many meaningful relationships with employees and customers.
Top Trends In Integrated Marketing Communications
Interactive Artificial Intelligence
Artificial intelligence has undoubtedly become the key ingredient in making every process successful, The ease it provides is unmatched and businesses cannot imagine them being recognized without it. Audiences want to interact and have conversations with a brand. But it is not possible to be completely available for every client since businesses have gone global. By powering systems through artificial intelligence, this can also become a possibility.
Chatbots are a god-sent when brands wish to use cost-effective resources and improve their performance. By adding chatbots, companies can improve the way they work and customers can get answers to their queries instantly. Responses can be designed differently for every platform. Research on the most asked questions can be responded to in this way. It is a ground-breaking solution to improve customer service and give it a conversational flair.
IMC Makes Everything Personal
Personalization can never go out of style. Whether it is a company just starting out or a well-recognized brand. They need a unique and personal tone which keeps on attracting customers. Personalization does not only mean that a brand needs to stand out. Several companies offer the same services but there are some who always take the lead. This is because they pay attention to creating super personal bonds with their customers.
With IMC, personalization is an ongoing trend which will keep on evolving. There is no better feeling than reading a message or an email that says a certain offer was specially created for a customer. This also attracts them to making a purchase. When brands take personalization seriously, they can avoid the stress of losing customers when things become unpredictable.
Inflation has gotten the best of businesses but some companies get through that phase with ease. Their customers are loyal enough to support them because they have always felt acknowledged. The best part is personalization also works like IMC. It can be used on all fronts which include email marketing, campaigning, apps and online stores.
Optimizing Social Media
Search engine optimization is a vital element when businesses are running digitally. People are always on their phones. And let's face it, they are not constantly talking to somebody. They are interacting with different social media platforms. What could be better than your brand being the first suggestion when a potential customer searches for a product? This is why it is important to optimize all social media channels.
By creating content that is super easy for customers to find, it helps businesses climb the corporate ladder faster. Customers are not always looking for something specific. But if a social media platform displays a page by looking into their preferences, chances are they will go through with making the purchase. This is the power of IMC and optimizing content. It only has to be designed in a way where a customer thinks they need the product more than they want it.
Social Ecommerce 
All social media giants like Facebook and Instagram have shifted their focus to becoming eCommerce shops as well. With a user community of billions, welcoming another platform seems like the right thing to do. Facebook Shops is an introduction for users to even shop while using social media.
The ever increasing community shows that people from all age groups are using Facebook. Marketing needs to be done on Facebook so that reaching audiences from every bracket can become possible. Companies can have a personal online store just for Facebook and dealing with its users. This can give them more traffic and can level up their engagement.
It all depends on how the company lists their products. Listing needs to be done in a user-friendly way so customers can be satisfied with their journey. An excellent hack is to make specific categories so that it is less time consuming. By using social eCommerce in such a way, customers can easily place orders via Facebook without having to surf different websites. They can use Facebook as a platform to connect and get the best online deals.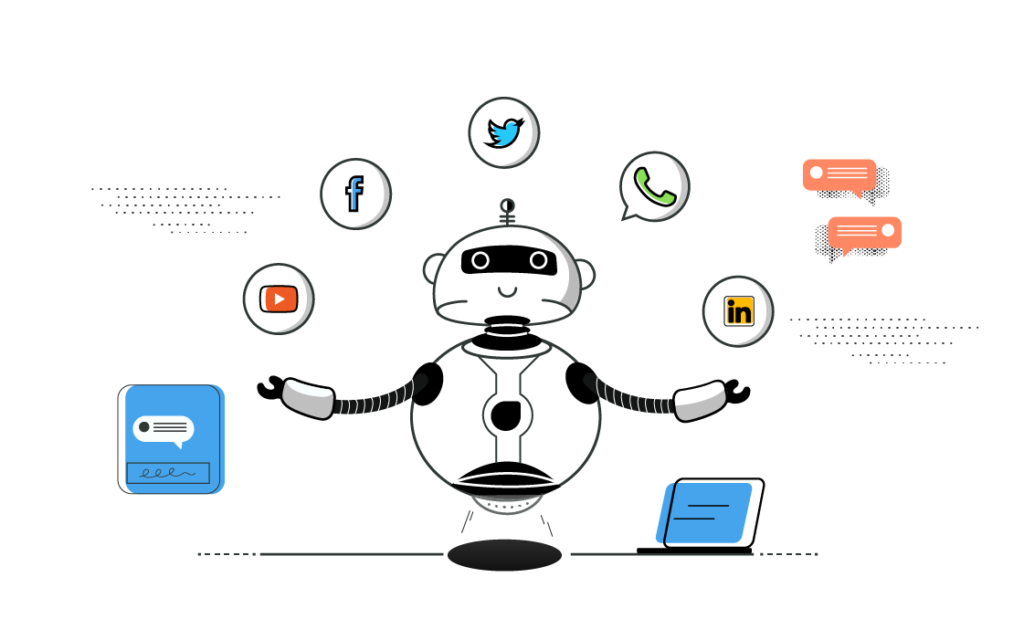 Will Integrated Marketing Communication Take The Lead?
With all that has been discussed above, IMC is a pathway into a promising digital future. Marketing can never happen single handedly or by depending on one source. Collaboration is the new trend which means combining resources and bringing everything together. IMC aims to diversify the way marketing is viewed so that companies can benefit from it.
There is no better solution than including a marketing method that caters to various approaches. If dealt with smartly, companies can welcome success on every front. And the most perfect aspect of IMC is that it works for the company and its customer base. The vision is to make things easier and efficient. And IMC does just that. 
---