Apple announced its first specific chip for Mac, the ARM-based M1. Apple announced the new chips for their computers on Nov 10 at its 'One More Thing' event. With M1, Apple makes many promises about the chip's performance by integrating multiple hardware technologies into a single board.
At its latest Apple event, the Cupertino has made a few other important announcements as well. Other products launched at the event included the new Macbook Pro and Macbook Air, Mac mini, and the Big Sur. The new Mac devices are the first devices to be powered by M1 SoC.
M1: Performance
M1 is the first-ever SoC built with cutting-edge 5-nanometer process technology and is packed with 16 billion transistors. Apple claims the chip to be the fastest in the world in terms of the CPU core, CPU performance per watt, and integrated graphics. Compared to previous Macs, M1 will offer 3.5x faster CPU performance, GPU performance almost 6x faster, and up to 15x quicker machine learning, all this with doubled battery life.
"There's never been a chip like M1," said Apple's senior vice president for hardware technologies, Johny Srouji. Traditionally, Macs and PCs have used multiple chips for CPU, I/O, and other hardware needs, but with M1, it is all combined into a single SoC. This is the first chip that brings Apple Silicon to Apple computers. Previously it had already been introduced in other products like the iPhone, Apple Watch, and iPad.
M1: Processor
The new SoC consists of an 8-core processor, four high-performance cores, and the other four are high-efficiency cores. According to Apple, these are the world's fastest cores working as efficiently as possible for low-powered silicon. It allows photographers to edit high-quality images at high speed and supports developers for 3x faster application development than its predecessor Intel chips in Macs.
Efficiency cores, on the other hand, deliver high performance at one-tenth of the power. All eight cores combine to provide the best performance per watt.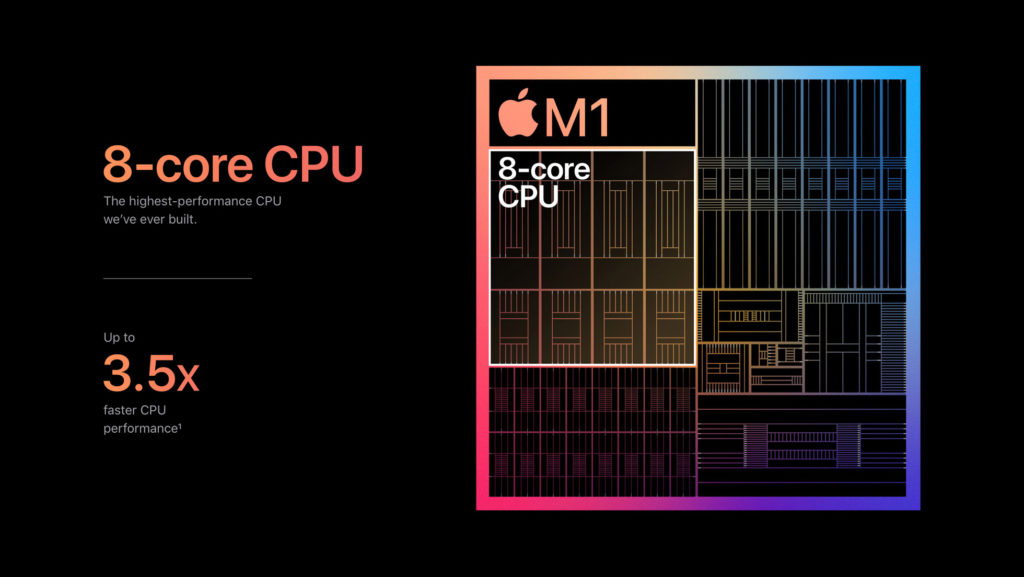 M1: Neural Engine
M1 brings the Apple Neural Engine to Mac, helping improve all the machine learning (ML) tasks. The chip is designed to offer high-speed ML, hence the ML accelerators in the CPU. The engine's 16 core architecture is Apple's most advanced and allows up to 11 trillion tasks per second. All these features add up to provide the 15x faster ML performance we talked about above.
M1: GPU & Integrated Graphics
Also powered by eight cores is Apple's most advanced GPU installed in M1. Apple claims M1 has World's Fastest Integrated Graphics.
The powerful cores can simultaneously run around 25,000 threads and improve the GPU capabilities to handle high-performance tasks like video editing or game development. 4K video streams played fluid, and 3D scenes are rendered smoothly in Apple's demo. Apple claims 2.6 teraflops of throughput and calls M1 to have the fastest integrated graphics for a computer.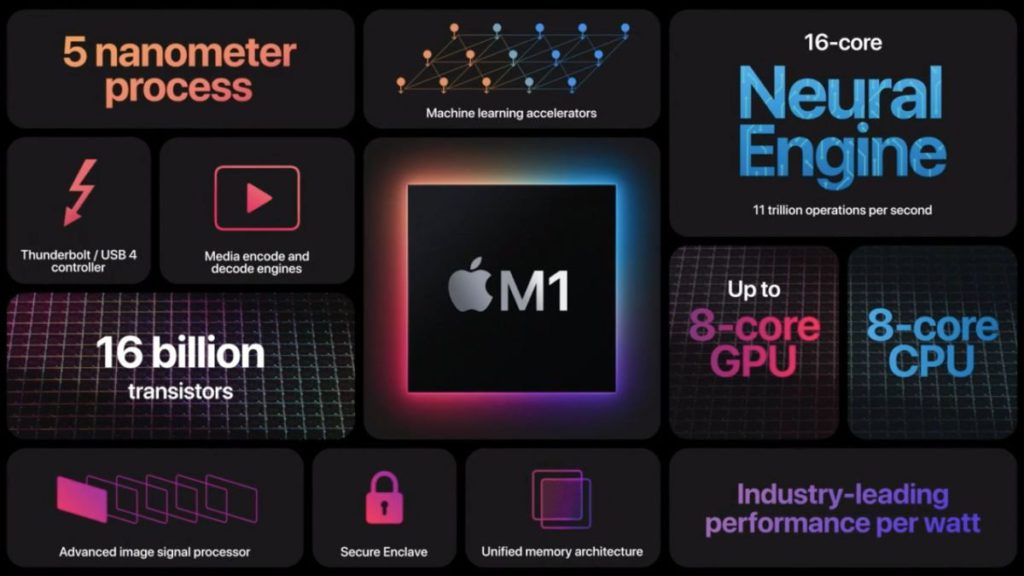 Johny Srouji claimed, "M1 is our breakthrough SoC for the Mac. It builds on more than a decade of designing industry-leading chips for iPhone, iPad, and Apple Watch, and ushers in a whole new era for the Mac. When it comes to low-power silicon, M1 has the world's fastest CPU core, the world's fastest integrated graphics in a personal computer, and the amazing machine learning performance of the Apple Neural Engine. With its unique combination of remarkable performance, powerful features, and incredible efficiency, M1 is by far the best chip we've ever created."
M1: Security, Speed, Battery life
To begin with, M1 is powered with the most recent secure enclave to provide best-in-class security. It additionally comprises AES encryption for the storage controller to secure your experience with SSD.
For higher video quality and improved dynamic range, Apple has included its latest image signal processor in the new SoC. It also reduces noise to further support the video quality.
It even supports USB 4 to give you a transfer speed of up to 40Gbps and has highly efficient media engines to extend battery life up to 2x longer than previous-generation Macs.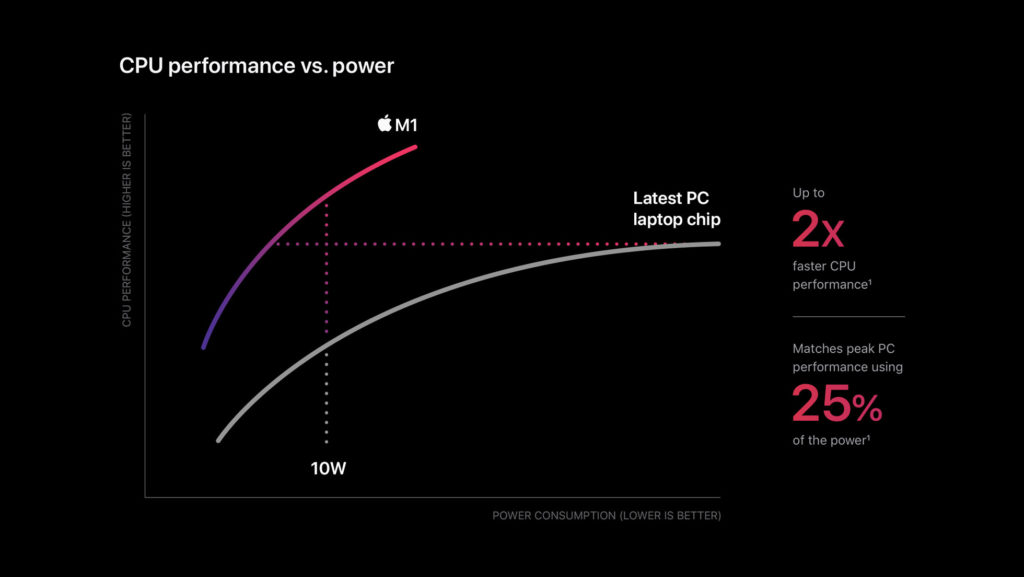 In the M1-based MacBook Air, thanks to the new chip, the battery life is good for up to 15 hours of web browsing and 18 hours (with Intel it was 12 hours) of video. Thats the longest battery life ever found in a Mac.
Moreover, Apple claims that M1 allows a Mac to wake from sleep mode just like iPhones instantly.
M1: iPhone and iPad apps on Mac with macOS Big Sur
17th in its series, macOS Big Sur is Apple's most recent OS announcement scheduled to release on Nov 12. Big Sur is put together to use the M1 hardware to its full potential. Metrics like boosted performance, increased security, and long-lasting battery is easily noticeable. With the new macOS, browsing on Safari has increased by 1.5x. Messages app is revamped with a new design and now supports inline replies and pin conversations.
READ: iOS 14.2: All new features Apple brings to iPhone and iPad
Big Sur combines with M1 to bring you all Apple apps (Mac, iPhone, iPad apps), making all apps unified that runs natively on Apple mobile devices. In other words, the Mac App Store on M1-based Macs will display all apps designed for iPhone and iPad to install and run them on their computers.
This was possible as M1 shares a similar ARM architecture design with the iPhone and iPad. However, developers have options to disable iOS and iPadOS apps for M1 powered computers – just like they can disable iPad support for iPhone apps, and vice versa. One example is Google. It has chosen not to offer most of its iOS and iPadOS apps on the Apple Silicon platform, including YouTube, Google Maps, Google Drive, and Gmail apps. Some publishers have decided to opt-out temporarily for supporting their apps on Mac unless they can properly test and verify.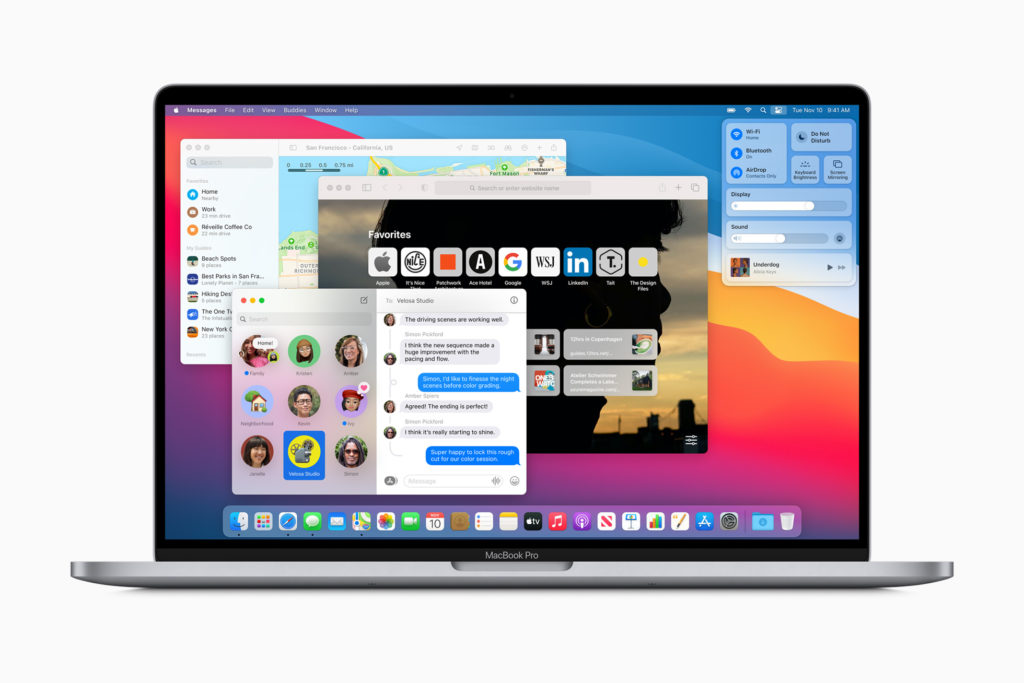 For M1, all apps by Apple are now Universal. Universal apps in Apple's terminology means those built to run natively on both Apple Silicon and Intel processors. Adobe will launch a universal version of Lightroom this year and Photoshop early next year.
For non-universal apps, Apple has developed Rosetta 2. Rosetta 2 technology, a backend process utterly invisible to the user, will help run the apps that are not yet updated as Universal. Since Apple is transitioning away from Intel, Rosetta 2 will help you continue run Intel apps seamlessly on the new M1 based Macs. Rosetta was previously launched in 2005 to support non-Intel apps on Mac systems.
READ: Apple Watch Series 6 vs Apple Watch SE, comparison of two hot new wearables
Apple released the macOS X 10.0 (Mac OS X) back in 2001 and has continued with the version 10.x series till 2019, where it released the macOS Catalina 10.15. For the first time, Apple has changed the main version number and indexed Big Sur as macOS 11. Technically speaking, Big Sur is the first macOS that supports both Intel and ARM architectures.
M1: Limitations
Despite all the big words and promises, there are some noticeable limitations to the new SoC. Starting with RAM, which is only 16GB for now on M1, will confuse customers about whether to buy an old Mac with 32GB RAM or the new one. For now, 16GB is the best M1 offering, and it is not upgradable.
READ: Why buying Apple stocks in 2020 is the right choice?
There are other limitations included as new Apple Silicon based Macs will not support external GPUs (eGPU). Most of us have combined more power via external graphic cards with Macs and Mac minis in the past, but that's no longer an option.
These limitations could be another reason why Apple still has its older, intel-based products available for sale for its customers.
Apple launches M1 based Macbooks and Mac Mini
Apple also launched the new Macbook Pro 13-inch, Macbook Air, and Mac mini as the next generation of Macs on Nov 10. All these new devices are engineered to work with the new M1 SoC. These devices are the first in the process of starting a transition towards the M1 chip. The transition period for Apple Silicon is planned to be completed in two years.
Thanks to M1, the new MacBook Air has a 15-hour battery life for wireless web surfing and 18 hours for movie playback. The 13-inch MacBook Pro, on the other hand, runs for almost 10 hours longer than its predecessor, which makes 17 hours of internet surfing on a single charge or playback video for 20 hours.
Apple and Intel: The Future and the Past
Apple has announced its transition to in-house ARM-based processors and the transition plan of two years. Which means Apple is looking to part ways with Intel in the near future.
Mac transitioned to Intel processors back in 2005 when it decided to part ways with IBM and give up on PowerPC microprocessors. The decision was made public by the then CEO, Steve Jobs, at World Wide Developers Conference 2005.
READ: Apple opens first water-floating Marina Bay Sands store, revolutionizing in-store experience
That was Apple's second transition from one processor manufacturer to another. The first switch came back in 1994 when Apple switched from Mac's 68000 Motorola series to PowerPC, which was new back then.
Let us know in the comments what you think about Apple's decision to move on from Intel? Do you think the new Macs are better off now?
Featured image: Apple