If there's one brand that could've come up with an out of the box in-store experience, it's definitely Apple. No one could've done it better. The new Apple Marina Bay Sands Apple Store is a mighty new addition to the other two experience stores in Singapore, and it marked its foot on September 10, with each of its paneled glass doors, slitting open one after the other and fading away into the curved walls of the dome. 
Something interesting about this store is that it's not just Apple's first-ever water-floating experience store but rather is also different than the usual. The store provides a space for interactive training and presentations to take place as well.
Apple brings Pantheon Experience in Singapore
One thing is for sure – nothing competes with the vast array of architectural designs that Singapore's Marina Bay has to offer. This Apple Store, designed by Foster + Partners, is just an addition to it. Inspired by Rome's Pantheon, these architects have managed to create something contemporary out of ancient design in the form of this modern sphere floating on water.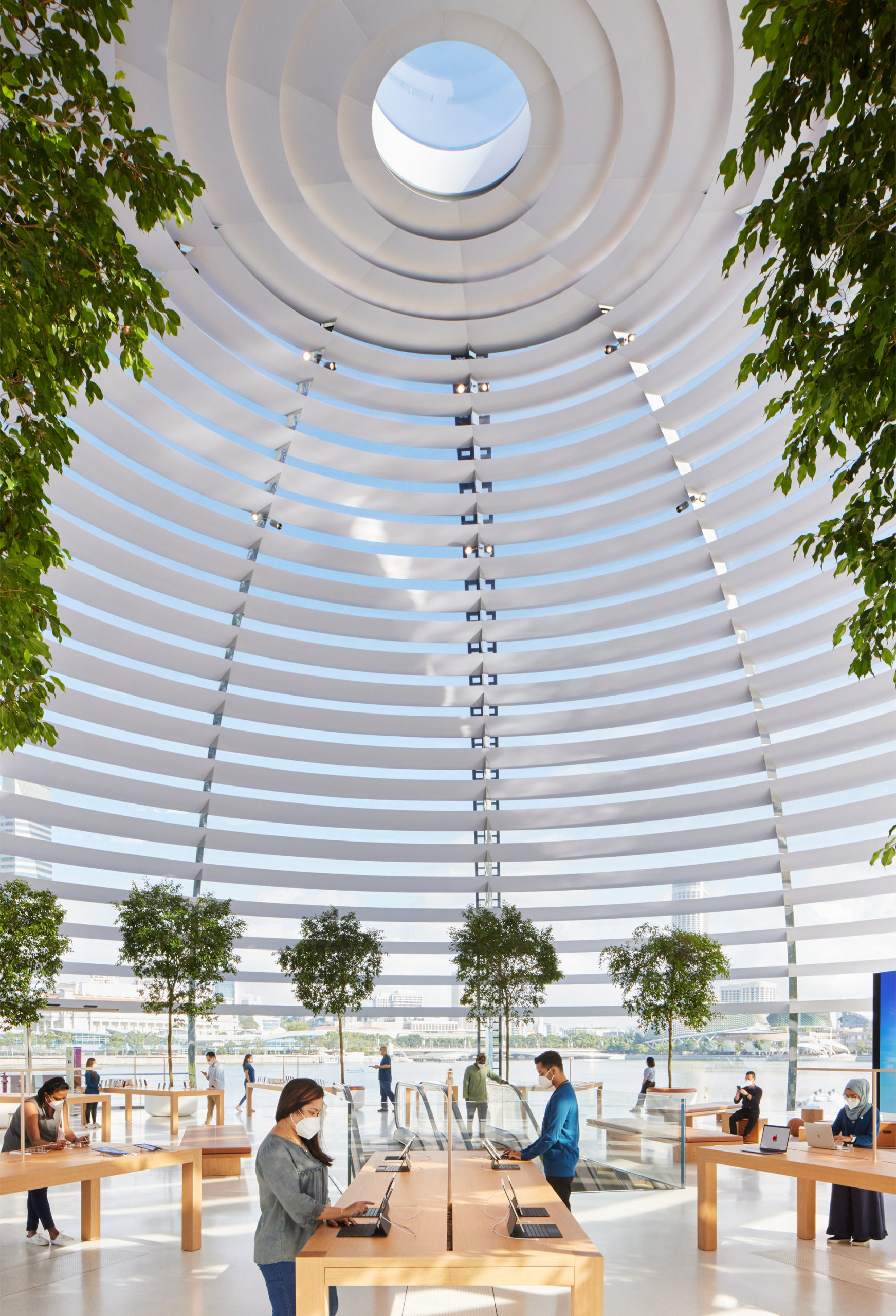 This stunning lantern-like sphere architecture is made up of 114 pieces of curved glass. One of the things about this design that sets it apart from the usual spherical or dome architecture is that it comprises panels which are horizontally curved, rather than following the usual geodesic design.
However, Apple's "firsts" don't just end here. When you enter into the dome and look up from the Forum, you'll see a series of concentric baffles, narrowing into an oculus.
The oculus is there to let you feel Singapore's tropical climate and to deflect heat and harsh sunlight. Ten narrow vertical mullions fully support it. However, the lower glass body and the spaces between the concentric baffles are there to make sure that this lantern stays lit at all times, with natural light coming in.
An Extension of the Apple Experience
Being Apple's most ambitious retail project, this Apple Store is accessed through a 45-meter long tunnel that connects the nearby shopping mall with it. The store's connecting tunnel is an extension of the Apple experience, assuring the customers to feel like they're walking from an underwater elevator onto an above the water surface.
The store has a total of three zones; the open-air inclined boardwalk area on the shore, the Forum, and the third is the subaquatic tunnel and boardroom. All three of these zones provide three completely distinctive experiences.
The shore-risen boardwalk area has a small Apple signpost and also connects to the dome where ten tables and trees are arranged in a radial pattern around its premises. All of these ten tables are lip up by custom lamps, which are available only at a limited number of Apple Stores across the world.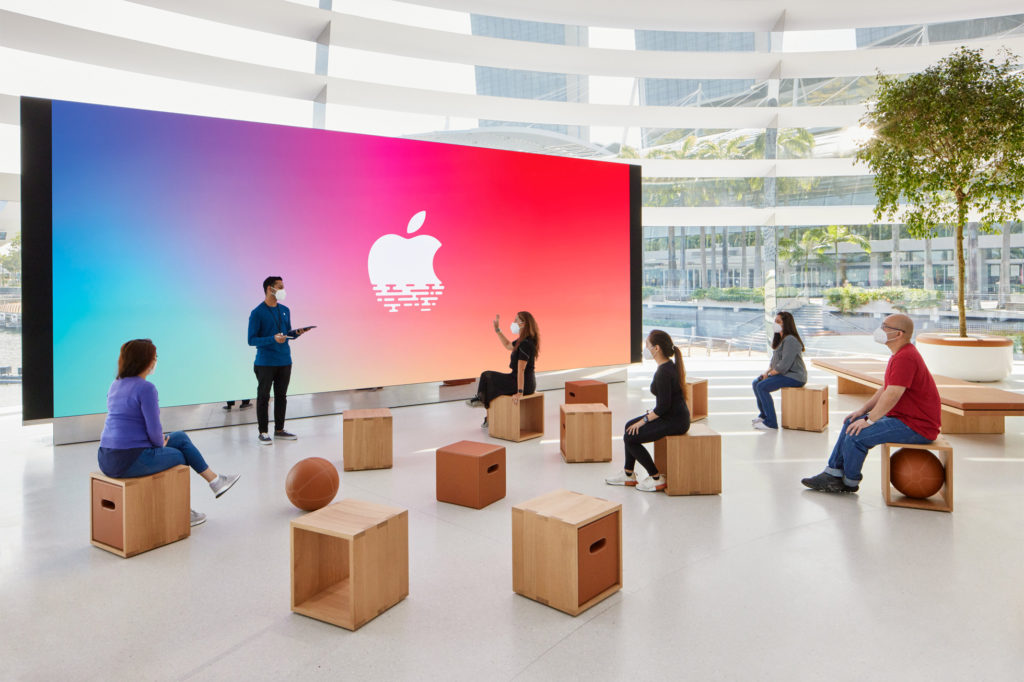 Then comes the Forum area, where Today at Apple Sessions are held, with a video wall and benches arranged to provide the complete experience. It is located opposite the entryway. This is also from where you get to experience a sense of Singapore's tropical climate, though the oculus.
Finally, for the subaquatic zone, the tunnel and boardroom connect to The Shoppes at the Marina Bay Sands. The customers are guided through this tunnel with six tables and avenue displays which are lined at both the walls.
This Apple Store has an experience established, which is one of its kind, even though it was opened as a follow-up to the Bangkok store. People are going crazy about it and are booking slots, appointments for their tours even. It has been opened with all health and safety measures being followed, considering the pandemic still being around us. So, if you haven't yet visited it, get your masks on, and cameras charged – head over to the new Singapore water-floating Apple Store and enjoy.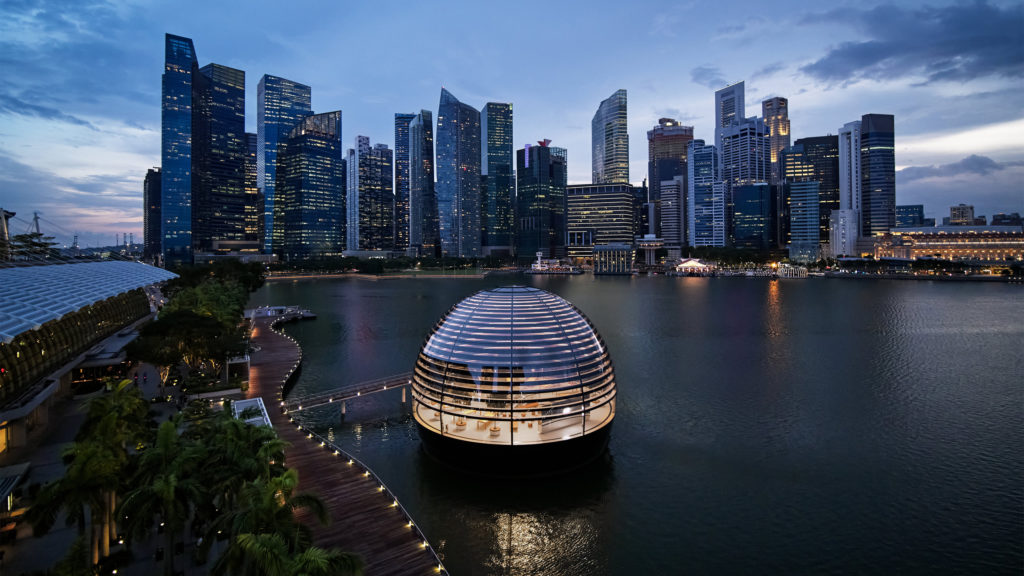 READ: Apple Watch Series 6: blood oxygen monitoring and app, watchOS 7, altimeter, other features
Images: Apple