Food and Drug Administration – FDA – approves portable testing kit 'ID NOW' by global pharma giant Abbott Laboratories for its test kit that detects and gives the final results for positive coronavirus testing in just 5 minutes. The testing device has received the U.S. regulator's nod and will soon be available for countries that laggard in testing people, around the world.
Abbott said in an official statement that "it has received emergency use authorization (EUA) from Food and Drug Administration (FDA) for fastest available molecular point of care test, delivering positive results in as little as 5 minutes and negative results in 13 minutes." This means it has not been fully cleared or approved by FDA, but the FDA allows it to be used in an emergency by authorized laboratories and patient care settings.
The new Abbott ID NOW rapid testing platform is a lightweight box of 6.6 pounds. It could be placed outside the hospitals in offices, clinics, or any other public place. The small test kit will bring an alternative testing technology to fight against the coronavirus pandemic. Abbott is hopeful that with its ID NOW testing kit it can perform 5 million tests approximately in April.
Molecular testing technology of Abbott ID NOW
The presence of coronavirus in the blood of the infected person is made accessible to detect by the molecular testing technology of ID NOW-test kits. A small section of the virus genome is identified and processed in the test kits until satisfactory results are out.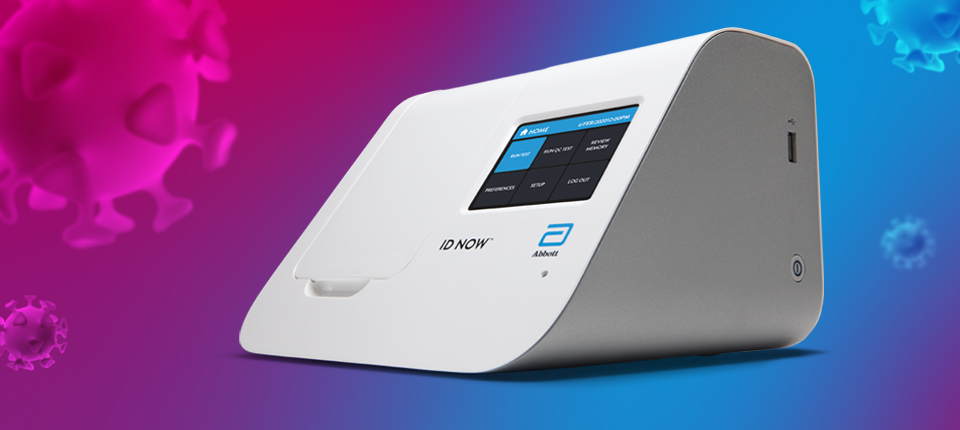 ID NOW has become the leading molecular point of care platform for Influenza A&B, Strep A, and respiratory syncytial virus (RSV) testing. According to Abbot, the kit would be widely available in the U.S. at the majority of the public places and will be continuing to increase as Abbott is working on its further production.
Chris Scoggins, senior vice president of Rapid Diagnostics at Abbott said in a statement that "Through the incredible work of teams across Abbott, we expect to deliver 50,000 COVID-19 tests per day to healthcare professionals on the front lines, where testing capabilities are needed most. Portable molecular testing expands the country's capacity to get people answers faster."
Fastest testing results for COVID-19
Abbott claims that its testing kits can accelerate the speed of the testing process and can identify the exact results in a matter of minutes. John Frels, vice president of research and development at Abbott, said that "This is going to provide a tremendous opportunity for front-line caregivers, those having to diagnose a lot of infections, to close the gap with our testing. A clinic will be able to turn that result around quickly, while the patient is waiting."
Scott Gottlieb, the former FDA commissioner, called the testing kit a game changer' In his tweet, he appreciated everyone involved in the matter. He said, "This is GAME CHANGER. Abbott to market, starting next week, a fast point-of-care #coronavirus test, delivering positive results in 5min and negative results in 13min. Will deliver 50K tests/day to start. Kudos to Abbott and FDA's Jeff Shuren and team at CDRH who are in the fight."
FDA approved other point-of-care tests
Before Abbott's ID NOW testing platform, the FDA approved the testing technology by Cepheid – a biotechnology company. That testing technology was able to give the final results in as minimal as 45 minutes. However, its use was limited to emergency rooms of hospitals only.
Another test from Abbott, the m2000 RealTime SARS CoV-2 EUA test, was also recently approved by the FDA. Abbott expected to produce near 5 million tests per month by testing at hospitals and universities.
Verily, a life sciences business of Alphabet, is also working on its Project Baseline – a drive-thru testing for COVID-19. The online screening test at the drive-thrus will tell if a person should go for further testing or not. If the screening results say yes, they are then drive through the stations where their samples are collected and forwarded to the labs. Verily also claims that this testing process may take a longer time, probably two to four days, and on the positive tests, that person receives an immediate phone call. Verily's drive-thru testing program is currently available in San Jose (Santa Clara county), San Mateo (San Mateo county), Lake Elsinore (Riverside county), and Sacramento (Sacramento county).
The U.S. is genuinely suffering from COVID-19 and has more cases than any other country in the world. New York state is the biggest hit of COVID-19, and the total number of cases has increased to 66,000 to date. The deaths due to the pandemic virus, in the state, have also grown to more than 1,200.
Abbott hopes that the company could help the state governments in fighting against the epidemic virus leading to test people for COVID-19 faster so that they get the treatment on immediate basis.
READ: Why Abbott Laboratories Stock Is on Fire Today ↗
READ: Elon Musk ships 1,200 ventilators to California hospitals for Coronavirus patients
READ: PlayStation 5 specifications and details are out officially
Featured image: Abbott