External recruiting has been a tradition for a long time. Companies used to hire employees for every new role they offered. With the concept of internal mobility, the game has shifted. In a fast-paced world, it is profitable to leverage your key employees when the competition is fierce. This article will go over what an internal mobility is, the advantages of internal mobility, and how to construct an effective internal mobility strategy in your firm.
What is Internal Mobility?
Internal mobility refers to shifting roles between talents at vertical and lateral levels. For instance, vertical mobility is a transition from president to chairman. In lateral, it's a transition of roles with equal and higher levels of seniority.
It allows a business to transit its team within an organization to upskill their talents and collaborate to meet business goals. Internal corporate mobility is easier said than done. It necessitates a strategy, implementation and delivery, all of which will be discussed in this article.
Types of Internal Mobility
Following are some of the types of internal mobility: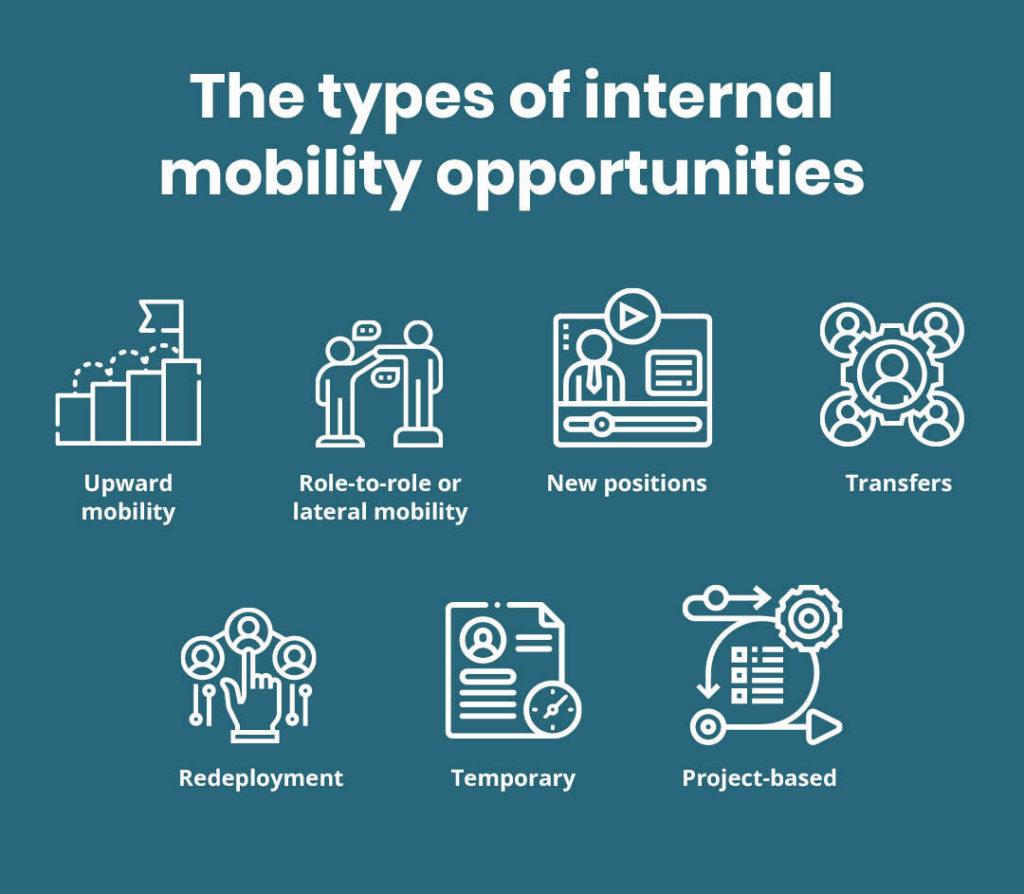 Role-To-Role Mobility
It is lateral mobility and a transition from one role to another with a slight change in the salary and role. For instance, the sales representative is given a new marketing executive role. This transition helps employees use their current skills in other business areas.
Transfers
This type of internal mobility does not affect salary and roles; it is a transition to a new place within an organization. Transfers are usually made in large organizations with different floors, branches and departments. These might be temporary or permanent and rely on employees' preferences.
Upward Mobility
This mobility is defined as promotion to a higher level. Employees think of it as a promotion with major advances in job roles within the same department. This mobility allows employees to stay motivated and satisfied within the organization. For example, an executive designer may advance to the Manager of Creative Production position. This advancement would enhance their duties and pay while also putting them on a new career path.
Benefits of Internal Mobility
Increases Employee Retention And Satisfaction Level
It gives employees a reason to stay. New challenges and better opportunities are critical factors in why people leave organizations. Internal mobility allows an organization to put employees in a better position.
We've seen in COVID-19 when the economic framework completely collapsed, businesses retained and redeployed people. It was a great technique to keep critical performers of your organization.
No employee wants their career to be stagnant. Studies also found that employees promoted within three years have a higher chance of staying in the organization.
It Saves Time and Cost
Remember that recruiting comes with higher costs and takes time. Hiring a new talent can cost almost one and a half of the current employee's salary. The price gets high for higher roles that need advanced skills and experience. The studies show that employees can outperform external hires with internal mobility. The business should leverage current employees and avoid going through external hiring.
Improved Engagement And Productivity
When your employees have the chance to improve their skills and expand on their experiences, they feel motivated. You can keep employees engaged if you provide adequate training and arrange workshops. Investing in your team's skill development is beneficial for their career advancements.
Best Practices For Internal Mobility
Build a Strategy
Plan your internal mobility program to meet the success criteria. Figure out existing skills in your organization and critical areas that require improvement. Internal mobility is only possible when you know what each employee can do. Building a strategic cross-functional team to ensure everything runs well in a company. This team should include talent acquisition, hiring managers and stakeholders.
Empower Managers
Your management team can play a vital role in smoothly integrating internal mobility programs. Your manager should be capable enough to seek out hidden talents within the organization. They can also help employees in developing and polish their existing skills. The team tries to uncover their career progression goals and find ways to build on those goals.
Internal Talent Portal
Creating an internal talent marketplace is key to a successful internal mobility system. Companies go for traditional external recruitment when they want to fill a vacant position. What if your company already has that skilled talent you are looking for?
Internal recruitment motivates employees and reduces the risk of firing by an employer.
It starts with creating a new team of managers to keep the skill database up to date. The designated manager will refer to the talent marketplace whenever there is a cross-collaboration opportunity. They will further examine the skills required to fill the vacant position and employ if it fits that role.
Challenges Of Internal Mobility
Networking Culture
It is often overlooked when thinking of internal mobility. A business should understand the importance of networking which can lead to success. When there is a lack of networking in the company, being viewed as a strong contender for new roles becomes challenging. It is the manager's responsibility to look for avenues and fill networking gaps.
The Typical Mindset of External Hiring
It is due to tradition, but external recruiting appears to be the favored technique within businesses. But rejecting internal mobility means leaving all its benefits. A company might suffer from high recruiting costs.
Lack of Transparency
Fear makes employees generally hesitant to seek further avenues in a firm. Lack of openness and transparency is one of the challenges for internal mobility. Many managers are reluctant to lose a high-performing team member to another department. At the same time, workers cite the fear of being perceived as "disloyal" as a reason for not exploring internal alternatives.
Internal Mobility: An Effective Strategy?
Internal mobility entails far more than filling job vacancies within a corporation. Talent present inside the organization is a valuable resource. Promoting and growing from within comes with lots of positives for businesses. It also motivates and recognizes employees for the value they have provided and may provide in the future.
Featured Image: AIHR
---