Sony officially confirmed that its latest Play Station 5 will not be supporting any storage expansions, at its launch. Mark Cerny, the Play Station hardware architect, back in March said he was uncertain about SSD expansion if this will be available at the time of launch.
The gaming community observed that there's a special inbuilt dedicated slot for fitting in a standard stick-shaped M.2 SSDs. It is easily accessible physically – but there's a wait for it! As confirmed by Sony, "This is reserved for a future update."
As per the words of Cerny, "not all M.2 SSDs are fast enough to keep up with the PS5, thin enough to fit into the SSD bay, or compatible with Sony's I/O controller." With this, Sony boosted up the hopes of its audience by confirming that they will work on the compatibility testing of SSD expansion later this year and offer the compatible SSDs only then.
Sony has confirmed that PS5 will allow memory expansion through off-the-shelf SSDs since it only offers a memory of 667 GB and gamers know that is never enough. However, the new update might prove to be very costly. The storage on the PS5 can be improved by taking off the side panel and installing a new NVMe SSD.
Now comes the worrying part, the specifications needed on the SSD are pretty high as they should at least meet the one already present in the console. This could require a transfer speed of a minimum of 5.5GB/s and a PCIe 4.0 interface. A 2TB SSD that meets these specs is Samsung's 980 Pro NVMe SSD, and that can cost you around $592, which is more than the PS5 itself.
With size increasing for games, memory expansion, sooner or later, will become necessary to all PS5 users. There is an option to use 1TB expansion, which would cost $296, which matches the expansion price on Xbox Series X. However, it is an external feature on Xbox Series X in contrast to internal in PS5.
PS5: Why expand SSD later & not now
Mark Cerny, further explaining his point, said that all off–the–shelf SSD's deliver more than 5.5 GB/sec of bandwidth over a PCle Gen4 connection and are pretty large, which is why it is not possible to fit them in PS5's drive bay.
It isn't just about assumptions, but Cerny confirms that he has practically talked to many different manufacturers of PCle Gen4 NVMe stick drive, even though there aren't many and there isn't even one that can potentially work with PS5. With several being pretty positive that their drives could meet up the requirements of Sony, they're hopeful that they'll get a chance for testing themselves.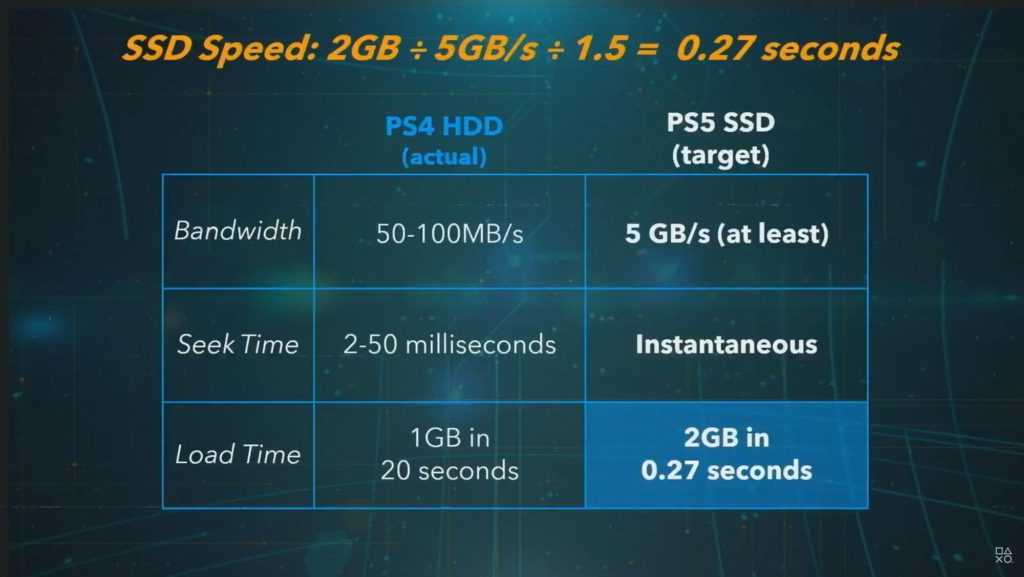 PS5: Managing the internal storage of SSD Expansion
PS5 comes with a limited internal storage of 667 GB – which is the space one would have to live with for a while until they can afford SSD expansion. This storage size is not enough for most of the games you plan on buying, but Sony promises speed, thanks to the PCIe 4.1 interface used in PS5. All you got to do is practice these three simple solutions & you can easily manage Internal Storage of PS5:
– Selective Installing; Install Single Player or Multi-Player mode according to whichever you want to go for. For example, if each mode takes in 25 GB's installing the one that suits you will save up half the storage
– Duplication of Data; The data for each game is stored multiple times in drive so that the seeking is easier for processing of the game if you are using a second SSD. Storing it on PS5 internal storage frees from this issue and also saves a considerable amount of space
– Quick Installing; PS5 internal storage lets you install games efficiently and effectively. You can easily switch between different games.
PS5 offering of storage expansion may sound like a relief for most of its audience, but many would still be concerned about the potential expenses involved due to the advanced technology used. It will get cheaper with time, but apart from all that it has a great experience to offer.
One more thing, even though you may find an SSD that can fit in the expansion storage bay of PS5, the additional storage feature is disabled by Sony right now, so that will not work. Sony has decided to enable this feature via an over-the-air future software update after testing the different SSDs once they become available in the market.
PS5: SSDs available in market
According to GameRevolution, these are the two SSDs that offer the required specs for a PS5 SSD storage. Both the drives have similar dimensions of 3.15″ x 0.87″ x 0.09″ (L x W x H).
Samsung 980 Pro Series V-NAND SSD (Buy on Amazon)
WD Black SN850 Series SSD
Another one that meets the specs is Seagate Firecuda 520 and the dimensions are 3.15 x 0.87 x 0.14 inches. A YouTube review by NASCompares confirms these devices can fit in.
Featured image: Lets Go Digital