If there's one recruitment trend you need to look out for in 2023, it's quiet hiring. If you're an over-performing employee, it's likely that your employer has bigger plans for you.
There is no standard procedure for quiet hiring. While some employers may compensate employees for assigning more tasks, others can be exploitative. The term "Quiet Hiring" suggests an insidious approach to hiring, where the employee is sometimes unaware of what is happening.
If you're wondering whether you're being quietly hired, keep reading to find out more about this trend.
What is Quiet Hiring?
This recruitment trend is making waves in the corporate world. It offers employers a cost-effective way of growing their company. It is set to become highly popular in 2023.
For instance, if there's a vacant position at a company, the employer will quietly hire an existing employee (or multiple employees) for the role, without recruiting a new employee. This helps save the high costs of recruitment and training.
This process is also considered as an employee retention strategy. This strategy can be favorable to employers, but much of the negative criticism associated with this recruitment practice is based on the idea that it is exploitative.
What is External Quiet-Hiring?
Quiet hiring is not only an internal recruitment process. Although, it is popularly known as an internal recruitment practice. Companies can even quietly hire external employees, often for a short period of time. As opposed to full-time employment, employers make use of part-time employees to reduce costs.
This form of quiet hiring enables employers to acquire the expertise of external employees. This is also a cost-effective strategy that is employed by companies all over the world.
Quiet Hiring: Warning Signs
Here are some of the warning signs employees should look out for. These indicators can help employees determine whether or not they're being quietly hired. If that is the case, they can bring the matter up with their employers/HR managers.
By doing so, they can expect proper compensation for their role. It is crucial to negotiate the terms of the promotion/recruitment to avoid exploitation. The process of being quietly hired can either work for or against an employee.
Additional Work
This is the most prominent warning sign. If you're being assigned more work, particularly the kind of work that is out of your area of expertise, then you have the right to worry. The best way to address the situation is by inquiring about it from the employer/manager.
As an employee, you should be informed about your rights. If you're being assigned more tasks, your company needs to compensate you for it. It is important to recognize the shift when it happens, otherwise it can lead to many different problems.
If an employee does not discuss the situation with a higher-up, it can be consequential. The psychological effects of overworking (especially without monetary compensation) can lead to burnout. This can backfire for employers as employees may decide to exit their jobs.
Limited Guidelines
Employers/Managers will likely be discreet about the whole situation. This means that employees might get limited guidelines on their 'new role'. This is what makes this type of recruitment "quiet".
If you find yourself in a confused spot, it's best to have a discussion about it with the relevant person. This will help you sort out the situation and understand the process a bit better. If your employer changes the topic or refuses to address the elephant in the room, you've likely been quietly hired.
As an employee, you should stay on the lookout for such behaviour as this can indicate the possibility of being quietly hired.
Little to No Monetary Compensation
There can be two probable scenarios. Either your employer will compensate you unfairly or not compensate you at all. With this type of recruitment, the motive is to maximize the use of existing talent without hiring anyone new.
Many people may view this situation as exploitative. This process saves employers the costs of both hiring and promoting. But for employees, it can have a negative impact.
The fear of losing one's job shouldn't hold them from addressing this concern. It is important to feel valued and appreciated at work, instead of being exploited. Therefore, employees should recognize the warning signs when they start to surface.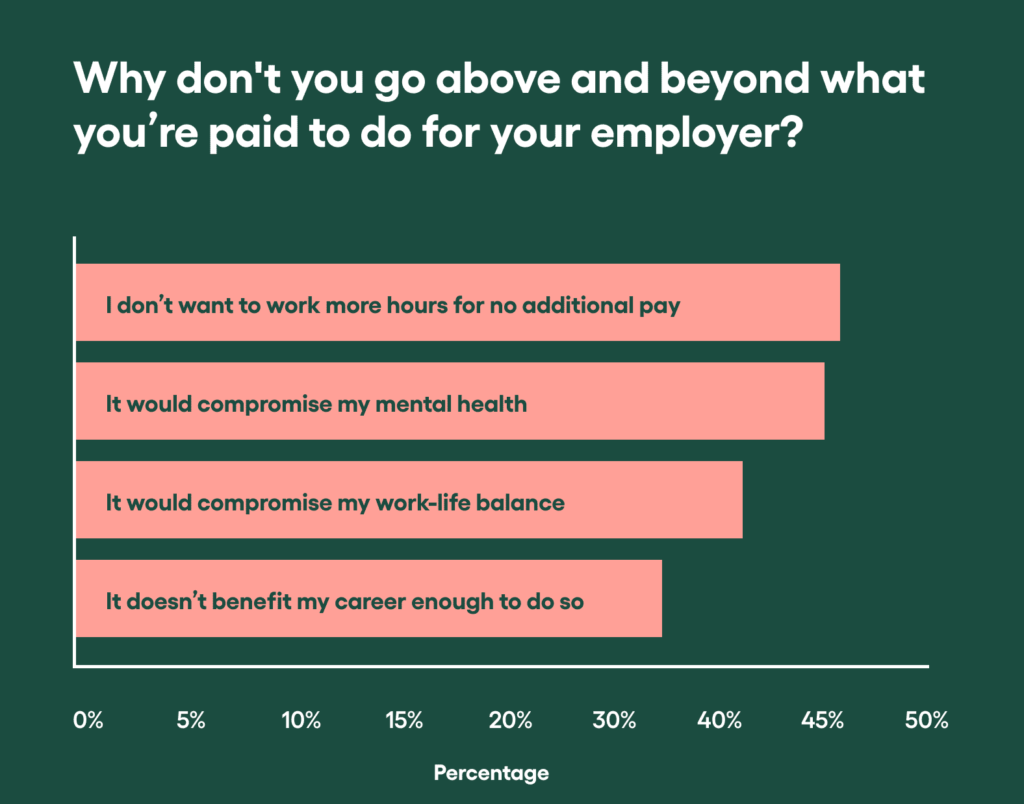 Quiet Hiring: The Brightside
For employers, this recruitment trick is an obvious win. But for employees, is there a silver lining to being quietly hired? It all depends on one's perspective. If an employee recognizes the situation when it happens, it gives them an opportunity to empower themselves by taking a stand.
This can end up in a few different scenarios. It can either lead to a dead-end, a promotion or an opportunity to exit the company. The bright side of this is that it can lead to career advancement. It can force employees to look for work in companies where they would be appreciated.
This recruitment is also a testament to the value an employee brings to a company. For many employees, this should be an indication of advancing their career.
Quiet Hiring: A Rude Awakening?
If you find yourself in a rut with your 9 to 5, quiet hiring can be the rude awakening you're looking for. It can be unpleasant to be at the receiving end of corporate exploitation. However, this reality check can help employees figure out their way in life.
It can allow them to make better choices for their future. They can either fight for a promotion at work or look for work elsewhere. The decision to stay put in such a situation can have negative effects on one's mental health and professional life.
The reality of unemployment can be scary but it is crucial to take a stand against unfair treatment at work.There is a lot of uncertainty involved with such a type of recruitment, which makes it unethical.
What's to follow?
This type of recruitment can be rewarding for some employees but challenging for others. It is important to have a backup plan, in case your employer refuses a promotion or monetary compensation.
You should keep your CV updated and stay on the lookout for the latest job openings in your area. It would be best to aim for an advanced job position, as this can help you advance your career. It would also help to look for places that prize their company culture.
This recruitment practice seems to be gaining traction in 2023. Therefore, it's best to be cautious. It is important to research the job market and to look for job roles that compensate fairly for the responsibilities.
Although internal hiring is a great way to recruit talent, the term "Quiet Hiring" denotes an unethical practice. The mark of any great organization is transparency.
Google's Quiet Hiring Strategy
Google's quiet hiring strategy can be applauded. They have used internal hiring to their advantage, minus the exploitation. They have come up with a system of recruitment that benefits both employers and internal employees.
According to sources, Google is helping existing employees advance their careers with the help of promotions/raises. By doing so, it is reducing the risk of hiring poorly performing employees. This just goes to show the effectiveness of this trending recruitment practice.
Other companies should take notes from Google and implement a similar system of quiet hiring to grow their companies with the best talent. This can be done in an ethical manner without negatively affecting employees.
It is important to distinguish between internal hiring and quiet hiring. Google's strategy seems to be more fitting to the former term.
Quiet Hiring: Ethical Implications?
To make the most out of this type of hiring, employers must let the employee in on the situation. This can benefit both parties. It can help save executives the costs of recruiting and training. As for employees, it can help them advance their career without switching companies.
This recruitment trend is generally considered unethical. This is because it disadvantages employees in numerous ways. The reason why this can be harmful is because this procedure does not explicitly ask for consent from the employee.
It is important for HR managers/employers to be transparent with employees.
Featured Image: Talent LMS
---