If you are in the real estate business, having the right platform, software and tools can be the deciding factor in giving you a leg up on your competitors. Your platform or software is at the core of your service, since it impacts every aspect, from finding investors and raising capital, to closing deals and distributing funds. In simple terms, your platform will have long-term effects on your business' success. But choosing the right platform, like syndication software, that complements your needs can be quite an arduous process. 
What is Real Estate Syndication?
Real Estate Syndication works in the same way crowdfunding do. Several investors come together and pool intellectual and capital resources to buy real estate properties. Investors take part in syndication because sometimes they don't have the funds to acquire a property but the opportunity is one they just can't miss. Or they just don't want to go through the headache of searching and underwriting investments, and so they find a 'Syndicator' to do it for them. A syndicator is the one who finds properties and manages all the legwork required for a fee or share in the investment.
Why should you use Real Estate Syndication software?
Real Estate Syndication can be quite complex. When you have multiple properties being invested in and several investors taking part, it can get quite arduous to remember which sponsor invested in which property.
Furthermore, communicating accurate information to investors at the right time can become burdensome even if you have assistants helping you. Syndication softwares can make the whole process simple by allowing open communication channels with investors, and providing a portal so both syndicators and investors can track and manage their investments from anywhere.
Here, we've compiled a list of the best softwares
Cash Flow Portal
Groundbreaker
Juniper Square
Cash Flow Portal
Cash Flow Portal is an easy-to-use platform that brings syndicators and investors closer together. This software is especially suited for new players in the real estate market because its networking capabilities tackle the challenge that most early syndicators face, which is building a system for raising capital. It helps syndicators build better and meaningful connections with investors and quickens the process of capital raising.
The platform automates many tasks for you like advertising new properties, storing and distributing documents, investor workflows, and asset reporting. You get to manage all communication lines from one dashboard, and can work with several of your sponsors simultaneously, keeping their identities anonymous.
If you've been in real-estate syndication for some time but only are now planning to go digital, Cash Flow Portal is your go-to software. It offers a commitment-free trial. This means that you don't have to pay for anything until you're about to close a deal. Afterward, it's $95/month, and billing is based on the number of properties.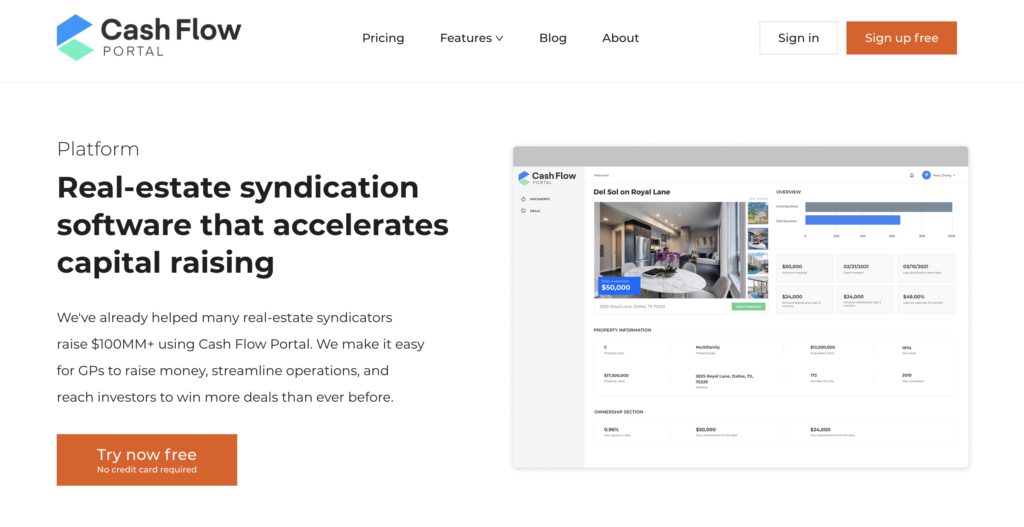 Additional features include:
Bulk Upload Documents/Contacts: You can mass upload documents along with K1s and the software auto-assigns them to investors and properties.
Automatic Clearing House: Supports funds transfer through direct payments without the use of physical money making transactions much more convenient.
Investment Profiles: Brings all asset information like ownership, asset value, acquisition price, all under the same profile for easier search.
Groundbreaker
The whole premise behind Groundbreaker is to make syndication as easy and obstacle-less as possible for both syndicators and investors alike. Groundbreaker offers an intuitive platform interface making it easy for you to stay in touch with investors and manage their commitments and for investors to keep track of their investments. The platform covers six primary functions that provide for both parties' investment management needs;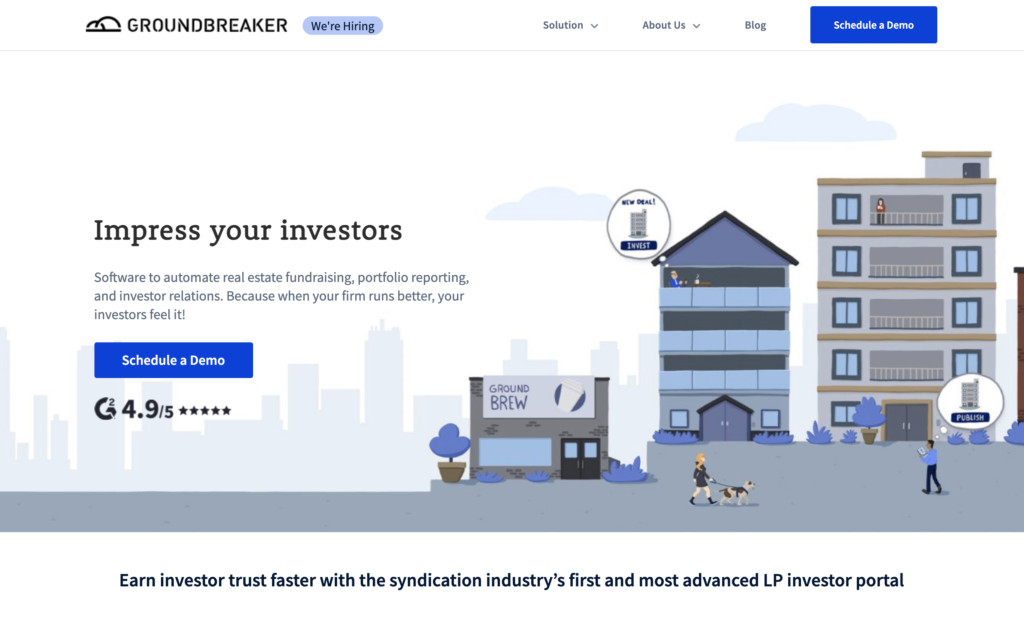 Investor Reporting: Provides periodic and ad-hoc reports on commitments, accounts, and progress.
Investor Portal: Simple yet powerful interface that lets you recruit, retain and manage investors while providing professionalism and transparency.
Investment Management: It hastens investor onboarding and lets them review deals, documents and explore their investments.
Fundraising Automation: Closes deals faster through automating marketing and publishing of investment offers and properties and providing investors with payment flexibility through an integrated ACH tool.
Customer Relationship Management: Brings all investment activities and investor information under one roof to help administration, legal, and accounting departments streamline processes.
Security: All data is encrypted at rest and in transit and secured on Amazon Web Services (AWS) data centers.
If you're a newbie in the real estate syndication scene, you might want to give Groundbreaker a try for its simplicity. Groundbreaker has a user rating of 4.9/5. Introductory pricing starts at $100 a month to $800, based on your investment value.
Juniper Square
Juniper Square is undoubtedly the industry leader in all real estate syndication platforms, with over 21,000 investments managed and around $1 trillion in global assets. It is best suited for veteran real estate syndicators and commercial investment managers with tons of experience and knowledge in the industry. The platform is entirely cloud-based and has very swift file sharing, document management, and payment distribution features.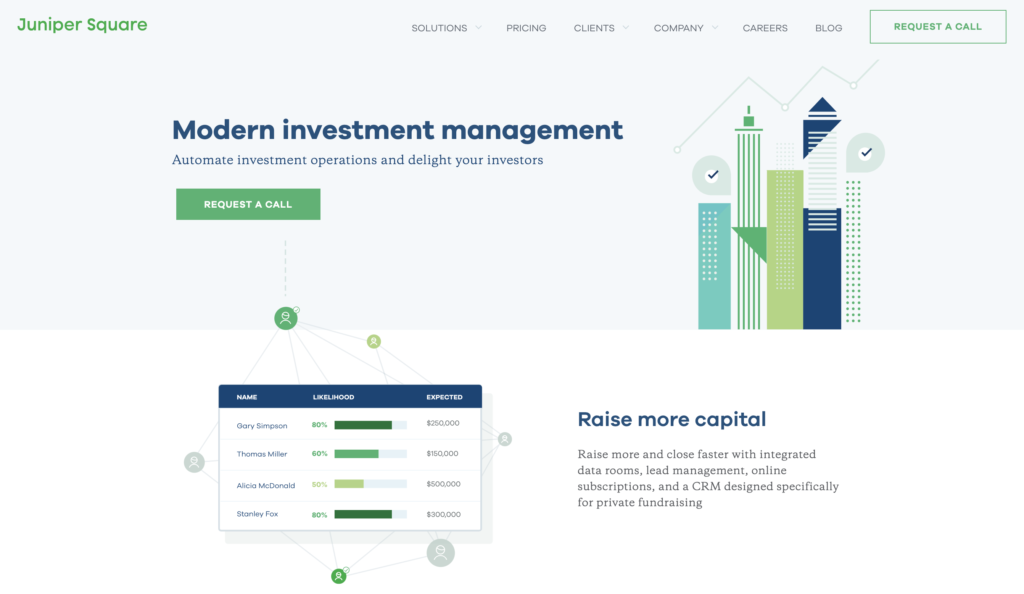 Additional features of Juniper Square include:
Performance Metrics: Provides accurate metrics like investor likelihood, expected funds, IRR and equity multiples.
Critical Date Alerts: Automated reminders so that you never have to miss an important date.
Investor Portal: Has a separate portal for sponsors so they can view and manage their investments, giving them a unique investing experience.
READ: Why tech companies like Tesla and Oracle moving their HQs to Texas?
The platform creates databases for current and potential investors, keeping a record of all interactions. This enables syndicators to create rule-based workflows for transaction processing and asset management. The Juniper Square team is also very professional when it comes to providing customer support. Their phone and email support are available anytime, and they provide training for easier onboarding.
Juniper Square has a user rating of 9.3 for Ease of Use and 9.9 for Quality of Support. They have a wide range of pricing schedules based on your needs and provide custom pricing on request.
Which Real Estate Syndication software to use?
Here we've done a little comparison of these software features so it's easier for you to choose.
| | | | |
| --- | --- | --- | --- |
| Features | Cash Flow Portal | Groundbreaker | Juniper Square |
| CRM | ✔ | ✔ | ✔ |
| Investor Portal | ✔ | ✔ | ✔ |
| Data Import/Export | ✔ | ✔ | ✔ |
| Cloud Support | ✔ | ✔ | ✔ |
| Bulk Data Import | ✔ | | |
| Deal Management | | ✔ | |
| Critical Date Alerts | | | ✔ |
| Phone Support | ✔ | | ✔ |
| Chat Support | | | ✔ |
| In-Person Training | | | ✔ |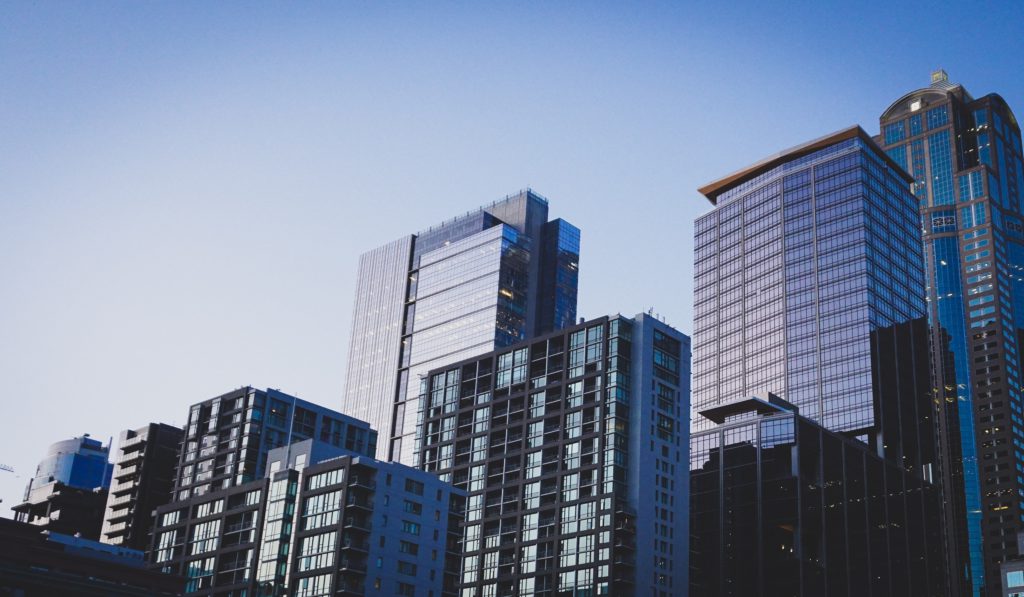 Choosing the right software before you dive into the syndication business can be crucial to your success as a syndicator and sponsor. If you're just entering the real estate market with a single deal in mind, Cash Flow Portal with its simplicity is your best choice. Groundbreaker would be the more appropriate choice if you have multiple investors with smaller deals. But if you're working with a major real estate agency and have been syndicating for a while, Juniper Square with its powerful features is your best option.
Still, got questions? Ask away in the comments section below!