You've probably heard about ChatGPT, OpenAI's latest AI chatbot that can answer any and all your queries. It's caused quite the ruckus amongst the general public. There's a very hot debate going on right now on the internet: ChatGPT vs. Google!
What Is ChatGPT?
ChatGPT is a natural language processing tool. It's an AI chatbot that understands what you are saying and answers based on pre-fed information. ChatGPT can help you with a variety of tasks, such as writing, editing, coding, and finding information.
The first prototype went live in November 2023 and instantly created buzz on the internet. ChatGPT has been trained through a plethora of data that was collected from books, articles, research, and other online content. With the help of Reinforcement Learning from Human Feedback, it can also learn new things through interactions with users.
Since ChatGPT learned from content written by humans, it has the ability to mimic human writing, making it very useful. "As its behavior improves, it continues to ask for human feedback on trajectory pairs where it's most uncertain about which is better and further refines its understanding of the goal," according to Open AI.
Impact of ChatGPT
ChatGPT made quite the splash when it first went live. It amassed more than a million users in the first five days of launching. Users have gotten very creative with the way they're incorporating the AI tool in their work and daily lives.
One of the most prevalent use cases of the tool is students asking it to write essays and creating projects for school. Over 200 ebooks on Amazon's Kindle cite ChatGPT as a co-author. One user asked the AI to write a complete C++ code for a tic-tac-toe game and then let ChatGPT play against itself.
The impact of ChatGPT is quite vast. These examples show that the tool can be used in a variety of ways, benefiting all industries. In healthcare, it could help doctors answer frequently asked questions by patients. Marketers can use it to write copy, design campaigns, and create email pitches.
How Does It Compare to Google?
ChatGPT can answer user queries just like any search engine. But there are some stark differences that might make people choose one over the other.
The most significant difference is that ChatGPT will give you a single response for every query. It creates the best answer for you based on the information it's been fed.
On the other hand, Google will give users multiple answers for one query. Users can select whichever results seem most useful to them. A search engine will also give news, image, and video results.
Another stark difference is advertisements. The first few results on SERPs will always be ads that are mostly considered noise. However, ChatGPT will always provide you with the response you requested without any additional information.
What the two tools consider results is also pretty different. ChatGPT calculates probabilities of what it considers to be the most accurate response. Google and other search engines give responses based on relevance, source credibility, and hundreds of other factors.
ChatGPT has the innate ability to learn from its conversations. Search engines do not. So, if you want to fine-tune your Google search, you'll have to change your query and start over.
You can ask ChatGPT to change search parameters, and your responses will change in the same conversation. Here's an example of a user asking the AI tool to revise its responses and add new information;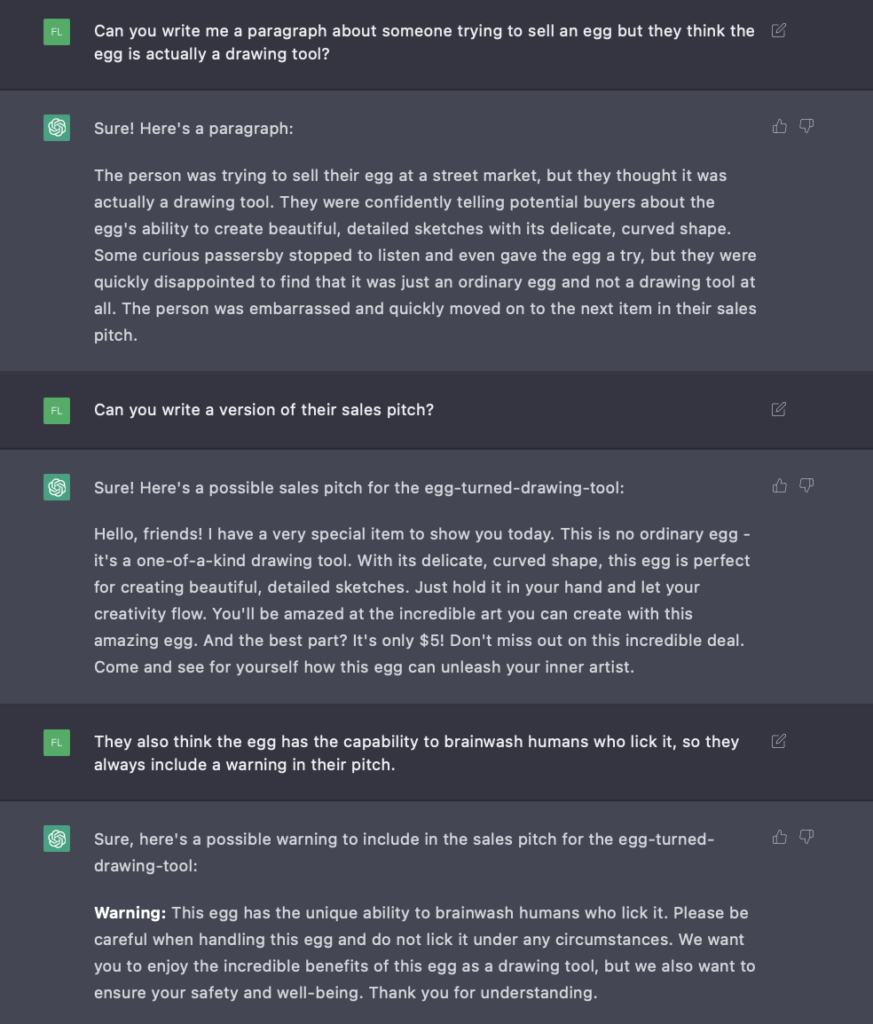 Do Users Want to Switch From Google?
It's important to discuss public sentiment and preferences when it comes to Google alternatives. Does the public really want to switch from their favorite search engine to an AI tech that's just been introduced?
ChatGPT can only answer informational queries based on the data it has been fed. And only until 2021. ChatGPT has no information about topics concerning 2022 or later.
But people don't just want answers to questions. They have transactional queries as well. If you want to buy something, Google can guide you to the best products. But ChatGPT can't.
Over the last decade, we've seen countless search engines pop up. None of these have even captured 5% of the market. The only one that has somewhat succeeded is Bing, and only because it is Windows' default engine.
Users define which engine will dominate the market, and it's clear what their choice is. Google maintains a monopoly in this sector that is impossible to topple.
So what chance does ChatGPT even have?
Can ChatGPT Really Replace Google?
The million-dollar question that's looming over everybody's mind; Can ChatGPT really replace Google? Before we answer this question, it's important to understand what a search engine like Google does.
A search engine surfs the internet and indexes the content that it comes across. It then crawls these pages to find relevant responses for a search query. An algorithm then determines the order in which each result is displayed. Results are shown as links, ads, and snippets for the user to choose from.
ChatGPT cannot crawl the internet for content. It can only look through the information it has been fed during its development.
It does not take relevancy into account when choosing which information to pick. ChatGPT calculates probabilities for this. Dare we say that these probabilities have a good chance of being wrong?
Another factor to consider here is accuracy. There have been numerous instances where ChatGPT has given the wrong answers. It creates answers by itself. A lot of times, these are factually incorrect or don't make any sense at all.
The tool will not cite its sources. One user asked ChatGPT to give sources for its response, which it did. Only that these sources didn't exist on the internet or anywhere else at all.
So can people really trust ChatGPT for anything?
ChatGPT Vs. Google: The Verdict
The arguments against ChatGPT are just too strong. ChatGPT will probably never replace Google. For that matter, no other search engine or AI tool can dethrone it. People have just gotten too comfortable with it, and it's hard to break such a strong status quo. Google has been consistent in providing relevant and accurate information to users. Over the years, it has built a credible reputation as the best search engine. ChatGPT, with its irrelevance and inaccuracy, just doesn't stand a chance.
Have you used ChatGPT? What do you make of it? Let us know in the comments below!
Featured Image: WP
---