Artificial intelligence is a revolutionary technology when it comes to content creation. People have been using it to create content for their businesses, marketing, and even assignments. Besides its feature of creating exceptional content, for some, it has become more of a problem than a solution. With the growing number of AI tools, it is hard to detect if the content is written by a human or AI. To differentiate between AI and human-written content, AI content checkers help you identify the content.
To learn more about these tools, we have a comprehensive list of the best AI content checkers below.
What is the AI Content Checker?
With the rising popularity and number of AI tools, it has become difficult to identify if the content is written by a human. To detect the content, AI content checkers are introduced. These tools are created to deep scan the content and offer results. Analyzing the patterns in the content, the tool detects if they match AI algorithms. These tools are not restricted to written content; you can even use them to detect images and videos.
The benefit of using these tools is that they will protect you from Google's penalty for using restricted patterns and not delivering the desired solution to the user. The content written by AI tools will unlikely rank high on search engines. For their downside, AI content detectors often provide inaccurate results. These tools only look for patterns in the content, which can give different results.
Best AI Content Checkers in 2023
From the myriad of AI content detector tools available online, we've streamlined the best ones for you.
Content at Scale
This cutting-edge AI content checker is bundled with various features. It has the ability to detect the content driven by ChatGPT or any other AI tool.
When you paste your content in its AI detection field, it scans and gives you an easy score out of 100. The score for further clarity is divided into probability, predictability, and pattern.
Analyzing the content gives you deep insights about the content so that you can make informed decisions.
CopyLeaks
CopyLeaks is one of the most powerful yet reliable AI content checkers. It has specialized fields to generate and detect AI content. This tool identifies content generated from ChatGPT, AI tools, and any other bots.
To begin with, you can start using this tool by signing up with your account to use its free trial services. You can find different ways to detect content, e.g., by simply pasting your text, adding a URL, or uploading a file. a
When you run a checker, it scans through 30 different languages and offers results. Besides AI detection, it also offers a plagiarism feature where it displays similar words or sentences that match the content. When you run your document through this tool, it also provides an analysis of the text.
Features:
It can analyze 10 pages and maximum 2,500 words for free.
Deep analysis
Mention sources
Friendly user-interface
Browser extension option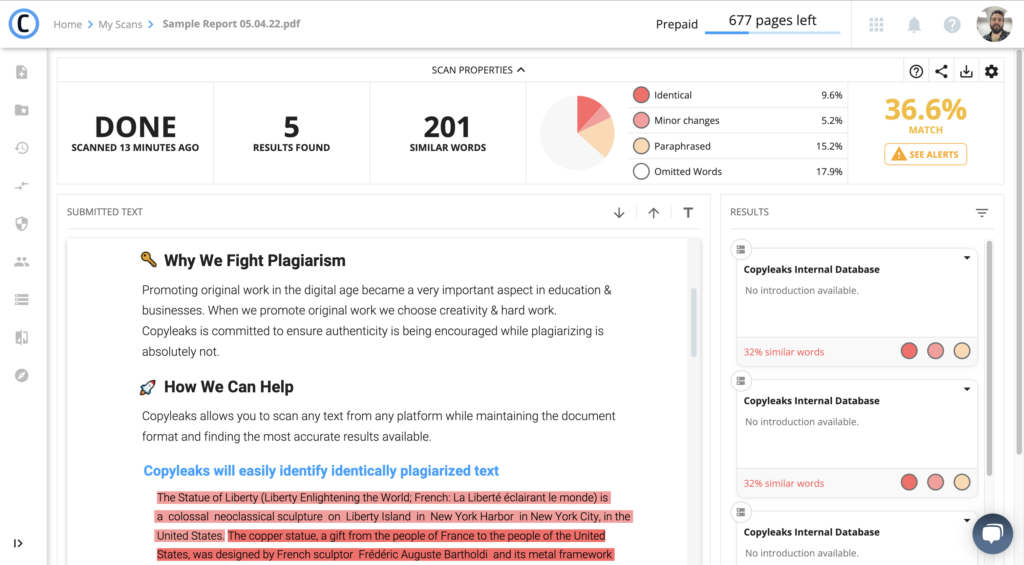 Writer
Writer is a free AI content checker tool that doesn't offer a plagiarism feature. It can generate AI content from a number of sources. If you've used it to generate content for your assignment. You can simply run your document to detect if it has AI content.
Features:
Some of its main features include:
Check the grammar and tone of the content.
It can check a maximum of 250 words or 1,500 characters for more words, and it offers an $18 per month plan.
Can you paste your text directly?
Easy user-interface
Powerful and quick AI detection system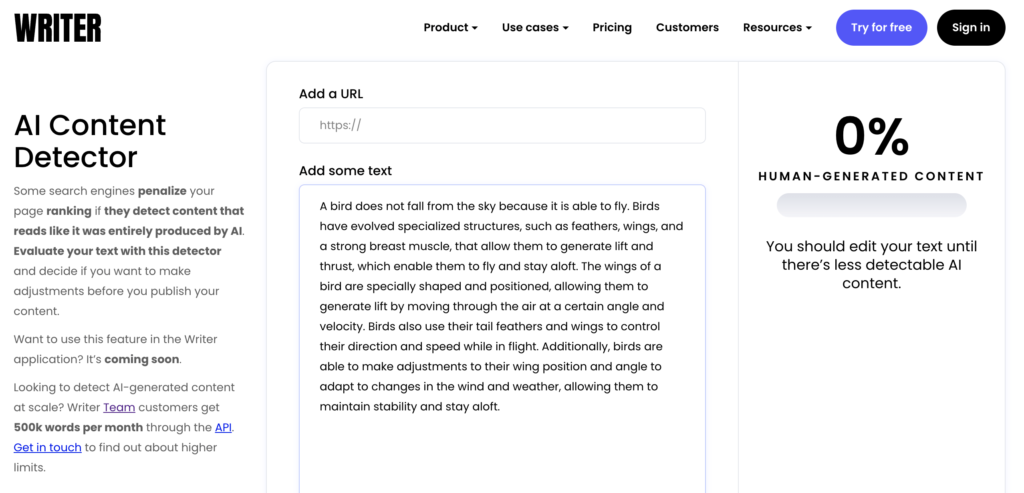 GPTZero
GPTZero is a newly established AI detection tool. It offers both paid and free versions. In the free version, you can paste your document in any format, e.g., docs, PDF, or text format. You can run the file, and it will highlight AI elements used in the content. To do a deep scan and also enjoy other top features, it offers a paid version. In the paid version, you can deep-analyze the content for plagiarism and scan multiple files.
Features
Some main features of GPTZero are mentioned below:
Modern, easy user-interface
Can check maximum 5,000 characters at a time
Mention sources and highlight AI driven sentences
No sign-up needed to use this tool
Originality.ai
Originality.ai is one of the most diverse AI detector tools that can scan your text using various models. All the major models are GPT-2, 3, and GPT-Neo. This tool offers more than 96% accuracy in results. The unique feature of this tool is that it works on a credit-based model. For example, for every 100 words, it charges $0.001. You can choose from different credit options to start with. On its downside, it doesn't offer a free trial.
Main features
Some of its best features are mentioned below:
Supports all NLP models
Chrome extension
Multiple teams can use it.
Cost-effective
Winston AI
The Winston AI content checker tool has been rising in popularity over the past few months. It is ideally being used by education authorities like schools and universities. It gives clear and deep results about whether the content is generated by AI or humans. Also, offers a content score by detecting every sentence in the content. It allows you to run large files, documents of any format, or even images. Winston AI's plagiarism tool is effective and requires a paid version. One of its drawbacks is that it only offers 2000 free words.
Main Features
Some of its main features include:
100% detection accuracy
Can support two NLP models ChatGPT and GPT 4
Highlight AI generated sentences and paragraphs
Supports large files
Free readability score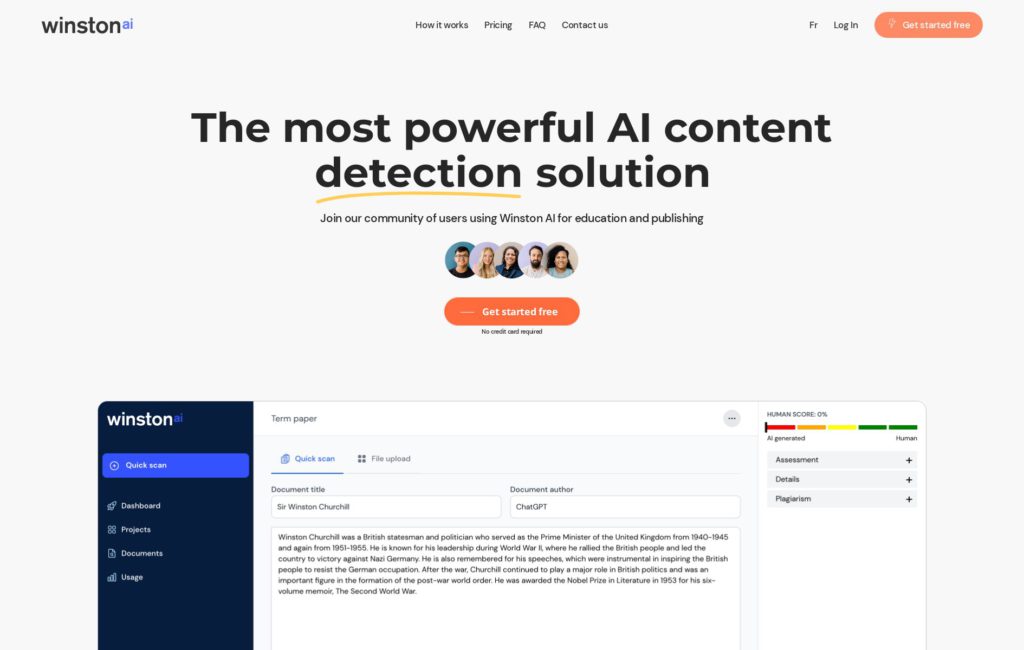 Sapling
Sapling AI content detection tool detects 95% of AI content. Passing your document or text through this tool identifies fake or human-written content. It mentions sources and highlights AI pieces if they are found in the content. Sapling offers both free and paid versions for plagiarism and grammar checking.
Main Features
Some of the main features of Sapling AI content detection tool are:
Chrome extension
Provide score of overall content
Identifies Perplex or ChatGPT content
Generates AI content
API
Suitable for all scale businesses
24/7 customer support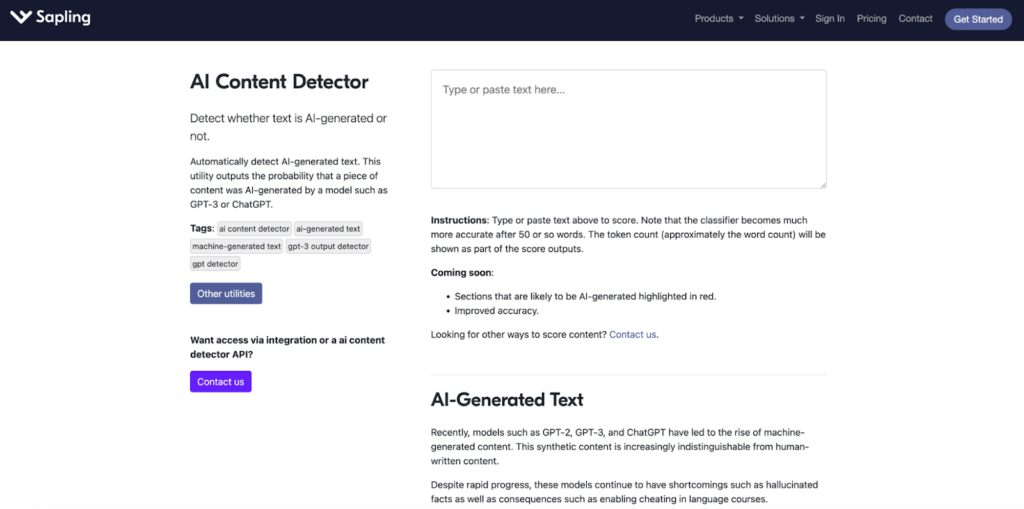 Kazan SEO
Kazan SEO is a tool packed with all SEO features as well as an AI detection feature. This tool is ideal if you are looking for two-in-one services, e.g., SEO and AI detection. It comes with a variety of SEO features like keyword research, optimization, and AI content generation. Similar to these features, AI detection is a powerful feature you can get for free. It shows the percentage of AI content within your text and analyzes it.
Main Features
Kanzan SEO tool comes with bundle of useful features:
Complete SEO features
Text Detection up to 97% accuracy
Support NLP module GPT 3
Keywords research
Content Optimization
Passed.AI
Passed.AI is yet another classic AI content checker with specialized features for educators. Educators or professors use this tool to examine the content of assignments or thesis work. It is a joint venture, or originality. AI as it uses its algorithms API to uncover plagiarism and NLP models within content.
Main Features
Passed.AI is equipped with out of the box features which makes it a reliable tool to detect AI.
Track history of the document (e.g., inserts, adds, changes made within document)
Detect from different NLP models
Secure and can conceal private information
Check docs directly from Chrome extension
Paid tool starting from $12 per month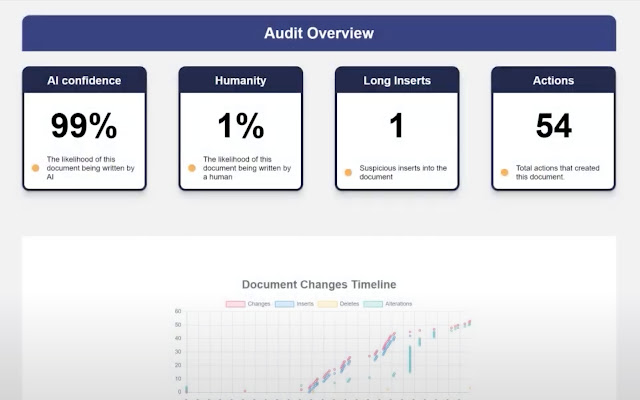 Crossplag
Like Passed.AI, this tool was also created specifically for educators and professionals. This tool comes with a free plan and offers a myriad of academic features for all levels of institutes. The only drawback of this tool is that for now it only checks English documents, unlike many other AI detection tools.
Main Features
Support and based on fine-tuned model
Use OpenAI dataset
Offer results in percentage (probability and predictability)
Free plan, no sign-up is needed
Unleash the Potential of AI Content Checkers
As we know, AI-generated content is here to stay and is expected to evolve over time. As quickly as OpenAI made headlines, so did its detection. If your business wants a copy or any content to be produced by humans, you might need an AI content detection tool. This is going to be a must-have for businesses to streamline their content and avoid Google penalties. You can choose from the above-mentioned tools to screen documents or texts to welcome organic content for your website.
Featured Image: FreePik
---