With travel opening again this year, people are yearning to plan a trip that they have been deciding on for the past two years. Everyone is just too desperate to leave their abode and explore the globe with friends and family. People's urge to fill the thrill of travel after the restrictions have been lifted is unmatched. However, the types of destinations differ when it comes to families, couples and individuals. Here are the top summer vacation ideas for 2022!
Best Family Summer Vacation Destinations 2022
When people get down to booking via online booking tools, the three clear winners for family summer vacation destinations are Cancun (Mexico), New York (USA) and Singapore.
Cancun, Mexico
Bordering the Caribbean Sea, Mexico is well-known for its white-sand beaches, family-friendly resorts and vibrant nightlife. People from the US can easily access Mexico because of the Mexico-US border, which makes it easier for them to travel. So, for Americans, Mexico is usually the go-to destination for summers.
Cancun is divided into two distinct areas; EI Centro and Zona Hotelera. EI Centro is more like a traditional downtown area. At the same time, Zona Hotelera is an area with a completely different vibe. It has long-front beaches, nightclubs, luxury hotels, and restaurants. Depending on which of the two areas matches your vibe the most, people decide on their itinerary.
Some of the top tourist spots in Cancun for families are Chichen Itza, Tulum, Cozumel Island, Xel-ha Park, and the Cancun Underwater Museum of Arts (MUSA).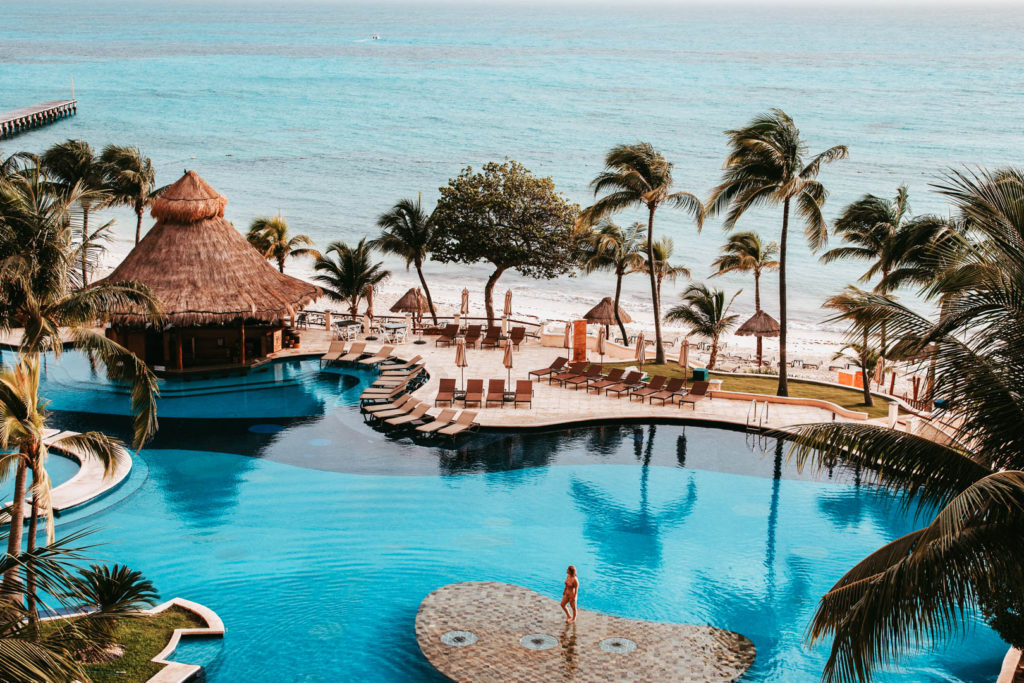 New York, USA
After two consecutive years of strict lockdown restrictions and vaccination requirements, New York has lifted up the restrictions. As soon as the restrictions have loosened up, it has once again become the favorite summer vacation destination for families. Families enjoy the convenience of adjoining suites, and children get amused by the free milk and cookies in the hotel rooms.
The Lotte New York Palace and Berkshire Place are family-friendly hotels that come with all the amenities and entertainment for the children. Currently, Lotte New York is offering 50% off on rooms which is a great deal for big families. The majority of the family-friendly hotels are located centrally, giving easy access to main tourist spots like Central Park, Fifth Avenue and Empire State Building.
If you are planning to visit The Statue of Liberty, making reservations ahead of time is strongly recommended. This will help families to secure a spot inside the pedestal. Another most liked attraction for tourists in New York is Rockefeller Center. It is a 70-story plaza in the center of Manhattan with an immensely spacious entertainment and shopping complex.
Families interested in watching long-running classics and latest shows then Broadway and the Theater District. The area encompasses different theater venues, but again, it is recommended to buy tickets beforehand for popular shows and plays.
Singapore
Singapore is one of the top summer vacation destinations for families. It is an experience full of panoramic views, active nightlife, and remarkable culture. Universal Studios still remains the favorite tourist attraction of children in Singapore. The adrenaline-rushing roller coasters and a wide variety of thrilling activities based on popular TV series and movies are enjoyed most by children.
Gardens by the Bay is another popular attraction for families. Located in the heart of Singapore, Gardens by the Bay is a premier horticulture attraction for international tourists. The garden presents the whole plant kingdom in a creative way and educates the visitors about plants seldom seen around the world.
Other than these likable spots by tourists, there are other exciting activities. For example, nighttime sightseeing cruises, Singapore duck tours, night safari and Sentosa Island full-day tour.
Best Couple Summer Vacation Destinations 2022
This section puts together some of the best destinations that couples can definitely enjoy this summer of 2022.
Bali, Indonesia
For couples who love pristine and crystal clear beaches, then Bali is the right choice for you. The scenic beauty of the place is almost like stepping into Heaven, which has made it the top choice among couples this year. Bali is a land of picturesque mountains, sacred temples, national parks, lush green forests, and delectable food. The resorts in Bali are categorized as world-class holiday destinations with breathtaking views of the Indian Ocean and Tropical Forests. Couples who want to enjoy exclusive villas with private pools can find a variety of affordable options.
Telluride, Colorado
Telluride in Colorado is a perfect summer vacation destination for couples looking for a romantic getaway. The place comes with snow-capped mountains, thick pine trees, and small streets covered with beautiful houses, restaurants and coffee shops. The look of the entire place feels like it is something extracted from old West movies. Honga's Lotus Petal is famous for its mocktails and fresh juices. The ski and golf resorts are the best choice if you want to hit the slopes.
The historic and district landmarks like Sheridan Opera House and Telluride's Old Museum illustrate the area's local history. The best times to visit Telluride are mid-June to mid-August and from mid-November to mid-April. Although during these times you will experience huge crowds and higher hotel rates, it is the best time to experience Telluride's local festivities and skiing.
Patmos, Greece
Patmos is a small island in Greece that is only 14 miles long. The only way one can reach the place is through a boat. This small island will mesmerize you with its beauty and background story. The white-painted mansions, chapels and interlinked courtyards make this place one of the most incredible places out of all other small Greek islands. Fried zucchini balls are a famous dish, and Benetos offers the best fried fish. Not only this, Patmos offers splendid beaches such as Diakofti beach.
Are You Ready For Your Next Big Adventure?
Summer 2022 is surely the best time for people to travel. Not only will it be good for travel and tourism in various countries, but people will have a great outlet to shred off the pandemic stress. Some of the countries might still require COVID tests and other formalities related to it, so just head up to check all the travel restrictions before planning your trip. Our round up of summer vacation ideas for 2022 contains must visit places for you this season.
---