If you are an avid traveler and want to make money out of it, a travel blog is for you. Blogging in a particular niche helps you share your experiences with your audience. If you are passionate about traveling and good at making videos and writing content about your travel experiences, you must give it a shot to start your own travel blog. Besides, just by posting about your experiences, you can make enough money to aid your next travel destination.
Let's understand the steps to starting your travel blog and ways to earn money from it.
What Is Travel Blogging?
Just like other niches, the idea of a travel blog is to explore places and share experiences with an audience. A blogger is a person who shares experiences, focuses on the overall or only one attraction of a place, and helps people plan for their next trips.
For example, from the best places to visit in 2023 to how to pack for your next beach trip and how to find cheap flights. People can get quick tips and tricks from a travel blog.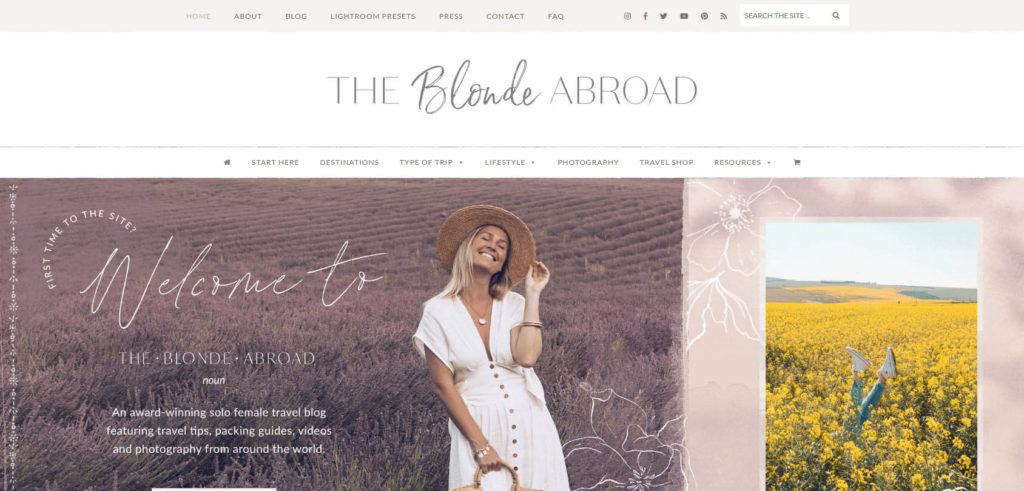 Facts About Travel Blogging
By name, travel blogging sounds exciting and fun, and it definitely is. It also feels great that someone covered your travel costs to write about that place. However, it all comes at the cost of untiring struggle, passion, and the desire to achieve something.
Here are some facts you need to know about travel blogging before you jump into this exciting job:
Passion
You must be passionate about what you do and what you want to achieve. Travel blogging is one of them. For some, traveling is tiring and unattractive, while exploring places is fun. You need to pack every emotion with you when you start your own travel blog. From booking tickets to traveling, walking in the streets, taking photos, and ultimately publishing on your blog. A successful travel blog has plenty of hard work behind building its empire, and that all can be achieved with passion.
Concentrated Market
Digital transformation has led many industries to reap the benefits of it. The travel industry is also one of them. Travel blogging is a saturated niche, and every other blogger wants to enjoy the benefits that come with it. Despite its large market size, you need to put in extra effort to stand out among the competition.
Adhere to Strict Deadlines
Just like other niches, you need to be on your toes to create engaging content while adhering to the deadlines asked by your clients. You will find travel bloggers mostly behind the computers, fixing photos and editing captions. They have to follow deadlines and experience new spots at the same time.
Project-Based Income
Travel blogging is usually a freelancing project. You earn money by winning gigs. At the beginning, you need to spend money yourself to cover your travel costs. When you start writing and sharing experiences on your blog, you make it available for projects.
On the other hand, if your travel blog has reached the milestone where you can start earning from it, you can earn a monthly income from it.
Steps To Start Your Own Travel Blog
Choose Your Blog Niche
A travel blog also comes with sub-niches that you can choose from to engage your audience. You can choose between "how to plan travel", "where to travel", "travel with pets" or "how to earn from travel". These are a few sub-niches; you can choose from a variety of other options to help you get targeted traffic.
If you want to be more specific for your travel niche, you can choose from the below-mentioned options:
Budget traveling
Luxury country or worldwide travel
Adventure
Family or Solo Travel
Select Your Blog Host
Hosting platforms help you create, manage, and run your blog. Every platform comes with different pros and cons. You must choose the one that matches your niche and the requirements of your blog. To narrow down your search, you must look for a feature-rich hosting platform that offers the best tools and customization features.
Choosing reliable web hosting is important to protect your blog from malicious malware attacks. To start your first travel blog, you can start with shared web hosting. In this case, you will share your server with other blogs.
Select Domain Name
Your domain name must represent the style and niche of your blog. Keep it short, crisp, and easy to understand and read. Going for a complex, luxury-style domain name won't get you enough limelight when you've just started your blog. For better outreach, you can choose keywords in a particular niche in your domain. If many of them have already taken up your domain name, you can take help from generative AI tools to help you find the best match for it.
Additionally, to give a more personal feel to your travel blog, you can even choose your own domain name. It will help people remember your blog easily.
Customize Your Blog
Once you've picked the best domain name, start customizing your blog as per your requirements. You can set up your own blog's look by choosing the best theme, layout, and pattern.
There are lots of free and paid theme options you can choose for your blog. At the beginning, you don't need to invest in themes and layout options. You must go for the free package at first, as you can choose from a myriad of travel themes.
Then, choose the right placement for the header and the right color palette that complements your blog.
Start Creating Content For Your Blog
As you are done with all the essentials for your blog, you can now start creating content for publication. To begin with, you must start writing all about travel. It is okay to write about different niches at first to hook readers to your blog and earn trust. Slowly and gradually, start focusing on one niche, build a narrative around it, and keep it engaging.
The pro tip to start your content is to keep it simple, quirky, and crisp for the audience to digest. Think outside the box and offer subscriptions to increase your blog's traffic.
Make Money From Your Blog
Once you have established your travel blog and set up its monetization, you can attract different clients to display ads on it. You can either choose affiliate marketing or simply post about the business within your content. This type of marketing is most effective for blogging. Travel bloggers are making enough money from affiliate marketing. On your blog, you promote the products or services of a particular brand and earn a commission.
Tips to Make Your Travel Blogging Stand Out
Create Useful Travel Content
Posting about your experience alone is not enough to attract readers. There might be a few who take an interest in your blog and adventures. Instead, your content must offer value to your readers that resonates with their demands. For example, offer unbelievable and unique tips to save money while traveling. Entice your audience with professional photography, details about food, and where to stay within budget.
To create useful content, you can do some research about what people are actually looking for in the travel niche.
The best tip is to know your audience's preferences. You can start an "ask a question' on Instagram and run a live session on social media platforms to create more valuable content.
Leverage Social Media
Besides relying on your website audience, fetch more readers from social media. Create social media pages for your travel blog and stay active. These pages can widen your revenue stream if you manage them efficiently. Posting your blog link on social media stories and adding a link to your new blog post in your bio.
To broaden your blog's reach, learn about specific rush hours on different social platforms by using third-party apps.
Become Your Own PR Agent
To amplify the reach of your adventurous activities, reach the best media outlets. It is a hard nut to crack to get the limelight and attention you want from your blog. However, exceptions are there too. You can secure features in top media outlets or publications by researching these outlets.
You need to do research on publications that post about travel and have a large audience.
Also, you can reach out to the authors by email or simply by sending a message asking them to take a look at your blog.
If they notice, you can pitch a brilliant travel article that you think the audience will find interesting.
Invest in a Good Camera
For high-quality pictures, you need a high-quality camera. To capture the best moments to create colorful yet professional blog posts, having a professional camera is a blessing. Besides taking your own pictures, click random pictures of transport, people, food, and backpacks to create interesting content.
My pro tip for a travel blogger is to always have your eyes open for random shots and add a creative story about those shots.
Get a Little Off-Track in Your Niche to Attract Traffic
You might have an audience that loves to read about and explore experiences from your travel blog. But there might be some who are your blog readers but are not interested in traveling in particular. They might be interested in food and culture. So, you can set aside your pet travel blog for a while and create content more about the food and culture of a particular place.
If you want to attract more traffic, take a break from your niche and avoid the strategy of one size fits all. Get a little personal with your audience and find ways to drive more traffic from other pools of your audience. Also, consider the emotions of your audience, which is not interested in your niche but wants to hear more about things in your blog.
Experience Unique Things and Educate Your Audience
Capturing landscapes and breathtaking scenery shots seems delightful and pleasing to the eyes. But doing interesting stuff while traveling makes your experience even more fun. You must create content that gets noticed. It could be a traditional hot balloon ride in Turkey, kayaking in Greenland, skiing in New Zealand, or sailing in Bali. If you travel to Spain, don't forget to get on the streets of Barcelona.
Take on exciting, challenging tasks that require you to post original pictures on your blog and social media.
It's Time To Set Up Your Travel Blog
Setting up a travel blog is easy. The more difficult part of a travel blog is its execution and promotion. It demands quality content to hook your readers and build loyalty. You need to invest energy to make it a successful career. Most importantly, you need to have a passion for traveling to make more organic and engaging content for your audience. Don't forget to enjoy the trip, which offers an incredible experience to build traffic for your blog.
Featured Image: ThriveMyWay
---