If we go back in time, we used to see 'smart houses' on the Disney Channel and wonder how that would even be possible. Fast forward to 2023, now we are bringing smart technology into our homes as it is becoming a part of our lives. It is imperative to say that with new smart home innovations, life has become hassle-free and more fun. In this article, we'll discuss how buyers are eyeing homes with integrated smart technology and how it has improved home's security system.
What Are Smart Home Innovations?
In common terms, when we say smart, we mean intelligent. Artificial intelligence has conquered the boundaries of our homes with its unique yet smart technology. We know that AI has been introduced to offer comfort to humans by automating mundane tasks, as it achieved by introducing smart home innovations. Now, there's a smart alternative to almost every device at home, from robot vacuum cleaners to the smart lock. These devices are connected and controlled from your smartphone via a companion app. There are devices that are controlled with voice commands, like Amazon Alexa.
So, if you want your garage door to close by 9pm every night, or turn off the lights without stepping out of your bed, smart home innovations can do that for you.
Benefits of Smart Homes
Many people are looking to tap this side of technology to include it in their homes. But at the same time, they want to know how it works and how it can be more efficient. Smart technology has improved the way we live by automating several crucial tasks we do on a daily basis. From cleaning to adjusting temperature and storing food in refrigerators. But what intelligently is this technology used for? To save energy and assist in home chores.
Smart homes allow you to have full control over your energy management. For example, smart energy products automate processes like controlling temperature, lighting, window and door treatment, and irrigation.
Smart products help you get insight into your energy use. Robotics lend help in cleaning homes and moving items from one place to another. Overall, smart homes offer a myriad of benefits to ease your routine chores and save you time.
Smart Home Innovations and Trends
Here is a roundup of the best smart home trends and innovations in 2023 for more advanced homes.
Integration and Connectivity
Smart devices require wireless connectivity to perform specific commands. For this, improved connectivity is being introduced that is especially designed for smart devices. Smart home devices, when connected with wireless technologies, work together as an ecosystem. Many companies are offering wireless protocols with high bandwidth that can support technologies like IoT and VR.
Smart home tech is also becoming fully integrated as people now expect smart integrations rather than fantasizing for luxuries.
Smart Security
The vulnerability to theft and burglary has been reduced with smart in-house security innovations. With more reliance on technology, maintaining security has become a challenge. Smart devices have minimized this risk. Now smart in-house security tools use sensors to detect any suspicious movement and automatically lock doors with smart locks. This technology helps homeowners get alerts about exit and entry points to their home.
What's more, motion and fire sensors have been developed to improve a home's overall security and protect it from internal and external risks.
What's more daunting than coming out of your cozy, comfy bed in the winter to turn off the lights? Thanks to smart home innovations for intrusive remote control lighting systems. Not only is it easy to access, but smart lighting also offers customized features to create an atmosphere for any event or occasion. With the functionality of a dimmer, it allows you to set lighting as per your needs with the help of a remote control, voice or gesture command.
The best thing about smart lighting innovation in homes is its eco-friendliness. AI-powered lighting systems consume less energy and generate less heat, which is an efficient approach towards achieving sustainability.
Smart Health Tech
When it comes to smart health integrations in the home, we must not forget how it aided homeowners in COVID-19. To cope with the deadly pandemic, smart device providers introduced smart doorbells. These doorbells with the integrated feature of temperature detection are utilized to detect and screen a guest's body temperature before they enter the premises.
Some of the major innovations in smart health tech are smart thermostats that sense the humidity level and air quality. Advanced smart toilets screen the skin, offer insights into a person's health, and warn of any issues that may arise. Also, smart air conditioning is introduced to offer better and improved air quality while you inhale during your sleep and a smart air purifier to cleanse the air and maintain its quality.
Smart Energy Consumption
Smart devices are connected with wireless technology that consumes energy. If your home is integrated with smart devices, you must consider the amount of energy these devices will consume. To avoid this, you can integrate smart energy control devices to control the energy ecosystem of your home.
These devices detect peak hours of energy consumption and reduce their usage automatically. Some common examples of smart energy management tools include smart meters and energy portals.
These devices absorb the information, give insight about your energy usage, and also make recommendations and guide you to make optimal use of energy.
Robotics
Another major smart innovation for homes is the addition of robots. It has been impossible to imagine the innovation that would take place in assisting our households. Now, we are seeing restaurant owners utilize robots to receive and serve orders to customers. Similarly, robots are used to automate tasks using artificial intelligence, IoT, and laser mapping to detect movement and obstacles.
Robots are being used to replace many household chores like cleaning, cooking, watering plants, and even monitoring pets. These robots work like humans, but only when humans feed them a set of instructions. This smart home innovation is costly and can break your bank to have one to lend support to your house chores and make your life relaxed and comfortable.
Motorized Curtains
Who had thought that one day curtains would be raised with ease while sitting on your couch? Now, it's possible with the help of IoT and AI. You can simply tap the close and open buttons from your smartphone on your companion app to command drapes or curtains to fall or rise. Leaving home is not a hassle anymore; with a single button, you can lower your curtains to protect your furniture from direct heat.
This smart innovation is one of a kind and gives a luxury feel to your space. They can be customized as per your window frame size and other preferences, like color and material.
Smart Bedding
Beds are also not excluded from being smart, as smart innovators are making efforts to make your most important time of the day peaceful. The time when you relax after a day of hectic routine errands should be smooth and free of worries. Smart tech companies now offer smart mattresses incorporated with specialized technology. It identifies your needs and preferences and adjusts the mattress accordingly while you lay down to sleep. It ensures that your sleep time remains smooth by preventing snoring disruption. These smart mattresses offer customization options that you won't find on traditional ones.
Smart Refrigeration
Now, smart refrigerators allow you to buy only what you want. It means that if you are running out of milk, you will get a notification on the companion app that you need to approach the local store to fetch some milk. Sounds interesting? Yes, it does. It's like someone has control of your fridge, and you don't need to list down items yourself.
What's more interesting about this is that smart refrigerators also notify you about nearby local stores to get the product. That is more of a convenience for a person to be notified about everything while sitting on the couch.
Smart fridges have screens, and they keep notifying you what food items need to be disposed of due to expiration, the look of the food, or some other reason.
Aren't you intrigued with having any or all of these smart innovations installed in your home? If yes, we have compiled a list of top smart devices/products that you can consider having in your home.
Best Smart Home Products in 2023
Your home needs to be smart enough to be responsible for some of your house chores. To identify which tasks or areas need special attention in your home, know how much time to devote to them. To make your life at home a little hassle-free and more efficient, we have listed some of the best home innovation products you can get your hands on.
Here is a run down of budget-friendly smart home products:
The Nest Video Doorbell
The Nest video doorbell is powered by batteries and can be used in any home. You can monitor activities outside your main door and even talk on video before you allow a person to step inside. If you leave home for a reason, you can still check your doorsteps to have a parcel received. It is wireless and its user manual has all the instructions to install it by yourself. If you are uncomfortable doing it, you can still hire an electrician to install it for you.
All you need is a Google account to operate this device, which you can connect to using Nest's website.
Best Features:
Compatible with Amazon Alexa and its enabled devices.
Proximity and motion sensors
Lifx Mini Smart Bulbs
Having efficient lighting saves you money on your energy bills. Adding smart products to your home might make you change your mind due to their high cost. But you can invest and sit back and relax for years of comfort. If lighting is the main reason for your high energy bills, then "Lifx Mini smart bulbs" are for you. These $40 smart bulbs are connected with Wi-Fi and can be controlled using Alexa, Google Assistant, and Siri. You can adjust lighting or turn on/off with the ease of sitting on your couch.
What's more cool about this product is that it gives different lighting effects. From cool to candle flicker and ominous effects. Also, you can dance (change light) with the beat of your music.
Best Features:
Advance automation
Give lifespan of 200,000 hours
Consumes only 9 – 11 watts
Compatible with Alexa, Siri, Assistant &HomeKit
Arlo 4 Spotlight Security Camera
You need your home to be safe when you are outside as well as when you are alone at home. One must always expect the worst, and having a security camera can reduce the intensity of a worse incident. Security cameras often need extensive wiring and require hubs to install, but smart outdoor cameras like the "Arlo Pro 4 Spotlight Camera" remove that hassle. This $199 camera is costly for your pocket but promises high performance.
It has a wealth of features. This smart wireless camera can spot any activity happening outside your house. It not only senses motions or delivers 2K real-time video but also casts a flash light when something is moving around your property.
Best Features
2K real-time HDR video
Flash light
Intelligent motion sensor
Built-in Siren
Color night vision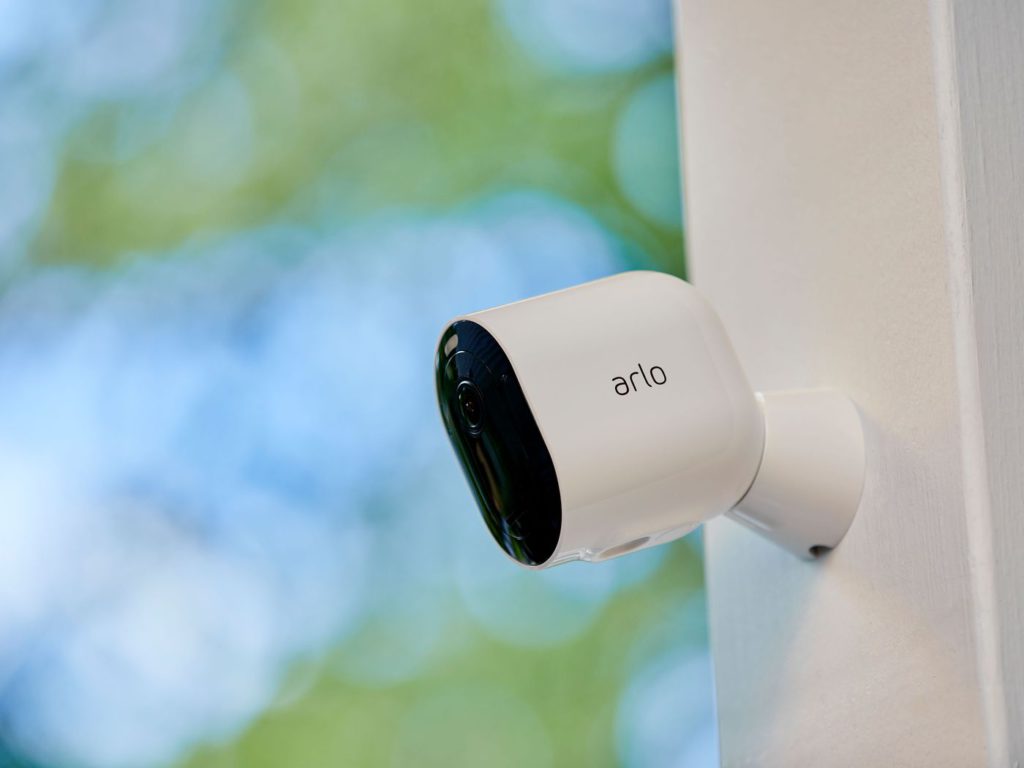 Xiaomi Smart Air Purifier 4
COVID-19 has changed the way we live. The aftermath of the pandemic has compelled people to choose healthcare over everything else. For optimum air quality and the removal of bacteria from the home, smart air purifiers were introduced. Xiaomi's Air Purifier 4 delivers optimal air quality and can remove dust particles, pollen, and cooking fumes from a room to make the environment clean and bacteria-free.
You can control this device using Xiaomi's Mi Home app on your smartphone and also via Alexa and Google Assistant.
How does it work? Xiaomi air purifiers work by releasing negatively charged ions, which attract small particles and make them fall. When the particles fall to the floor, it makes the air cleaner.
Best Features:
Low noise level 32 db
Can clean air in 20 sq ft room within 5 to 15 minutes
Best for people with allergies
Smart control via app
Easy maintenance
Nest Smart Thermostat
Smart thermostats are one of the major contributors to making your home even smarter. This device lets you control the heat and cooling temperature inside your home. It automatically switches to moderate temperature when senses over-cooling and heating. Battery-powered Nest thermostat has a wealth of features, including monitoring temperature and adjusting according to the environment. You can control this device with the Google Nest app.
What makes it more smart is that it senses when nobody is home and automatically turns your power into energy-saving mode. It, in turn, results in saving extra bucks on your energy bills. The Nest thermostat is smartly programmed for auto-scheduling and follows both voice and touch commands.
Best Features:
Easy installation
Easy user-interface
Promote clean energy
Energy saver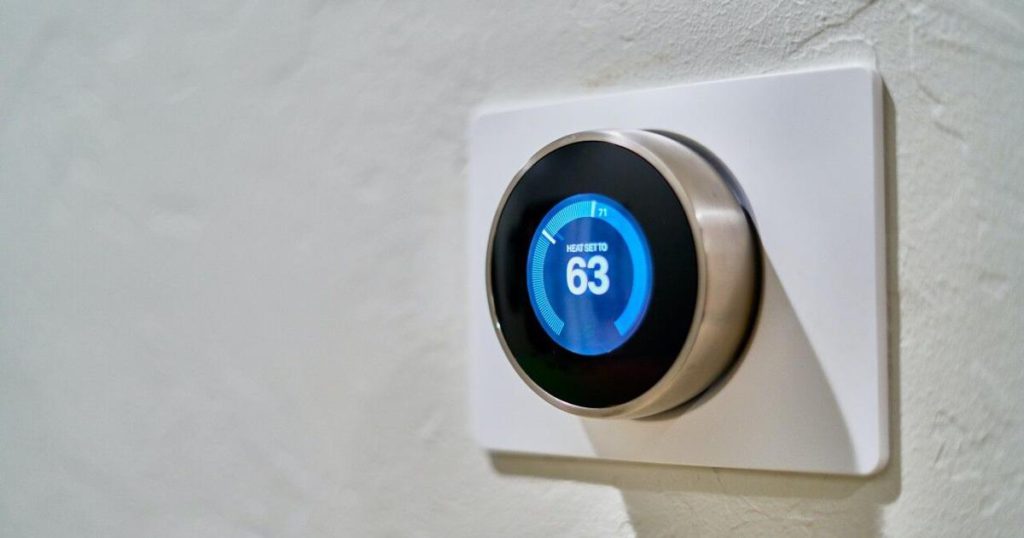 How to Make Your Home Smart?
You need to consider a few things before going fully smart with your home. Some of them include:
Research
At present, there are hundreds of smart products available on the market, and choosing the one that meets your needs is a difficult process. You need to get familiar with a few products before you actually settle on one for your home.
Identifying Your Needs
Know exactly why you need this and in what area you want it to be smart. For example, if you want to enhance your security, you can look for security cameras, smart locks, and similar products to aid your security. Smart products are expensive, and you need to make smart choices when it comes to fulfilling your needs.
Wi-Fi Upgrade
Smart technology requires faster internet speeds. As we know, the IoT is the main driver for smart innovations. As the name suggests, smart products require fast yet efficient internet to function without any friction. Strong Wi-Fi makes communication and sharing easy, and for big properties, you can even consider more than one router.
Get Smarter with Endless Smart Innovations
Smart technology is being used by many households now. With its endless possibilities, it will only grow in the future. When you plan to integrate this technology into your home, you must decide what's best for your home and loved ones.
Some future predictions for smart home products are that machine-to-machine communication and sharing will become advanced and seamless. More smart products will integrate Google Assistant and Alexa into their systems. People will be able to control other smart devices with their TVs with the help of remote microphones. Aside from controlling some features of your home with automation technology, it also offers a bundle of benefits to homeowners in the long run.
Featured Image: NS Business
---