Fantasy premier league is an online game where the user plays as a fantasy football manager. You can be Bill Shankly or Sir Alex Ferguson to your team. In the game, you are tasked with picking a team of actual players who ply their trade in the premier league. They will score points for your side based on their individual match performances.
You are allowed to assemble a roster of 15 players from the new season. Players can receive additional bonus points for excellent performance in a match.
You can make an infinite number of transfers before the start of the Premier League season. The assigned starting budget is 100 million. Managers are limited to a free transfer per game week after the first deadline has passed. You will have two free transfers in the next game week. Players earn points for assists, saves, goals, and clean sheets.
Fantasy Premier League Tips For Newbies
Different Fantasy Games have different scoring systems, so first things first, let's find out how your chosen game allows your team to score points. Generally, the players you select for your team score points for actions such as:
Playing matches – If a player plays for his real-life team, he'll earn you some points for your fantasy team. A player must start the game to earn these points rather than appear as a sub.
Goals – The more goals the player scores as an individual in his real-life team, the more points he'll score for your fantasy team.
Clean sheets – Clean sheets are all crucial factors for defenders. Players who are classified as goalkeepers and defenders aim to prevent the opposition from scoring. This will score points for your fantasy team.
Assists – Assists are not as impactful as goals, but they still count. If the players in your team make a pass that then leads directly to a goal scored by their real-life team, they can earn points for your fantasy team.
Bonus Points System – Fantasy games also allow your players to score points for good performances in their real-life team. Scoring goals, and making assists can help in this case. But, if a player wins Man of the Match in real life, he could earn extra points in addition to those mentioned above. It's an arbitrary scoring method that has caused controversy in recent years.
Things To Remember Before Starting
Here are some fantasy premier league tips to keep in mind before the season starts:
Your captain for each game week will score double points.
All managers are allowed one free transfer per game week. Two free transfers are given if players go one week without making any changes. Making additional transfers will cost -4 per change.
All managers are given four chips. Bench boost, which counts points scored by all 15 players for one game week. Triple captain, which will triple the points scored by your chosen captain for a single game week. Wildcard. There are two wildcards available throughout the 38-game week season. You can use them to revamp your entire team twice without being penalized for transfers.
You can only choose a maximum of 3 players from one real-life team.
Managers can only start 11 players per game week unless they play the Bench Boost.
Keep an eye out for Premier League press conferences to find out which players are more likely to start.
Fill your bench with cheap players but ensure that they are starters. If a player in your starting eleven does not play, the bench fodder can come to the rescue by auto substitution.
This will only apply if the player in question does not play a single minute in the real match.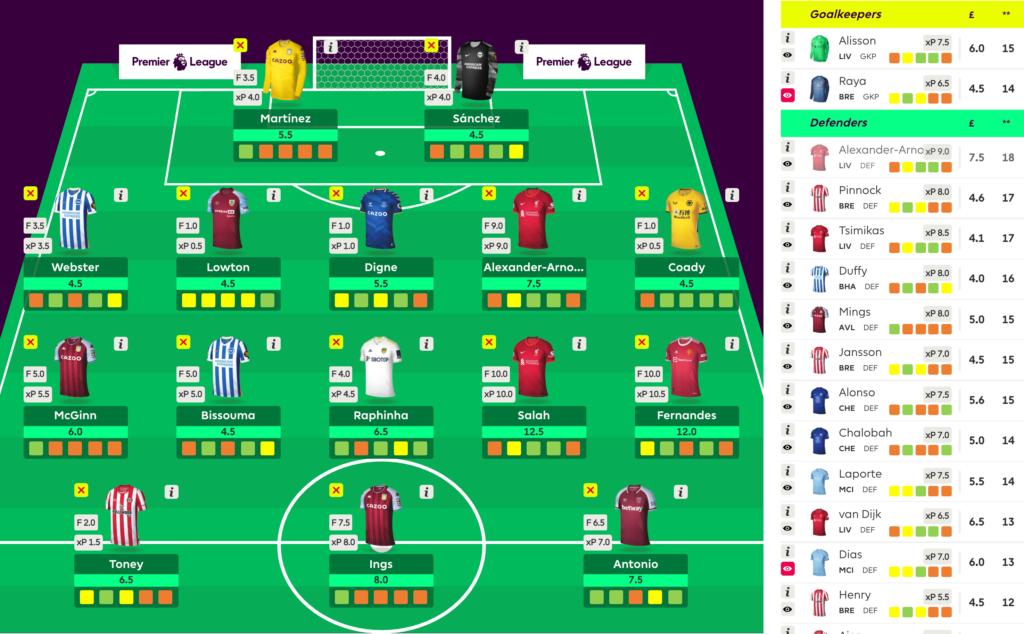 How To Beat The Competition?
Believe it or not, by the end of the season, most managers accumulate a quarter of their total points through their captain's performance. The trick is to not overthink it. Just hand the armband to a premium heavy hitter with a run of favorable fixtures. Your captain marvel can save an otherwise disastrous week.
It is also advisable to start with a template team. Better known as the draft team, it comprises at least 5 to 8 highly owned FPL players. Add to that a mix of three or four differentials (players with low ownership) and you're set to have a decent first season. Furthermore, don't invest too much in bench players. Focus on your starting 11 which is where points are earned.
We hope this article will help you have a blistering season of Fantasy Premier League this year! Feel free to comment and reach out if you can relate to the exhilarating adrenaline of topping mini leagues and climbing overall ranks of the soccer fiasco.
---