AMD has recently announced the latest update in the RX 6000 series of graphics cards, the RX 6600 XT. The 6600 XT will be the first in its line tailored for 1080p gaming and will be competing head-on with Nvidia's RTX 3060.
AMD's logic for releasing a graphics card for mid-range gaming is that most gamers still don't have a setup to support 1440p or 4K gaming. This means while the market is focused on high-resolution gaming, consumers are still satisfied with or are making do with 1080p gaming.
"The Radeon RX 6600 XT raises the bar for 1080p gaming … offering powerhouse performance and advanced features to bring beautiful, complex, and hyper-realistic worlds to life," says Scott Herkelman, Corporate Vice President of Graphics Business Unit at AMD.
Specifications
The Radeon RX 6600 XT specifications were leaked beforehand and a lot of people had already guessed what the new card would look like. But AMD has now released a full list of its specifications. Have a look:
Specifications
GPU
Navi 23
Lithography
TSMC 7nm
Transistors
11.1B
Stream Processors
2,048
Compute Units
32
Ray Accelerators
2,359
GPU Game Clock (MHz)
128-bit
Memory Bus
8GB GDDR6
Memory Capacity
16 Gbps
Ray Accelerators
32
Memory Speed
16 Gbps
Memory Bandwidth
256 GB/s
TBP
160W
The RX 6600 XT packs 32 Compute Units (CU) amounting to 2048 steam processors, which are the basic units in the RDNA 2 architecture responsible for gaming performance. If you don't understand all the technical jargon, we'll compare it with Playstation 5's GPU, which has 36 CUs. So rest assured, you'll have a near-perfect console-like gaming experience with AMD's upcoming new card.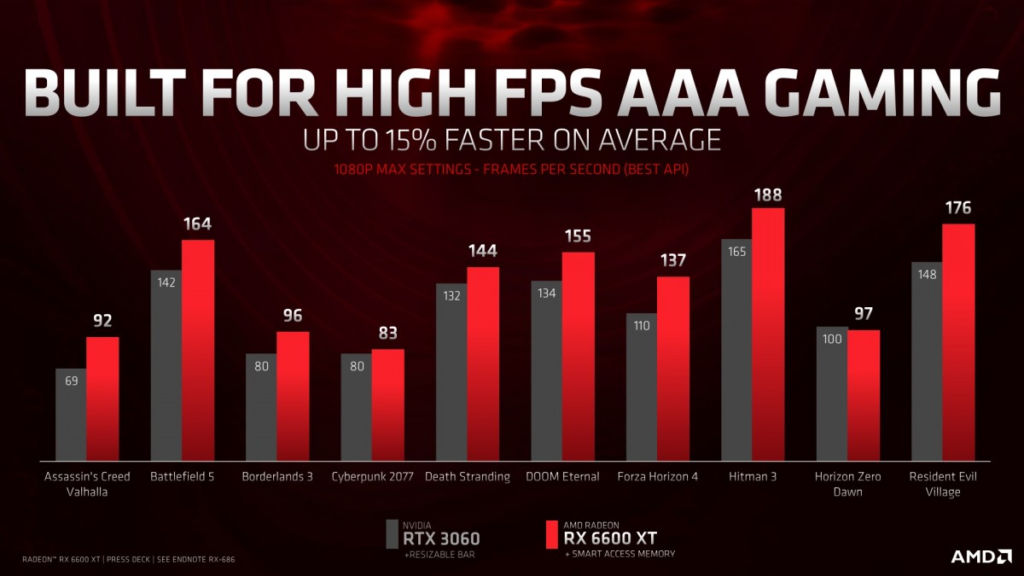 The Radeon RX 6600 XT might be one of the fastest graphics ever made, running with a game clock of 2,359 MHz. However, these speeds are to be expected from all cards with the RDNA 2 architecture. Maintaining this speed is why it has a Total Board Power (TBP) of 160W. The highlighting feature of the RX 6000-series is ray tracing. Ray tracing enables a vivid gaming experience at 4K and 1440p resolutions while maintaining a considerable frame rate. Although the RX 6700 XT's ray tracing was not up to par when put to the test, despite having better specs than the RX 6600 XT. The new card will have 32 Ray Accelerators, taking some load off the central cores so that they can dedicate power elsewhere.
READ: AMD reveals Radeon RX 6000 'Big Navi' performance benchmarks and dates
AMD has also reduced the PCIe bus width for the RX 6600 XT to Gen 4 x8. Compared to the rest of the RX 6000-series, which boasts Gen 4 x16, AMD has said that they don't expect a gaming load of any higher bandwidth than is available on the 6600 XT.
Comparison
AMD has still not provided any benchmark statistics, but they've tested them against the RTX 3060, RX 5600 XT, and RX 5700. The comparison fares over ten games ( 3 Nvidia promoted, four agnostics, and 3 AMD promoted). AMD claims that the RX 6600 XT outperforms the RTX 3060 by almost 15%. It beat RTX 3060 by 20% in Borderlands 3 and Forza Horizon 4 and is 33% faster in Assassin's Creed Valhalla for individual games. The RTX 3060 only leads in one game, Horizon Zero Dawn, which is a fabulous result.
Although AMD didn't release the exact test results for RX 5600 XT and the RX 5700, they say the RX 6600 XT has beaten the RX 5600 XT by 1.4x to 1.7x on average in four games. Knowing that it has an upgraded RDNA2 architecture, higher GPU clocks, and the 32 MB Infinity Cache, this result was only expected.
Here's a comparison of their specifications to make the results clear for you:
| | | | | |
| --- | --- | --- | --- | --- |
| | RX 6600 XT | RTX 3060 | RX 5600 XT | RX 5700 |
| GPU | NAVI 23 | GA106 | NAVI 10 | NAVI 10 |
| Architecture | RDNA 2.0 | Ampere | RDNA 1.0 | RDNA 1.0 |
| Bus Interface | PCIe 4.0 x8 | PCIe 4.0 x16 | PCIe 4.0 x16 | PCIe 4.0 x16 |
| Base Clock (MHz) | 2200 | 1320 | 1130 | 1465 |
| Memory Type | GDDR6 | GGDR6 | GGDR6 | GGDR6 |
| Cores | 2048 | 3584 | 2304 | 2304 |
| Bus Width (bits) | 128 | 192 | 192 | 256 |
| Bandwidth | 256.0 GB/s | 360.0 GB/s | 288.0 GB/s | 448.0 GB/s |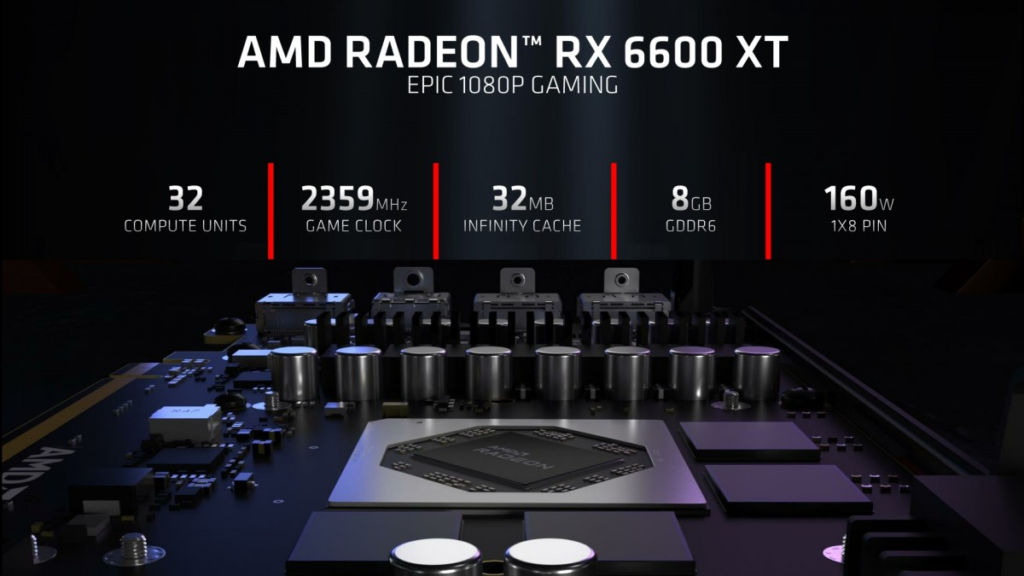 Pricing and Availability
AMD will be releasing the RX 6600 XT on August 11 at $379, which is $50 more than the MSRP of the RTX 3060. The RX 6600XT will not have a reference model, and AMD partners will design all the cards. So you can forget about getting it at the starting price. The partners include Asus, ASRock, Biostar, MSI, Gigabyte, PowerColor, and more. These premium models with dual and multiple fans will raise the street price to a certain degree. AMD has also announced that the RX 6600 XT will be available as a configuration option for some laptops, namely HP Omen 16 and ASUS ROG Strix G15, and desktop pre-builts from Alienware.
Final Remarks
The RX 6600 XT has shown some significant test results for a smaller price range and lower specifications compared to some of the more mainstream graphic cards. This is also indicative of how the market might shift from high-end premium cards to more affordable ones. But this is all speculation until we see the performance of the 6600 XT on August 11.