Facebook is all set to move deeper into the gaming market by launching a new gaming mobile app today, on April 20. The new app – named as 'Facebook Gaming: Watch, Play, and Connect' – is primarily focused on watching and creating live streams for games – like Twitch or YouTube, along with casual games to play as well as access to the gaming community.
Twitch and YouTube Gaming are big names already doing something similar, but it is believed that Facebook Gaming will be more targeted towards amateur gamers who want to jump into streaming with ease utilizing the largest online community of Facebook.
According to The New York Times report, the app testing was going on for the past 18 months in Latin America and Southeast Asia, and finally, and now Facebook plans to release it on Google Play for Android devices first. The app already has 5M+ installs in a few hours of launch and 4.2 ratings.
Regarding the iOS app, the plan to release on App Store is said to be tied with approval from Apple. It is still a big question for us, whether Apple will allow the streaming footage from third-party apps or not.
Facebook scheduled to release this app in June 2020, but the change of plan for an earlier release is due to the COVID-19 pandemic. According to a report, Americans are streaming 8 hours a day during coronavirus lockdown.
Due to coronavirus lockdown, people are staying at home mostly, and it makes the perfect time for it to roll out the app earlier to enjoy the substantial stake in live streaming.
Twitch, YouTube Gaming Live and Facebook Gaming streaming stats
Currently, Twitch and YouTube Gaming Live are dominating the live-game streaming market without having much competition. As per the StreamElements, Twitch remained the king in December 2019 by commanding 61% of the hours watched in live streaming, and YouTube Gaming enjoyed a 28% market share.
Doron Nir, CEO of StreamElements said in a statement when Rousey's Partnership was announced in February that, "Facebook Gaming has been making incredible strides as they've leveraged their global presence and strategic talent acquisitions to bolster their market share in the live streaming space. By adding Ronda Rousey, a very mainstream celebrity who is into gaming, to their roster, it's another great move since the content is king, but you need a kingdom to make it matter."
Last year, the social media giant Facebook did not give Twitch and YouTube gaming a fierce competition, still, it saw a 210% increase in hours watched, the number of streamers went up by 6%, and the average number of viewers increased dramatically by 78% between December 2018 and December 2019.
"Investing in gaming, in general, has become a priority for us because we see gaming as a form of entertainment that connects people," said Fidji Simo, head of the Facebook app, he further stated, "It's entertainment that's not just a form of passive consumption but entertainment that is interactive and brings people together."
'Go Live' and 'Level Up' with Facebook Gaming
Facebook is endeavoring to make live streaming easy for the users by adding a "Go Live" button. Users can catch up with streamers and will be able to upload streams of other mobile games on the same device just within a few clicks. After going live, the streams will appear on their pages to evolve engagement by letting the friends or followers watch.
"People are watching streams and they're like, 'I want to be a streamer,' and with Go Live it's literally just a few clicks and then live, you're a streamer," said Vivek Sharma, Facebook's vice president for gaming, talking to NYT.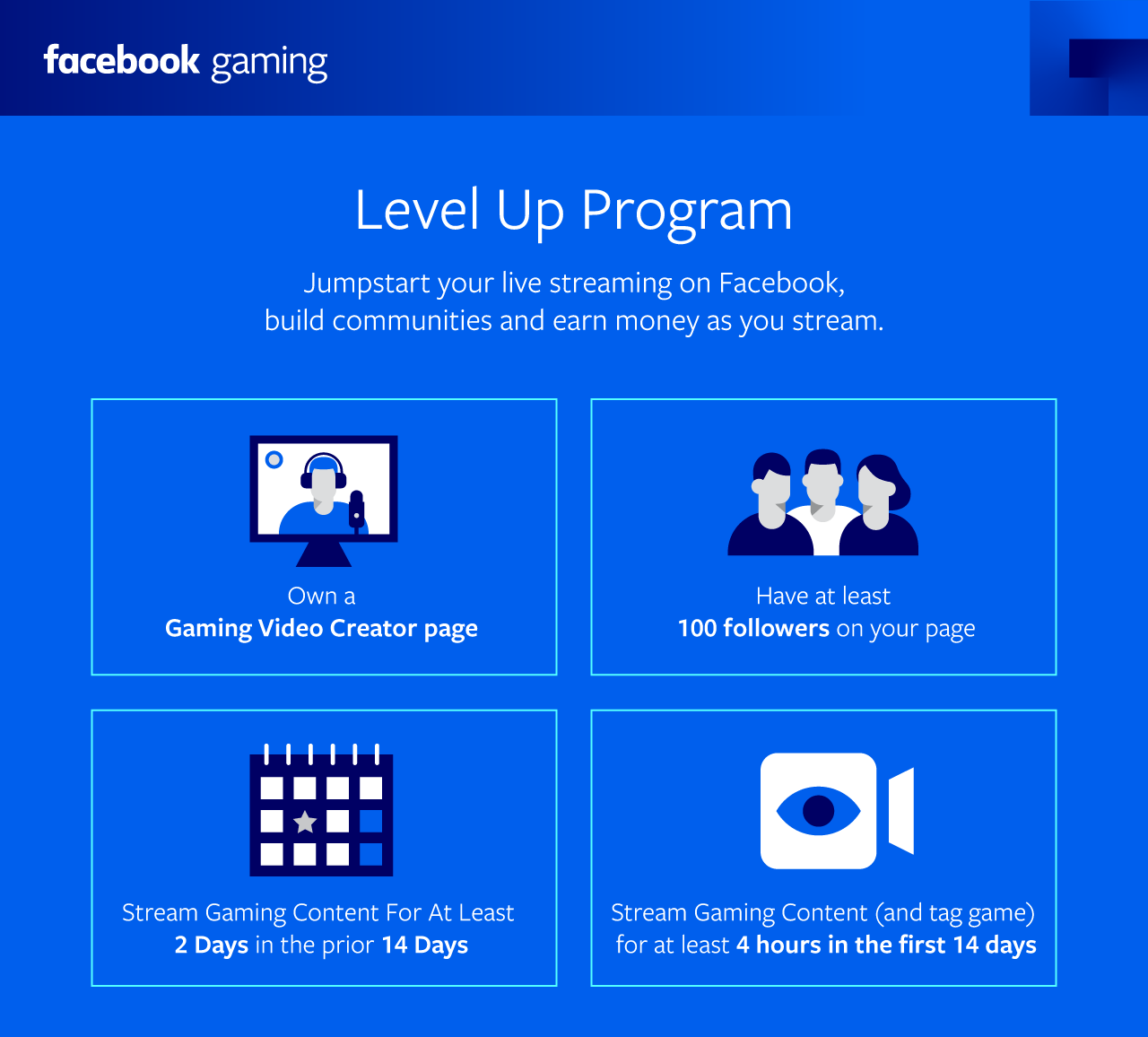 The current Level Up program was designed for up and coming gaming creators to get started streaming on Facebook. This monetization feature will be available for Facebook streamers as well, which is like Twitch's affiliate status and YouTube's Partner Program. Level Up will help streamers earn money and build a community. Gaming creators like DiMez and Kingslayer are among the big names who are using Level Up.
As per previous stats, we are uncertain about the success of this app. YouTube Gaming is enjoying the second-largest market share in live streaming shuttered its standalone gaming app by merging it with the main YouTube platform.
Facebook launched a gaming tab in the app's navigation bar last year and fell short of grabbing the attention of the gaming community. However, there was a time when Facebook was a popular gaming platform with users spending hours on Mafia Wars, Candy Crush, and FarmVille.
READ: Facebook launches Quiet Mode, a tool to manage your time
READ: PlayStation 5 'DualSense' controller comes with Haptic Feedback, Adaptive Triggers, and built-in mic
READ: PlayStation 5 specifications and details are out officially
READ: iPhone 12 with iPad-like design, Homepod, and AirTags coming in 2020
READ: Call of Duty: Warzone is the best Battle Royale game since Fortnite
Featured image: Facebook