Amazon announced it is reducing the commission percentage for its affiliate program starting April 21. The company recently sent an email to Amazon Associates Program members – one of the largest affiliate networks in the world, informing them about the new change.
The largest e-commerce retail platform, Amazon, has a large customer base who are making regular purchases from the company. In times of COVID-19 pandemic lockdown, the sales from the Amazon platform have skyrocketed. To cope up with an unprecedented increase in demand Amazon has hired 100,000 people last month and plans to hire another 75,000.
With that scenario, Amazon's affiliates are also earning a handsome cut from the company's affiliate program by advertising Amazon products on their websites.
All of this was going well, and both the parties i.e., affiliates and Amazon, were quite satisfied until now. On Tuesday, April 14, a spokesperson from the company confirmed CNBC that Amazon plans to decrease the referral percentage of affiliates from next Tuesday.
Amazon's spokesperson further explained that they regularly evaluate Amazon Associates Program offerings to ensure it is competing with the broader industry."
Affiliate members are seeing a drop from 5% to 1% percent in some categories. According to SEJ, the change in commission structure appears to relate to products that are suddenly in high demand by consumers due to COVID-19. Products related to the home and work-from-home tended to be the categories that are in high demand, and that is where the commission is slashed.
For example, the affiliate's commission for furniture and home improvement products has dropped from 8% to 3%, and for grocery products, it has fallen from 5% to 1%.
The spokesperson did not give clarity on whether the change has anything to do with the COVID-19 crisis or not. He added that the periodic changes in affiliate rates are a standard industry practice.
Currently, these are the affiliates program fee rates for different product categories under Amazon Associates Program:
And here are the new program fee rates from April 21:
Here is the difference: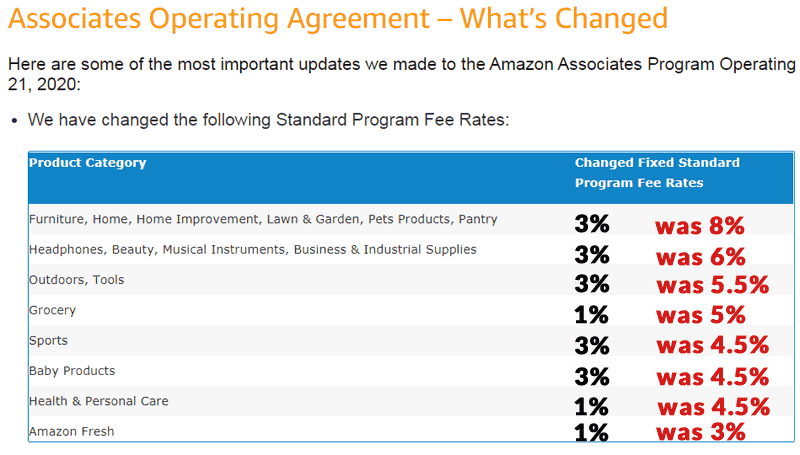 Referral rates for the Associate Programs are different between Amazon in the US and Amazon Japan.
Product Categories that are affected
Not all the product categories are affected, but furniture, home maintenance products, garden products, pet products, and pantry slashes to 3%, directly from 8%. Headphones, Beauty products, musical instruments, business, and industrial supplies ripped from 6% to 3%.
For many of the products, the referral rate has dropped by more than 50%. The products that have a scale with a drastic drop includes the food items. Outdoor products, tools, sports items, baby products, and healthcare products are also affected.
The email did not mention why the rates are changed. However, again we are seeing all the major product categories are in demand, and this could be the reason that Amazon is not letting the affiliates make much out of their sales.
Product Categories that are not affected
There are few-many product categories that will remain unaffected, including Amazon Coins and Luxury Beauty – which will continue to have a 10% referral rate like before.
Digital music, physical music, homemade items, and digital videos will keep on benefiting the affiliates with 5% payout rates.
The product categories that remained unaffected by the new change in rate policy also includes physical books, kitchen items, and Automotive that still have a payout rate of 4.5%.
Amazon products like fire tablet, kindle, fashion labels for women, men and kids, cloud cams, smart TVs, echo devices, watches, jewelry, shoes, handbags, and many others will continue to have a 4% referral rate.
Toys, PCs and their components, DVD, Blu-Ray, TVs, Digital video games, physical video games, and video game consoles will have the payout rates like before, ranging from 1% to 2.5%.
Amazon got bad-hit on Twitter
Many websites and blog owners were relying on Amazon's affiliate program to monetize their websites. Some took Twitter to express their views:
People relying on affiliate revenue feel they have no other option, but to accept the decline, sadly.
Robert Idell tweets about the drastic fall in the revenue of the affiliates.
Amazon is one of the few companies that have not only withstood the economic downturn because of the COVID-19 pandemic but is also thriving the lockdown pressure. Not only this, but Amazon had also extended its return policy for the people of the USA and Canada for the products bought until April 30. What do you think about Amazon's decision? Do share and comment below!
READ: Amazon is hiring for 100,000 positions to support its services with an unprecedented increase in demand amid Coronavirus
READ: Amazon Echo can now play Apple and Spotify podcasts
READ: Why is COVID-19 the best time to use social media for business?
Featured image: Getty