What's New in iOS 16.2?
The third beta version of iOS 16 is already available to download for developers and is in testing mode. There are a ton of new features that come with this beta. The first beta version introduced the Freeform app, a new Sleep widget and upgrades to the Home app. The second beta brought in a widget for Medications, Rapid Security Response, updates for Live Activities and 5G support in India. The third beta brings in minor tweaks to the music app and Always-On-Display. Here's more information on these iOS 16.2 updates. 
Freeform App
The biggest update in iOS 16.2 is the release of the long-awaited Freeform app. Apple announced the app back in June 2022 during the WWDC 22 event. Freeform is a productivity application Apple fans can use to take their imagination to the next level. Think of it as an infinite white space. When you create your first 'Board,' you'll find yourself with an empty white space and a wide variety of pens and brushes to use as you please.
Moreover, you can add sticky notes, text, photos, videos and PDFs to your project. Freeform offers zoom-in up to 400% and zoom-out to 10%. Since the board is borderless, you can expand it however much you like. The app will be available on iOS, iPadOS, and macOS. Freeform is more suited for the iPad since it supports the Apple Pencil. 
Rapid Security Response
Rapid Security Response was released two weeks ago in the iOS 16.2 beta version for testing. This feature lets Apple send out minor security fixes to users. It's quite different from the Automatic Updates we get periodically. It doesn't require a user to install the full OS update on their devices. The first response was pushed to fix an unspecified bug on the 16th of this month. With this new feature, iPhone security will be boosted significantly. Many users have complained in the past about having to manually apply security updates, even with Automatic Updates turned on. With Rapid Security Responses, no interaction will be required to fix bugs in your software.
If you're running the iOS 16.2 beta, you should see an update for iOS Security Response 16.2 (a). The update is minor, 96 MB, and should be downloaded and installed within minutes. You can find the update in Software Update in the Settings app. 
New Widgets
iOS 16.2 introduces two new widgets for the Lock Screen; Sleep and Medication. The Sleep widget will show information about your recent sessions. It draws data from the Health app, your Apple Watch or any other tracking device you might be using. You have multiple options to choose from about how you want the widget to display information. There is a single-tile option that only shows the amount of sleep you got in your last session. The other option has your sleep schedule with either a sleep quality bar chart or a visualization of your previous session.
The other widget is for Medications. Little is known about this widget as it's only been discovered in the iOS 16.2 code. With the new widget available on your Lock Screen, you'll be able to quickly access your medication schedule with a simple touch. You can also look at your medication reminders without opening the Health app.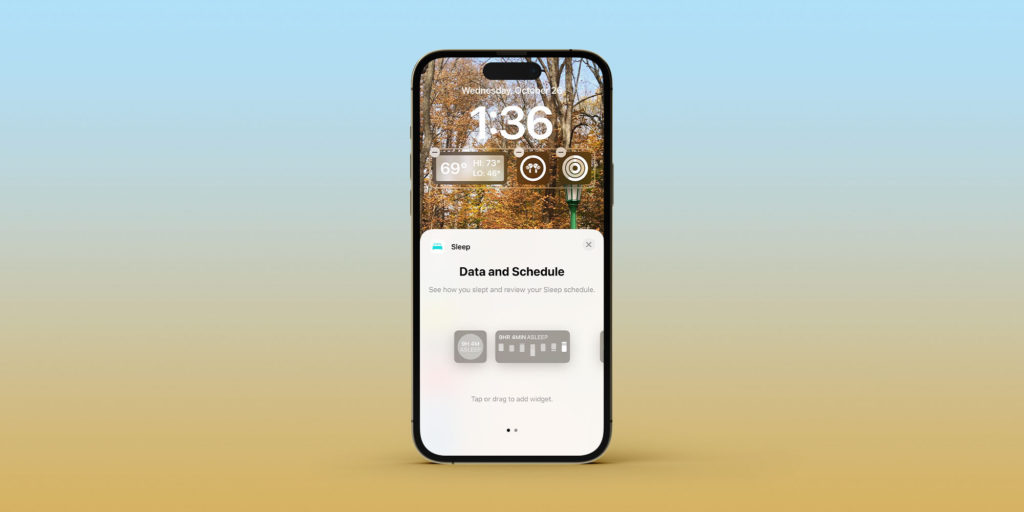 Live Activities
Live Activities was introduced with iOS 16. But Apple pushed back integration for sports through the TV app. But we're finally going to see it coming with iOS 16.2. The new feature allows users to look at live updates on select sports through their Lock Screen and the Dynamic Island. On the Lock Screen, a small widget will display the scoreboard for the followed game. The Dynamic Island will also show live scores. Upon a long-press, the Island will expand to give more detailed information.
Apple has announced that the feature will be available for MLB, NBA and Premier League games for now. The MLB games are available for the US, Canada, Australia, Mexico, Japan, Brazil, South Korea, and the U.K.. The NBA and Premier league games will only be available for users in Canada and the US. Hopefully, we'll see more leagues and countries added to this list when iOS 16.2 rolls out to the public. 
Home App Architecture
Prior to the launch of iOS 16, Apple announced a complete overhaul of the Home app. And we're finally going to see it in iOS 16.2. The new architecture is going to be more reliable and efficient. Users will have more control, and the app's performance with their devices will be much better. The new Home app will allow users to communicate with their smart homes through multiple devices simultaneously. This update comes in after the Home app got support for Matter devices in iOS 16.1. The Matter standard is supported by Apple, Amazon, and Google and will make smart devices operable across more platforms.
When Might We See iOS 16.2?
Bloomberg journalist and Apple expert Mark Gurman has said that Apple plans to roll out iOS 16.2 in mid-December 2022. There still isn't any news from official Apple spokespeople. iPadOS 16.2 is also slated to be released with iOS 16.2.
Have you updated your devices to iOS 16? What was your favorite feature in iOS 16.1? Let us know in the comments below!
Featured Image: MacRumors
---