Digital transformation is not an unfamiliar term in business. We know that many sectors are undergoing a digital transformation as a need of the hour. Besides the technology and energy sector, the digital transformation in eCommerce sped up after the pandemic. Companies are making it an essential part of their business to get a slice of the eCommerce pie. You need to implement digital technologies to stay ahead of the competition in the contemporary business world.
Let's dive deep into understanding how digital transformation in eCommerce has taken pace.
Let's Define the Digital Transformation in eCommerce
After the pandemic, we have seen a major shift towards adopting digital means to run a business. Selling products and services online has changed the dynamics of operating companies. Advanced and innovative tools have been introduced to maximize benefits and increase conversions. As a result, products and services available across digital platforms have increased tremendously. You can shop for everything online, from clothing and groceries to a big-sized vehicle. If people shop in person, they would even want to review the product online first. That's how digital transformation has influenced consumers' buying decisions.
Why Does Digital Transformation Matter in eCommerce?
A business may adopt digital transformation for many reasons. But one apparent reason is that they have to. Its integration is vital for the sustenance of the business. The business world has already suffered from a traumatic period of the global pandemic. It caused major disruptions in the supply chain and customer experiences. To cope with all these challenges or other ways around, digital transformation is important.
We had seen digital transformation working when consumer behaviors shifted towards online shopping. From streaming fitness classes to buying groceries, we have seen this shift. It is expected it will only grow in the future.
Driving Force Behind Digital Transformation in eCommerce
These factors always push you towards changing your perspectives on doing business. Here are some forces that drove digital transformation to take place in eCommerce.
Consumers' Rising Expectations
Modern-day consumers expect more personalized services from businesses. They want the company to process things faster as per their needs. Consumers usually have more than one device to shop from; they want to access the store from different devices. For this, the presence of omnichannel helped businesses grow. As people want convenience when shopping for their favorite products.
Shoppers Seeking Product Reviews Online
Many shoppers look for online reviews for products and services before they make a final purchase. They believe that looking at online reviews helps them in making buying decisions. Sometimes, people check reviews, select products online, and purchase them from brick-and-mortar stores. This factor is another driving force behind digital transformation.
Strong Digital Presence, Need of an Hour
More and more people expect to search for products online, and brands need a robust online presence to meet their expectations. Companies are making profits by communicating directly with consumers. That is also another factor in adopting digital transformation for eCommerce businesses.
Examples of Digital Transformation in eCommerce
Digital transformation in eCommerce encompasses the act of introducing new technologies. Modifying old concepts into the digital age. Let's check on some of the best innovations made due to digital transformation in eCommerce.
Touchless Shopping
Let's start with 'contactless or touchless shopping' technology. Touchless shopping is the process of providing a safe, contactless experience throughout the shopping process. The driving force behind presenting this technology into eCommerce business was the time of the global pandemic. That was the time when hygiene was a critical part of shopping. Considering its importance, the retailers brought it to facilitate consumers.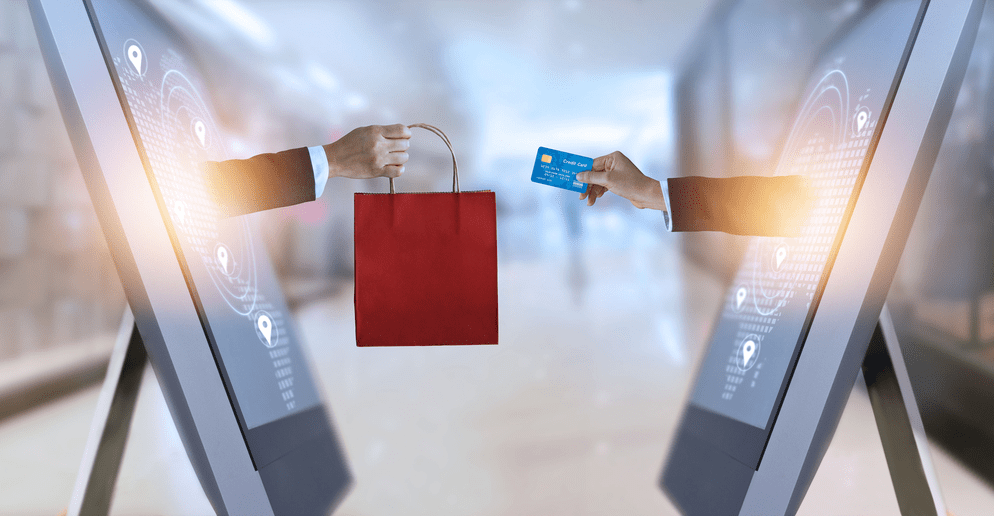 AR Product Test
Majority of the businesses are integrating this technology to offer convenience to consumers. For example, big retailers are offering AR virtual product try-out. People can try how a particular product looks on them. Introducing such technology drove more traffic to their business.
Product Recommendations
AI has its magic done in multiple ways, and product recommendation is one of them. Systems are getting smarter; they collect data, know your preferences and offer recommendations. If you have spent some time on a real estate website, you'll start seeing pop-ups of property ads on your timeline. By accessing the website, you are asked if you want to share your data to be sent to third parties.
Personalized Shopping With the Help of Big Data
Big data has impacted personalization. Big retailers have taken advantage of big data to offer customized experiences. It is achieved with the help of machine learning, which alters website algorithms based on past shopping behavior. Then it provides personalized recommendations.
Adoption of Digital Payment Methods
Traditional ways of making eCommerce payments have been overtaken by the popularity of digital currencies like blockchain-based payment such as Bitcoin, Ethereum, etc. Digital payments provide users with several advantages. Users can make payments online at any time, from anywhere in the world. Online transactions are also faster than traditional transactions like checks.
Designing an Effective Digital Transformation Strategy
It's becoming a dire need for every business to design an effective digital transformation strategy. To put your business ahead of your competition, you must undergo digital transformation. Here are some tips to craft strategies to grow your business.
Identify Your Goals
To apply digital transformation into your business, your first step should constantly be identifying your goals. For example, what your company wants to achieve after aligning digital transformation. While determining your goals, make sure to keep your profitability in mind. Some of the common business goals to consider include the following:
Improving customer experience
Reduced Operational cost
Advanced analytic system and to gain insight to boost efficiency
Situation Analysis
Different businesses have different requirements. But there are some ways to identify your situation, including:
Before you deploy digital transformation, you need to have a keen eye on your competition. For instance, you must know what your competitor is doing. How are they dealing with adopting digital transformation?
It is another way to assess your situation. You can identify your strengths, weaknesses, opportunities and threats.
Customers are growth drivers for any business. It is prudent to analyze your customer's behavior. How do they perceive your brand? How do they interact with you using different media? Their demographics, and more.
Know Your Transformation Needs
Knowing transformation needs is vital for seamless integration. It means you must know where your business stands in terms of technology. Will your company support the technology you are planning to implement? Does it have the proper structure? Do you have enough resources to handle this transformation? So, you need to understand your requirements.
Link Your Digital Transformation to Business Strategy
Once you have decided to implement transformation, make it primary for your business. There must be a clear link between your business and digital transformation strategy. Treating it separately will only prevent you from achieving your transformation goals. The transition or adoption phase must answer what your company wants to achieve.
Embrace Digital Transformation
Once you have assessed your measures to deploy digital transformation, it's time to embrace it. eCommerce retailers need to carefully choose the right technology. That must resonate with your business needs. For example, if you want to transform customer analytics, use advanced tools. Those tools must have omnichannel capabilities, support management and data analytics.
Tools to Support Digital Transformation
Digital transformation has been going on for many years. But companies never fully utilized the effectiveness of digital tools at their disposal. Lagging in adopting the right tools might pose some real issues. Here are some effective tools to support digital transformation in your business.
Collaborative Suites
Collaborative suites have changed the dynamics of accessing data in real time. Every work model is incomplete without having cloud-based collaborative suites. To increase the efficiency of employees, companies need to adapt this tool.
For example with the help of G-Suite, employees can store and share data in real time. Real time connectivity also streamlines communication at work.
Best Tools: G-Suits, Trello, Asana.
Communication Tools
Effective communication is an integral part of a company's success. It affects the productivity and success of your workforce and business. Unlike email, digital communication platforms have centralized information. These platforms help employees to communicate instantly and in real time.
One of the best communication tools, Slack and Microsoft team keep everyone connected. Implementing digital transformation in communication allows better circulation of data. Your interaction is being monitored by the stakeholders and leaders of your company.
Best tools: Slack, Microsoft Teams, Proofhub, Bit.ai, Zoom and more.
CRM Tools
Customer Relation Management tools are crucial for the success of digital transformation. In fierce competition, companies must be able to meet customer needs and demands. As customer's expectations are fluctuating every time, CRM tools enable businesses to provide solutions in real time. CRM tools have several benefits including automating tasks, addressing needs of the customers, increasing retention and more.
For effective use of CRM, ensure to collect the right information. That information must complement other tools. Some of the best examples of CRM tools are HubSpot, Freshdesk and others.
Best tools: HubSpot, Freshdesk, Zoho, Clickup, Monday and more.
CMS Tools
Content is king for any eCommerce business. Not having the right tools for managing content is the biggest barrier in business's success. Digital transformation is incomplete without a CSM tool. It means that your content presentation is critical in buyer's decision making.
CMS tools help businesses create vibrant, attractive and visually appealing content. Besides its appearance, the content must have the relevant information for the customers. When content is well written and optimized, it helps businesses rank higher in search engines. This way, the credibility of business increases.
Some well-known CMS tools include WordPress, Magneto, Joomla or Drupal. Each tool offers unique features and advantages for the business.
Best tools: WordPress, Joomla, Drupal, Magneto, Umbraco, Concrete CMS and more.
Cloud Storage
What else is better than cloud storage as a digital transformation in business. Cloud storage is important for companies for assigning tasks, scalability and management. Using this solution helps in accessing data from any part of the world. Either its remote, hybrid or on-site office model, cloud storage solutions have transformed the way we work.
Some of the best examples of cloud-storage solutions are Google Drive, Dropbox, OneDrive and more. These all platforms deliver the same purpose, each with different features and benefits.
Best tools: Google Drive, Dropbox, Onedrive, iDrive, Sync, Icedrive, Kroof
Data Management Tools
Data is ubiquitous in today's age. It has become one of the most important assets in any organization. It enables businesses to  collect, store and process data to fuel the growth of their business. With the boom in digital transformation and business technology, it has become essential for organizations. It helps businesses to manage their data more efficiently to reap the benefits.
There are various and cutting-edge tools to automate the data management. Some of them are Firebolt, Snowflake, Google Cloud, Amazon Redshift and others. These are some of the widely used DM tools.
Best tools: Google cloud, Snowflake, Havo data, Stitch, Fivetran, Microsoft Azure and more.
Security Tools
With the increasing dependence on cloud-based applications, security has become a critical component of any digital transformation strategy. However, a traditional approach of assessing application security includes spotting vulnerabilities. However, this process is time-consuming and introduces significant delays in app development.
There are some best tools like Sync, Intruder, and Secpod that help you fix and scan security vulnerabilities. These tools increase the security and speed development process. Every online or eCommerce business must integrate security tools to prevent scams.
Best tools: Sync, Intruder, Wireshark, Kali Linux, Secpod and others.
Top Trends of Digital Transformation in eCommerce
Customer Data Platform (CDP)
Customer Data Platform (CDP) is software that collects and organizes consumer data from different sources. It forms a single, coherent and comprehensive data of each customer. It will allow retailers to build a customer database for other systems to access it. CDP will also help businesses to offer customized shopping experiences to customers. For a successful business, you need to satisfy your customers. Following this trend will make customers feel valued. 
Video Sales
Consumers will shop for products through video by having a one-on-one chat with sales representatives. It's just like offline shopping but through video chat. Consumers will be able to see products live online. Also, customer support staff will know your preferences and offer customized products. This trend will intimidate consumers from shopping for more than one product. As a result, businesses will see growth in sales and conversions.
Personalized Chatbots
Adding chatbots to a website is convenient for resolving customer issues in real-time. It makes customers feel valued when they get personalized solutions. This can be achieved with the help of personalized chatbots. This technology assesses consumer behavior and needs and offers tailored solutions. As a result, it increases the likelihood of sales for the business.
Mobile Shopping
Mobile shopping will become more advanced. It allows customers to shop online from anywhere in the world. To offer this convenience, your website must be mobile responsive. If it's not, you are probably missing out on opportunities. It is expected that mobile shopping will only grow in the coming year with more options in payment methods.
Voice Search
We usually use voice assistants to complete our daily tasks. It seems like it will go beyond that functionality. As more households own smart speakers, it is expected that voice search will be used in online shopping. People will order food, shop online and organize things using voice search. It brings an opportunity for retailers to keywords and content.
Pros of Digital Transformation
Competitive Business
When you monitor your competitor's digital health, it compels you to adopt it for your business. We know that every company wants to stand out in its technological efforts. Using advanced tools like automation will only make business Successful. Such technologies enable you to be more flexible, productive and efficient.
Increases Productivity
Digital transformation helps employees in their productivity level. Using technology improves their performance which yields positive results on business ROI. Employees spend less time managing different tasks. With the help of automation, it reduces the burden of doing repetitive tasks and helps them focus on other tasks.
Improved Customer Experience
With the advent and inclusion of digital technology, customer experiences will be streamlined. One of the basic principles of business is to deliver exceptional customer experience. Offering products and services that resonate with their needs will boost conversions and deliver a seamless experience. AI is of great assistance in identifying consumer preferences. Clever use of technology will only enhance the customer base for your business.
Cons of Digital Transformation in eCommerce
Ever-Evolving Innovation
Besides all the positives, this disadvantage is unavoidable. Technology is constantly changing, and its progress in unending. We are known for the fact that the digital market is fast and has steep growth. To be in this race, companies must constantly change as new innovation arrives every time.
High Cost
Speaking of budget, digital transformation comes with a pricey tag. It can be costly to implement. For example, not every business can afford specific hardware and software types. Automation tools are expensive, and companies use automated software to streamline the process. As technology is changing fast, businesses have to re-evaluate existing processes which are costly to implement.
Failure Risk
Even if you spend a hefty amount on purchasing software, you are unaware of the risk of failure. Digital transformation brings a prominent change in your business. You don't understand if it will bring positives or negatives to your business. So, deploying digital transformation will change things for your business positively or negatively.
Affects Customer's Trust
In eCommerce, customer trust is everything a retailer can earn for a long-term relationship. Changing business processes now and then triggers customers' trust. If transformation is not friendly to customers, they may consider other options. Such loss of trust is hard to regain and causes damage to a business's reputation.
Adopt Digital Transformation for More Conversions
Now that we know about digital transformation in length, we can say that it is not a buzzword, it's a revolution in a digital age. Digital transformation has become pivotal for businesses to keep up with the competition. eCommerce retailers should see digital transformation as an opportunity to add value to their business. By delivering omnichannel shopping experiences, it has streamlined eCommerce operations. Moreover, integrating and using new technologies enable brands to boost conversions. Also, digital transformation plays a great role if you want to stay ahead of the competition.
Featured Image: InGenium Web
---