We know that every business is going digital and adopting new ways to impress its customers. Regardless of the size of the business, being available online makes it easier for the user to find their desired product in a matter of seconds. Sounds good? Well, it takes days or even months to appear in search results, and that too on the first page. The efforts you put into bringing your business to the top of search results are known as SEO. If your business website is built on WordPress, you need to learn about WordPress SEO basics.
To know more about how WordPress SEO works, use this comprehensive guide to improve your website's performance.
What is WordPress SEO?
WordPress is a fundamental platform for content management. Originally, it was established to publish blogs; later, it gained traction because of its user-friendly interface. Now, many online stores, forums, and websites are built on WordPress. It has tools and methods to improve websites performance as well as their ranking on search engines. The platform is packed with a myriad of SEO plugins, which help boost traffic and improve ranking.
Lack of SEO can create trouble….
Despite having a well-designed website, you sometimes fail to attract the desired ROI. This occurs when a website lacks SEO practices. SEO is the soul of any website that helps businesses reach maximum eyeballs and attract more traffic. More traffic enhances the opportunity for more conversions, which is the bottom line of every business.
If your business website is developed on WordPress, you need to learn about WordPress SEO basics.
Why Do You Need to Learn WordPress SEO Basics?
Search engine optimization helps your business use elements that are important to rank high on search engines. This includes both on-page and off-page SEO practices. A website without optimization is worth nothing for your business. If you want to improve your sales and traffic on your website, you need to implement SEO techniques to increase conversions.
As mentioned above, SEO is restricted to only WordPress websites but can effectively work on any website. Investing in SEO is worth it, as it can likely help your business reach people who are looking for similar products as to yours. To make it happen, you need to believe in the word "organic" throughout your SEO processes.
Organic means that you didn't pay Google or any search engine to rank your business at the top of search results. Google approves and values websites that have organic yet informative content. When you apply SEO to your website or even a particular page to drive traffic, it is highly likely that your website will appear in the top results. When your business's website pops up on the first page, it attracts more traffic and increases the probability of conversions.
10 Basic WordPress SEO Practices You Need to Master
WordPress is packed with a bundle of SEO options to improve your brand's authority and visibility. If you have an online store developed on WordPress and want it to reach the maximum number of online users, you need to consider optimizing it with the help of SEO. Here are some basic WordPress SEO practices that you can follow to achieve the desired results.
Jump Start from Settings
First and foremost, you need to navigate to the settings of WordPress. Reaching there, you need to check all the boxes except the one saying "Discourage search engines from indexing this site". By checking all the boxes, you are allowing your website to be publicly visible. This is the first step of introducing SEO to the world of WordPress.
What's more? You have the leverage to hide your website whenever you want to. Businesses do that at the time of rebuilding and updating the website.
Create SEO Content
Content is king and can attract or repel visitors. It shows that content has significance when it comes to SEO. When you create content, you come across different elements that are available to optimize your content for search engines. When these elements are well taken care of, it generates strong SEO-driven posts.
Some of these elements include:
Body
The body of content is the core of an SEO post or is considered the main text of the post, page, or product. You'll write about specific products, solutions, and services that your audience wants to read about and learn about. It should have all the information that your audience can easily understand when they visit your website. To attract traffic to your post, you need to add keywords to your body.
Keywords
Inside the content body, you need to mention targeted keywords. These terms or phrases are used to describe your page and the subject matter. Keywords are essential to directing traffic to your website when people search for specific queries. These terms help your product, page, or post rank highly on search engines. For example, if you use a keyword like "best quiet fans" to attract traffic to your product page, when people search for similar keywords, your website will appear in search results. Keywords act like a bridge between users and businesses.
Use Header tags
Header tags are used on WordPress to create more engaging content. These tags are important to break lengthy content materials into smaller parts. Using these headers helps the reader absorb information easily and improves engagement.
These are shown as H1, H2, and H3. The first one is for your main title of the product or post. H2 is used to create sub-headings, while H3 is used to further break down the content in H2. Using them enhances the quality of content as well as improves SEO. Google and other search engines find it useful when information is presented in bits and pieces.
My pro tip for using them is to always use keywords in the title and subheadings when possible. It further nurtures SEO performance.
Don't Forget Meta Description
While writing content for your product or blog post, you can find a little but useful space for 'meta description'. It is one of the most common but important WordPress SEO basics. Meta is a short description of what the content is all about and what information it has. It appears in search results under the main keywords. To optimize your meta description, you need to add your 'focused keyword' if you want to rank it highly on search engines.
Alt Tags
Images are crucial to making your offering even more appealing. Using WordPress, you can optimize almost everything including images. You can optimize 'Featured Image' or in-body images with Alt+Text. Alt+Text is like a description of your images. The downside of leaving images without descriptions is that they will not be found in Google image results. If you use relevant images with the right alt tags, it helps search engines find your post easily.
Customize Permalinks
If you are unfamiliar with the term 'permalinks', these links are permanent URL links to your product, page, or blog post. Visitors can easily identify the link and know what it has to offer. Does it really feed their query or not? It must have relevant information so that the search engine can determine if the website has credible information. Long and irrelevant permalinks do not cater to the needs of both users and the search engine.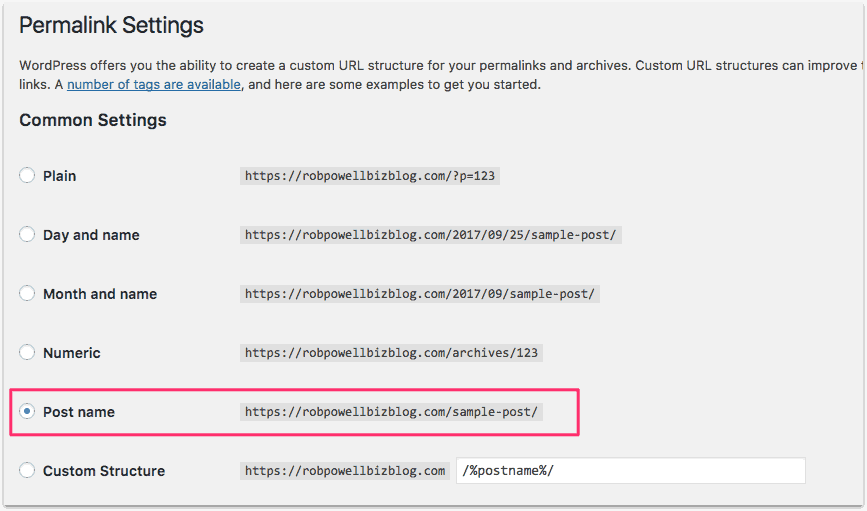 Optimize Using Internal Links
When we say that 'this website is credible' and has good domain authority, we mean it has relevance in it. Using internal links in your blog posts or product pages increases your website's authority. Search engines determine the ratio of internal links used within the content to check its authority. You can link any word, phrase, or keyword to another content piece.
All you need to do is "select' the word, open the page or website you want to link to, copy its URL, and paste the link to the word using the hyperlink button available in the WordPress toolbar. For best results, you can link to your own previous blog posts or pages.
Use Schema Markup
When you segment each file according to its functionality, you can easily locate it when you need it. Similarly, schema markup is an HTML code that you use on your WordPress site to educate search engines about your content. For instance, you can give code instructions for different pages of your website, e.g., the product page, the blog page, the Contact Us page, and others. This way, search engines can easily navigate to your website with the help of unique codes and show results in snippets.
Optimize Comments on WordPress
Comments are a helpful tool to measure the engagement level of readers. More comments often leave the impression that the content is helpful and valuable. But the odds are there. Comments with bad links or viruses often affect the performance of your website. It is always a good bet to optimize your content and trash those with infected links. WordPress has a built-in tool called Akismet that you can use to filter spam comments. If that doesn't work, you can check for other tools or learn simple ways to get rid of spam comments on your post.
Prioritize Speed and Security
Considering readers' short attention spans, your website should not boggle their heads with its high loading time. Instead, it must impress visitors with its smooth navigation and transition between pages. To improve your speed and attract more customers, you must have WordPress hosting services. Also, you can connect hosting tools like 'Blue Host' to avoid delays in loading time.
When it comes to security, your website is vulnerable to cyberattack if it is not guarded with security tools. You can identify a security threat when your website starts loading slowly or displays broken links. Take it as a red flag for website security. You can add featured security plugins in WordPress to enhance protection and prevent your site from future attacks.
Either Go 'WWW' or Without 'WWW'
Another vital WordPress SEO tip you need to know is whether to use the format "www' or 'without www'. Search engines treat both differently. For example, some users write a complete address using 'www' in the search bar. While some prefer skipping the "www' part and writing only the website name. To streamline your WordPress SEO, you need to pick one that you believe will perform better for your website and offer the best results. When you stick to one URL type and link it to your domain name, it is highly likely that your website will perform well on search engines.
Discover SEO Plugins
You might have heard about built-in SEO plugins in many website builders. WordPress also offers one of the best and most effective SEO plugins you can use to your advantage. Yoast is considered one of the best SEO plugins, which has helped websites run successful businesses. Its user-friendly interface makes it available for everyone to use. From pharmaceutical to online store websites, it caters to the needs of all with its unique tools and features. "Yoast", "All in One SEO", and "Rank Math" are some of the best SEO plugins you can find on WordPress.
To install any of these SEO plugins, you need to follow some steps:
To install, go to WordPress 'Settings'. Click 'Plugins' and the "Add New' option in the left menu.
Type and search for any of the above SEO plugins you want to install.
Install them in your WordPress and make sure to 'Activate'.
Sitemap URL in Yoast
An XML sitemap is an important part of effective SEO. It keeps different pages of a website in one format so that search engines can find each page easily. If you use the Yoast SEO plugin, it offers to update your sitemap of URLs. WordPress Sitemap features a little more advanced functionality and creates it automatically. You must keep it enabled so that you can submit the sitemap URL to the search engine. To help you find your website easily, you must be vigilant in learning the WordPress SEO basics.
WordPress SEO Basics: Mistakes You Must Avoid
Business owners often make SEO mistakes when they are not familiar with the techniques. You need to learn SEO basics to avoid getting your website blacklisted and suffering penalties.
Below are some common SEO mistakes you need to avoid on WordPress:
Choosing Generic Keywords with High Competition
Targeting the wrong audience and choosing the wrong keywords can cost or harm your efforts. When you choose high-competition keywords that are also too generic, it affects your traffic flow. Millions of websites might have been using the same keyword in their content, so choose a keyword with low competition. For example, Google approves 'long trail keywords' more quickly than short ones. These types of keywords attract more searches, as sometimes people search for long queries that can fit with your keywords.
Forget to Optimize Images
Failing to optimize images on your website makes it hard for Google to identify them. When people only search for images, your images won't show up in search results. This will be a big turn-off for the website owner. To avoid this, you need to add 'Title' and Alt+Text (description) to your images. Choose the right size and high-quality pictures and compress them for optimization. On WordPress, you need to add images with specified dimensions to optimize them for search engines.
Ignoring Time Zone
Not setting the time zone can affect your SEO process. WordPress allows you to create a post and publish it later, according to your set schedule. If your time zone is not set as per your local time, it might delay the publishing of your content. To avoid delaying, you need to check your time zone by navigating to the WordPress settings. As the platform has already set the time zone, you need to change it according to your local time for frictionless posting of your content.
Boost Website Ranking With WordPress SEO Basics
Since we learned about WordPress SEO basics, we have come to know that ranking your website on top requires patience and smart techniques. The above-mentioned SEO basics are vital to tap to boost traffic and rank high on search engines. You must check all the boxes to improve the user experience and credibility of your business. We have talked about all the essential ways to include them in your SEO strategy, but the most effective ones include using low-competition keywords, mobile-friendly design, fast loading speeds, and using SEO plugins. Make sure you check all of them to get the desired results.
Featured Image: Neil Patel
---