Fortnite, the popular video game by Epic Games, got challenged by the tech giant Apple for violating the App Store payment processing guidelines. Apple has already removed Fortnite from the App Store since August 13 and is no longer allowing users to install and update the game on any of the iOS devices. However, the tech giant has been ordered to not block Epic Games' Unreal Engine for iOS game developers.
Payment Method Issue and the Argument
Apple kept the iOS apps' prices high to gain 30% of consumer payments made from all the money app makes from purchases to in-app subscriptions. Not just Epic, but all app publishers have to follow this rule of App Store's 30% cut in profits, which directly goes to Apple. Epic introduced a new way to pay on iOS and Android for apps like Fortnite, which bypasses Apple's and Android's default payment method, and instead takes all the money directly to Epic's bank account. Apple straightaway banned Epic Games' Fortnite from its store to prevent Epic from eating up its nest egg.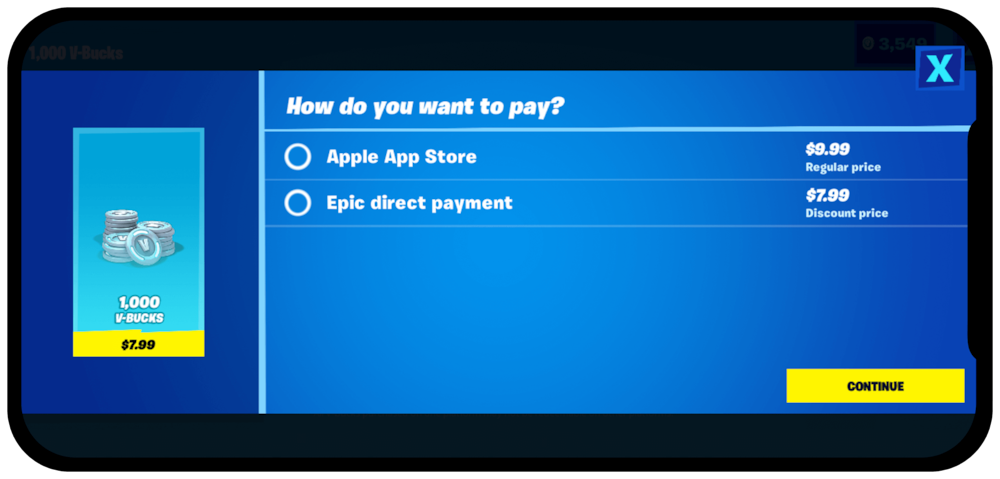 With the direct Epic payments, players could save up to 20% of their money to Apple to install the app. The feud has now escalated, and Epic seeks the US federal court intervention to block Apple's move to prevent any retaliation against its other games in the store. Apple believes Epic is 'putting the entire App Store model at risk.'
READ: NVIDIA introduces GeForce RTX 30 Series
"As a result of Apple's action, developers are prevented from selling or distributing iOS apps unless they use Apple's App Store, and accede to Apple's oppressive terms and conditions for doing so," Epic responded in a lawsuit within hours, accusing Apple's anti-competitive behavior.
Epic's Chief Executive Timothy Sweeney said that Fortnite players are unable to update their game to the latest version for them to be able to play the game's most popular mode "Battle Royale" — a match of up to 100 players in which the player who survives is announced as the winner.
READ: Call of Duty: Warzone is the best Battle Royale game since Fortnite
"Apple's actions will 'break' Fortnite for millions of existing players," Sweeney further states. "Epic updates the game after every few weeks. If iOS users are no longer able to update the game, then they won't be able to play Fortnite with the majority of other players, who will have the then-current version available on other platforms, such as PCs," he added.
The same day, Fornite released a Nineteen Eighty-Fornite, parodying Apple's iconic 1984 ad that hit the monopoly of IBM at that time.
Apple allows direct payments for many apps like Amazon, Best Buy, DoorDash, McDonald's, etc. but these apps sell physical goods that are delivered out of your iPhone. Apple insists that it will take its 30% cut if you sell in-app products like coins (like V-Bucks in Fortnite) and subscriptions. The only exception is Amazon Prime, which gained the App Store commission wavier in April 2020.
Unreal Engine at risk?
Unreal Engine, a game development platform developed by Epic Game, is the engine behind a long list of the world's leading games. It has also adopted across industries such as film and television, architecture, automotive, manufacturing, and simulation. It is through Unreal Engine that Epic Games Store, and Epic Online Services, is able to provide an end-to-end digital ecosystem for developers and creators to build, distribute, and operate games and other content. 
READ: Xbox Series X vs. Xbox Series S
The famous video game maker also said if Apple terminates all of its developer's accounts Epic won't be able to continue providing facilities like Unreal Engine, as it uses developer tools to develop and test the Unreal Engine, and it will impact all game developers who use Unreal.
Court Orders
The court's response, though, did not favor Epic Games, who gave the motion to restore the Fortnite game in the App Store temporarily. However, the court ordered Apple not to block the Unreal Engine from its ecosystem. 
The immediate order, on August 24, from the US federal court judge, Yvonne Gonzalez Rogers, stated that Apple could not strike back Epic's Unreal Engine tool in response to the fight. She further asked not to block the gaming firm's developer accounts and to restrict them from accessing Apple's platform to use the tool. 
"The record shows potential significant damage to both the Unreal Engine platform itself, and to the gaming industry generally including on both third-party developers and gamers," said Rogers. "Apple has chosen to act severely, and by doing so, has impacted non-parties, and a third-party developer ecosystem," she said further. 
READ: PlayStation 5 release date, price, Showcase Event highlights
On August 28, Apple terminated Epic Games developer account, preventing the game publisher to further upload any update or material on App Store. However, they allowed access to continue Unreal's development using Apple's development tools. As a result, Fortnite's newly released Chapter 2 – Season 4 update (v14.00) did not release on Apple devices.
A court in California has ordered in favor of Apple following App Store guidelines as it is what Epic has done for the past decade. Epic has decided to go against court orders, and as a result, Epic's Apple account has been suspended, and it can no longer make apps for iPhone or iPad. Fortnite's latest updates are now available on all platforms except for iOS.
Fortnite Takes Another Hit
Almost a week later, and the tussle between the two giant companies has taken no rest. It has heated up for the worse. Apple has come back with harsh claims calling out Epic for launching this 'campaign' to gain media attention for its game. All this could be over if Epic continues to play by the rules it had been following all along. 
READ: NVIDIA is acquiring Arm in $40 billion deal from SoftBank
As a result, Fortnite: Save the World is taking a significant blow. While Battle Royale was already deprived of new updates now its spinoff, paid version Save the World will be put off from updates. Epic announced Apple is preventing them from providing any updates for its games on Mac, and the game will not be playable on macOS after September 23. Players who purchased Founder or Starter packs and played the game within the past year (From September 17, 2019, to September 17, 2020) will receive refunds.
Apple, on September 8, announced it had filed a countersuit against Epic Games. The Cupertino giant is seeking damages for breach of the Apple Store contract. Epic Games users won't be able to 'Sign In with Apple' as soon as September 11th.
For now, a full-court hearing has been scheduled for September 28 on this case.