Video content creators have infiltrated the digital space in 2023. As short-form video content rises to fame on social media platforms. This is why brand marketers are banking on this strategy. As video content creation gets more innovative, here's how brands can stand out from their competitors.
Brands must stay on the lookout for the latest trends in marketing. For example, the use of VR video marketing has transformed the way businesses promote their products/services. Similarly, the use of 360-degree videos has helped companies with their promotions in a creative way.
Let's dig into the best practices associated with video content creation!
What Is Video Content Creation?
Video content creation involves the different processes that entail creating video content. These different processes include planning, recording, editing, and publishing. There are many different assistive tools that help brand marketers bring ideas to life.
This type of content is popularly being used by brands for the purpose of increasing engagement and visibility. As more influencers emerge on social media, video content creation is set to gain traction in the upcoming years.
There are endless creative ways to shoot and upload video content. From GIFs to animated videos, there are endless possibilities for creativity. 
Types of Video Content
The great part about video marketing is that there are different approaches to it. For example, animation can be used for informational videos. This makes the content far more interesting.
To determine which type of video would be most effective for your brand, it would be best to understand your business's objectives. If raising awareness is the goal, then documentary style videos would be the ideal pick.
Here is some inspiration for the trending types of videos!
Animated Videos
These kinds of videos offer marketers the creative ability to materialize their ideas into reality. There are endless possibilities for creativity with animation. It can also assist marketers in story-telling. An animator can create unique characters for the story and hook viewers in.
The use of visually-striking elements such as animation can help a brand increase engagement. With this type of video content, there is considerable budget control. Marketers can either avail the services of an animator or choose to use animation editing tools.
Explainer Videos
If there's an upcoming product or service, brands make use of explainer videos to share the details with their audiences. There is a never-ending list of creative ways to go about making these kinds of videos.
Some brands use motion graphics in explainer videos to incorporate the element of interest. These videos are a superb way to inform and entertain watchers. They work great for product/service promotions.
Product Link Videos
It is now common to find shoppable product link videos on Instagram and Facebook. These types of videos persuade social media users into making purchases. This is an incredible way to ensure sales success.
By inserting product links into the video, viewers can instantly click on the content to make a purchase. This makes shopping instant and convenient. The use of these kinds of videos are expected to grow more in popularity.
Customer Testimonials
Social proof is a powerful way to build credibility as a brand. This is why social proof/ customer testimonial videos can reap success. These videos can influence customers' purchasing decisions.
Customer testimonials can help a brand in many ways. It can help with brand reputation by ensuring credibility. This aspect is of utmost importance for the long-term success of any business. Also, this can help brands expand their clientele through word-of-mouth marketing.
Video Content Creation: Best Practices
To make content creation more effective, here are some of the best practices used by brands all over the world! It is important to get on board with the latest video marketing trends.
Video SEO
For video marketers, SEO is essential. There are a few simple tricks that can help videos stand out in the SERPs. For example, using the right keywords and optimizing data in the description.
A top SEO ranking factor is mobile friendliness. By properly formatting the video and using a responsive design, video marketers can optimize reach.
High-Quality Thumbnail
This element is often overlooked by video marketers. However, a high quality thumbnail can work wonders for the click-through rate. It is important to use eye-catching content for the thumbnail.
If the quality of the thumbnail is overlooked, it can lead to a lower engagement rate. To prevent this from happening, you can use bright colors and the logo of your brand to capture viewers' attention.
Infographics
Infographics are a fabulous way to make your video content more engaging for the viewer. The use of statistics can build a brand's credibility. Infographics provide marketers the opportunity to communicate information via concise illustrations.
The use of visually-striking infographics can increase the engagement rate. As a result, this can boost sales. Infographics are a great way to enhance video content.
BTS Content
Many employer brands use BTS video content to make their businesses more visible. This promotes a positive image of their brand and helps in recruitment efforts. This type of content is a crowd favorite.
BTS content resonates with the audience because it is unfiltered. This gives audiences an idea of a company's culture or the practices that go into the manufacturing of products/services of a brand.
Pick the Right Platform
It is important to determine the ideal social media platform that will give the best results for the video content of your brand. For this, it is essential to research your target audience, the user engagement level of a platform, and the type of video shared.
At this point, data analytics can come in handy. With the help of demographic data, brand marketers can identify their audience and choose their platforms wisely.
Use Hashtags
Hashtags can be an extremely powerful social media function. They can help make your video content more discoverable to the appropriate audiences. It would help to use relevant and trending hashtags for promoting your video.
You can even start a hashtag campaign of your own with your videos. By doing so, you can make the content more eye-catching and interesting. Hashtag campaigns are still being used by big brands all over the world. To supplement your video marketing efforts, hashtags are the best choice.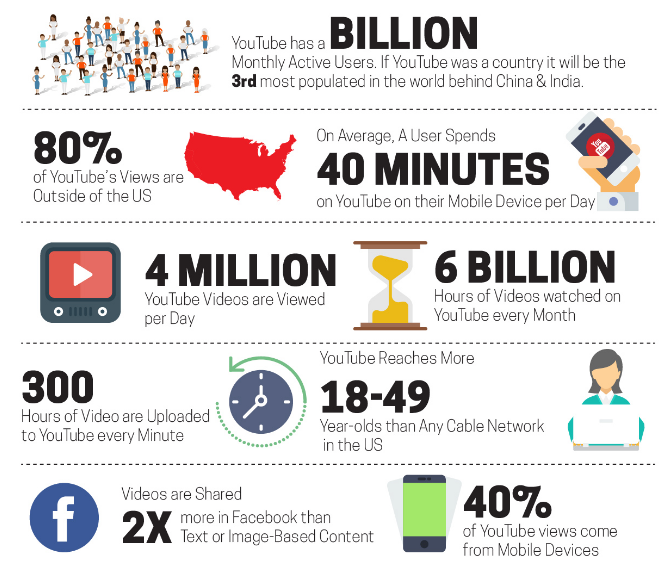 Video Content Creation: Best Tools
To optimize video content creation, it is important to employ the right tools. For the purpose of editing and scheduling posts, software tools make content management a lot easier. For digital marketers, video content creation cannot be made possible without the use of these tools.
It is important to go through the list of features, pricing, and user reviews before picking the right software. Here are some of the top listed tools to help you record, edit, and post your videos!
Adobe Creative Cloud Express
This editing tool requires no introduction. It is a popular editing software for all the right reasons. This tool is packed with all the features anyone would expect from great editing software. From text layouts to music, Adobe has it all.
Adobe Creative Cloud Express has amazing theme options. Video marketers can add their brand's logo and other important elements with the help of this incredible software. It has all the superb features to assist you create the most intriguing videos for your marketing campaign.
Animaker
This all-around video editing app is sure to assist you in crafting the greatest marketing campaign. This incredible tool can help marketers with templates, animation, and customizable branding. Video content creators can even use voiceovers for the animated characters.
This app is best suited for everyone, whether you're a beginner or not. It has a wide range of features that enable content creators to create high-quality content. It ranks high on the list of editing tools. Try out Animaker's free version to see the results for yourself.
iMovie
This is another video editing tool that has amazing features. For small brands, this tool is ideal. From transition videos to color enhancing options, this tool works like a charm. This app can be of great use to both beginner video marketers and experts.
iMovie is an excellent app for those who are starting their journey as new entrepreneurs. The editing features allow marketers to experiment with a multitude of techniques. This app is perfect for beginners!
Canva
Canva is a popular Gen Z video editing tool. It is armed with a wide range of features like a curved text generator, templates, and color enhancing templates. This tool offers collaboration, making it ideal for brand-influencer partnerships.
This app is most appropriate for small businesses, as it is free and offers standard editing options. If you're a stranger to video marketing, try Canva!
Videoshop
This editing tool has both basic and advanced editing features. From the trim-and-merge feature to the sound editing, this tool does it all. This incredible app can enhance the sound quality of your video.
This app enables users to share the video content on the social media platform(s) of their choice. By doing so, it makes the process of content creation more efficient. If your brand is struggling to establish a strong presence on social media, try Videoshop.
WeVideo
WeVideo is an excellent editing tool that has features like video templates, green screens, and an audience response system. These settings options make it easier for marketers to create video content. This software is apparently very easy to use and absolutely ideal for beginners and experienced video marketers!
For marketing campaigns, this tool allows users to not only make videos but also GIFs. This can make any campaign more interesting! Use WeVideo to see the results for yourself.
Filmora
This app is great for basic editing. If you wish to edit footage from a smartphone or a GoPro, Filmora is the right pick for you. This software comes with a subscription fee that is reasonable considering the vast features it offers.
This software will help you enhance the quality of your footage and offer numerous other editing options, like voice-overs. You can try out the free trial of this software to decide whether it's the right one for your brand or not.
Advantages of Video Content
Video content is a powerful marketing technique. There are endless advantages to this form of content. For brands and influencers alike, video marketing can be a cost-effective way to make a name for themselves/their brand on social media platforms.
Here's how brands/influencers benefit from video content marketing:

Higher emotional engagement
Higher conversion rates
Boosts SEO
Boosts revenue
Cost-effective
The Future of Video Content
As VR video marketing takes on the world of digital marketing, the future seems promising for content creators. The use of short-form videos and live streaming is taking center stage. This represents the incredible effectiveness of this type of media for brands.
In 2023 and beyond, video content will be defined by advanced visual elements like animation. This will make video content creation more effective. There are stellar assistive tools available at the disposal of content creators. 
---