Elon Musk isn't a personality who's new to controversy. Even when he wasn't Twitter's CEO, controversy was more like his middle name. Of course, this has further increased after he bought Twitter for a whopping $44 billion.
There's no denying the fact that Musk is on the road to becoming super unpopular with the masses. His unpredictable approach as Twitter's new monarch isn't something people are taking well. Twitter users, including both celebrities and the average public, have voiced their concerns regarding his regime.
Let's have a look at what's happening at Twitter.
Mass Firings…
From slashing nearly half of Twitter's workforce, giving remaining employees an ultimatum to leave or stay, charging verified users, and reinstating banned accounts *cough* Donald Trump *cough*There's a lot that Twitter has faced in recent days.
And the company's current CEO, Musk, has been on the receiving end of a ton of backlash. It's safe to say that he is not a lot of people's favorite.
And you might just be in for a surprise knowing who some of these people are.
*drumroll*
US President Joe Biden.
Yes, you read that right. Even President Biden is not an Elon Musk fan. He showed his concerns about the billionaire's takeover by stating that he is fetching up lies worldwide. President Biden also raised a question about how we can expect children to understand what is at stake.
The President's questions, concerns, and statements seem fair, to be honest. After all, Twitter is axing its employees left, right, and center.
Still, considering Musk's notorious leadership at Tesla and SpaceX *insert his numerous lawsuits*, Twitter employees and users had it coming. Musk recently gave an ultimatum to his employees to be "extremely hardcore" at work or quit.
Almost 75% of Twitter's workforce chose to quit rather than tolerate Musk's dictatorial ruling style. Some of them even took to Twitter to announce their departure after Musk emailed employees, asking them to promise to work for "long hours at high intensity."
Musk is notorious for prioritizing his products more than anything. So, even if the employees disagree with his demanding ways, they can't do much. Whether it is Twitter, SpaceX or Tesla, those working under Musk are expected to push themselves, going as far as to sleep on the company floor if need be.
These latest exits come at a time when the number of employees at Twitter were already a fraction of the company's typical size. This is thanks to the mass firings Musk did at the beginning of this month.
Musk has also fired employees who dared to disagree with him. He recently took to Twitter to publicly announce laying off an engineer named Eric Frohnhoefer.
What was Eric's crime, you may ask? In a tweet, he simply corrected Musk's incorrect assessment of the site's speed. Although Musk later deleted his "he's fired" tweet, the internet never forgets. So you can find multiple screenshots of Musk's response to Frohnhoefer on Google.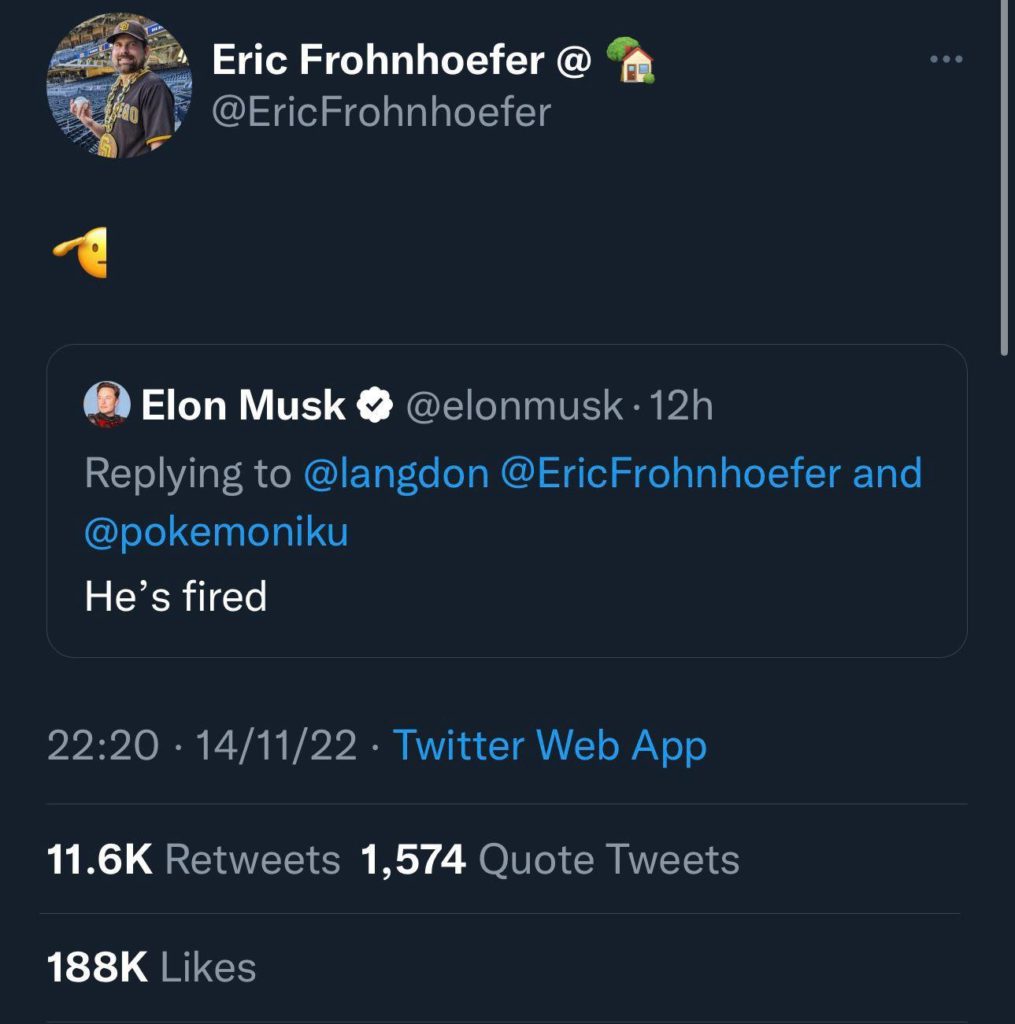 The Tesla CEO has reportedly fired employees criticizing him on the team's Slack. That said, it's important to note that the billionaire's employee-sacking moves weren't just limited to Twitter's average staff. It even extended to the company's C-suite executives.
These included Parag Agrawal, Twitter's chief executive, together with the chief financial officer, Ned Segal, and the head of legal, policy and trust, Vijaya Gadde. Musk even dissolved the board, including the chair, Bret Taylor, making him the sole director of Twitter.
Charging an $8 Fee…
Elon Musk termed Twitter as the "lords & peasants system," implying that celebs with blue ticks are lords while the general public are peasants. Ironically, Musk himself has a blue tick in front of his name. Congresswoman Alexandria Ocasio-Cortez, aka AOC, tweeted that Musk was selling free speech. And we honestly can't find any lie in that.
The Twitter CEO did acknowledge this tweet in his own classic style. He tweeted, "Your feedback is appreciated, now pay $8."
It's important to note that 230 million plus people tweet daily. Almost 420,000 of them have verified accounts. So imagine the revenue Twitter will gain. The question that then arises is whether Mr. Billionaire here is giving power to the people or himself.
Luckily, his $8 strategy didn't work after an increase in multiple impersonator accounts, including those of Donald Trump and NBA star LeBron James. This disruption at Twitter has led big corporations like General Motors, Audi, General Mills and United Airlines to halt their advertisements on the platforms. After all, no one would want to be associated with a platform facing such drastic upheavals.
Twitter Trolls and Backlash…
Meanwhile, the public didn't take long to start trolling Musk online. Some even took the trolls a step further after the CEO's ultimatum made people quit.
Twitter's headquarters in San Francisco projected a digital banner calling Musk a "mediocre manchild, pressurized privilege, petty racist, megalomaniac, worthless billionaire, bankruptcy baby, supreme parasite, petulant pimple, and an apartheid baby."
In addition, the hashtag "RIPTwitter" and "Mastodon," a competitor social media platform, also started trending on Twitter. What's more, is that people even shared hundreds of memes online. Musk, who never shies away from a good old trend, also shared one of these memes. It was a picture of a gravestone with the Twitter logo on it.
Call it his unique sense of humor or just a way for him to show people how unbothered he is. Still, it made people question his leadership skills even more.
More Lawsuits…
But this Twitter backlash isn't the only thing Musk has to face. There might be an investigation into his Twitter acquisition, making matters worse. After all, this isn't the only investigation he'd be dealing with. Senator Ed Markey (D-MA) stated that he, together with six of his Senate colleagues, wrote a letter to the FTC asking them to investigate Musk's Twitter takeover.
The didn't spare a minute to show his anger about this investigation on Twitter while the defunct crypto company FTX gets to slip away with no inquiries. Musk shared a meme of a pair of mating rhinoceroses while a wildlife photographer had his head turned the other way.
He captioned this photograph, "Senators calling for the FTC to investigate Twitter." He further added, "FTX losing over a billion dollars of clients funds." 
Is This Really The End For Twitter?
Musk's brutal management style and decisions at Twitter will definitely be up for public scrutiny and criticism now and in the future. Still, this doesn't necessarily mean that Twitter will become bankrupt. Despite everything that has gone down, the company still has 240 million active users.
However, Musk's apparent disregard for these users and the marketers that want to reach them is ultimately a losing tactic. It will only bite him back. In addition, his management style has been all about firing half the staff or asking the remaining employees to go "hardcore" or quit. Frankly, this doesn't paint a picture of a socially aware leader.
There's no doubt that Musk is smart. But there should be times when you see what's happening around you and be wise about it. In other words, realize that you're way in over your head and take a step back.
This is something that even Musk should do. So instead of acquiring entirely new management techniques (and bad ones at that), he should take the simpler, more practical route. That is, hire someone experienced as Twitter's new CEO to effectively run the platform. As a result, saving the company from possible bankruptcy.
Featured Image: New York Post
---