WhatsApp is a widely popular instant messaging application. It is available to download on your phones and computer systems. Currently, WhatsApp has around 2 billion active users. It has become ingrained in individuals' everyday lives. Hence making it the primary way to reach out to one's friends and family members. It was noted that around 100 billion messages were sent through WhatsApp each day. Individuals rely on this mobile application to communicate messages to their loved ones.
What's The Deal With WhatsApp Plus?
Let's make one thing clear from the get go, WhatsApp Plus isn't an official release by the tech giant. You can't download the app through the App Store or Google Play Store. You can think of this as a WhatsApp premium service. Through this application, you can add extra features to your existing WhatsApp application. 
Sky's the limit when it comes to customizing features on the application. You can install enticing themes and new fonts to help improve your experience on the application. When installing WhatsApp Plus, be wary of scams. Viruses can steal your data or may damage your phone or laptop. Always remember that WhatsApp is free, so any source that asks you to pay for it is dangerous.
How Is WhatsApp Plus Different From WhatsApp?
Both WhatsApp Plus and WhatsApp serve similar purposes. The aim is to make users' lives much easier when it comes to messaging. It makes it convenient for you to message friends and family members.
Here are some limitations of using WhatsApp instead of WhatsApp Plus:
There are only a limited number of customization options available to users.
You can't install themes as per your preference.
It lacks multiple account support.
Once deleted, there's no option for you to undelete messages which can be troublesome.
Let's keep all the above limitations aside for a second. WhatsApp is a safe bet for people who don't want any additional features. It can easily be downloaded through Google Play Store.
Let's move forward with what we like about WhatsApp Plus:
You have the freedom to change the app's colors, themes and fonts. 
It allows you to disable voice calls and even hide your profile picture. 
WhatsApp Plus allows users to gain access to upto 4 accounts. 
You can even undelete messages sent previously. 
Installing WhatsApp Plus on Your Android Devices
Here's the safe way to download this application.
Firstly go to your phone's Settings option. 
Then enable the option to allow app downloads from unknown sources
Without enabling this option, you wouldn't be able to download WhatsApp Plus. 
There are a plethora of options available through which you can download the APK version, such as websitepin.com
Once the application is downloaded, tap on the notification, and you will be redirected to your phone's download history. 
In the lower right corner, you would see the option of 'Install'
As soon as the installation is complete, tap on 'Open'
It will show a prompt asking for access to photos, media and files. Simply tap on 'Allow'. 
It will redirect you to the application. 
Enter the required information, and you will enter the world of WhatsApp Plus.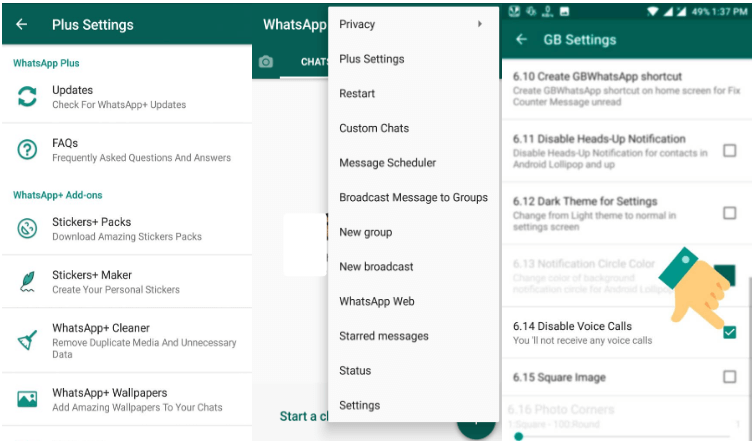 Download WhatsApp Plus With Cydia Impactor
Here are the steps that you need to follow if you want to use WhatsApp Plus on your iOS device:
Download Cydia Impactor.
Connect your device to the computer using a USB cable.
Open Cydia.
Drag and drop the IPA file into Cydia Impactor.
Enter your Apple's account ID and Password. 
Go to Settings and then select General.
Tap on the 'Profile' option.
The app will show you a prompt message, tap on the 'Trust' button. 
Is WhatsApp Plus Safe?
If you are security conscious, opt for WhatsApp rather than WhatsApp Plus. The latter option lacks reliability as some users reported being banned from the application. You might not want to share your personal information with an unofficial app that lacks any solid testimonials. Hence, I recommend doing adequate research before using the application. You should be aware of the risks before hitting that download button.
---