Netflix Christmas movies do not always have to be our guilty pleasure. Keeping aside the cheesy and sickly sweet rom-coms that we often classify as 'bad movies,' Netflix does treat its audience with some classics that rise way above the likes of The Princess Switch (2018) and Holiday in the Wild (2019).
With Thanksgiving weekend just around the corner, Christmas preparations are also in full swing. You might be looking for some fun holiday films to watch to get into the festive spirit. Given below are some of our top picks for Netflix Christmas movies.
So, what are you waiting for? Cuddle up with some hot chocolate and start binging.
1. The Grinch (2018)
Let's start with a classic fan-favorite – The Grinch. The 2018 take on Christmas' most notorious nemesis is something that both children and adults can enjoy. Mr. Grinch is set to ruin Christmas for the people of Whoville. However, Cindy-Lou's holiday cheer leads to his change of heart.
He still looks very green and very mean, and he still hates the holidays with a passion. But despite his heart that is splotched with moldy purple dots, it's not hard to find the softie who lives within him.
The Grinch is a colorful feast for the eyes. Full of extravagant details, melodious carols, and the quintessential joy of Christmas, the movie embraces the warmth of the festive season.
The fact that Christmas "doesn't come from a store" and that it "means a little bit more" strips away its commercialism. Thus, reminding us that the holiday season is not just for presents. We also understand that love, kindness, and forgiveness are characteristics that one always needs to have.
2. Klaus (2019)
Klaus is one of our top picks when it comes to Netflix Christmas movies. It's a family-friendly blockbuster that helps us understand the true meaning of Santa Claus in our lives. Thus, allowing us to see beyond the commercial and consumer aspects. Starring Oscar-winning actor, J. K. Simmons, as Klaus, this movie is set to win the hearts of many.
Klaus is awkward and weird. But it is these quirks that give that movie some personality and charm that feels refreshing. The film becomes even more endearing as it progresses. Thus, resulting in a cocktail of emotions towards the end.
Although children will enjoy the movie's humor and pleasant visuals, adults might find a deeper meaning. The town is troubled due to a tradition of violence. However, Jesper and Klaus encourage the townspeople to leave behind customs that no longer serve them. Chances are that many adults allow themselves to do the same after watching this movie.
3. Last Christmas (2019)
No, we're not talking about the famous 80s song by Wham. However, this movie, starring Emilia Clarke and Henry Golding, does center around the famous pop song. So, one thing is for sure – Last Christmas has a fantastic soundtrack.
Kate is a young woman who makes terrible decisions. She works as an elf in a Christmas store but is not content because she wants to be a singer. However, upon meeting Tom, her life takes a turn, and it all seems too good to be true.
.The movie is funny in an effortless way. It is also comforting because you know what's going to happen next. However, even though it lacks the element of surprise, there are some genuine moments that will warm you up.
Both actors give a stellar performance. But it is Clarke who takes the cake. She brings originality to the character's more vulnerable scenes. This adds depth to an otherwise cookie-cutter rom-com.
Although the plot could have been slightly better, Last Christmas gives you exactly what you'd expect from a holiday movie. It is charming, funny, and will surely spread some Christmas joy and cheer, making it one of the best, feel-good Netflix Christmas movies.
4. A Very Murray Christmas (2015)
Bill Murray in a Christmas special? You're sure to have a very merry Christmas with this one! The guest list is full of stars such as Amy Poehler, Miley Cyrus, George Clooney, Chris Rock and David Johansen.
The basis of A Very Murray Christmas is that Murray has to host a TV holiday show at New York's Carlyle Hotel. However, a snowstorm results in a power cut that leaves him stranded in the hotel for the night. He sings songs and engages in banter with the hotel staff and some guests.
Although the film has a star-studded cast, its production does feel a little off. It seems like not much attention was given to crucial elements like writing and editing. However, despite its shortcomings, it's actually an entertaining way to spend the holiday season. This is if you are a big fan of any of the celebrities who make an appearance.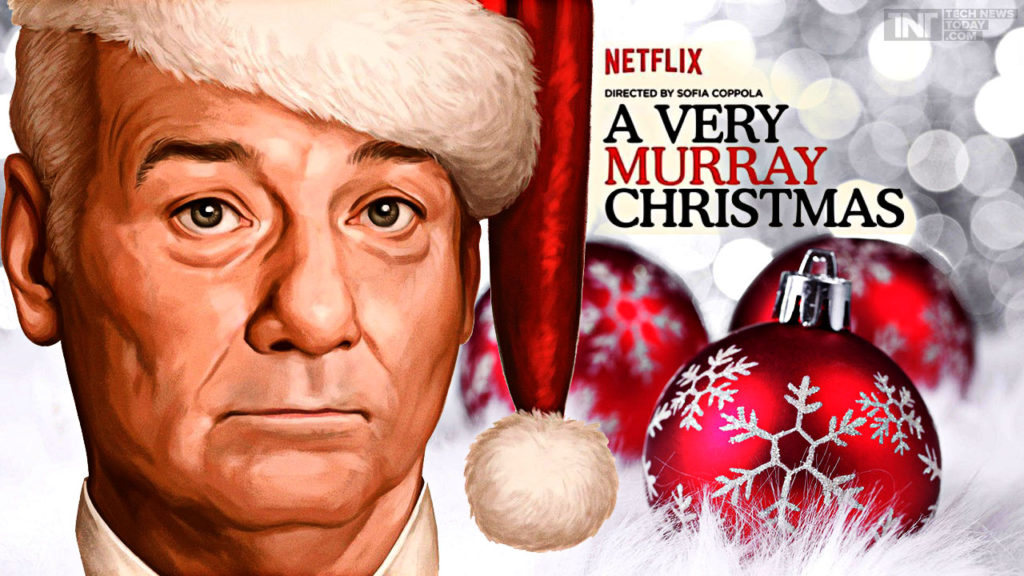 5. Let it Snow (2019)
Let it Snow is a typical cliché Christmas movie. But that is what makes it so good. It's easygoing and unchallenging and gives us all the feels of a conventional holiday film. 
The movie is about high school students coming together when a snowstorm hits their small town on Christmas Eve. Their friendships and love lives soon collide, and by Christmas morning everything will change.
.Although the movie is silly, it is full of emotions. Its cast (Isabela Merced, Shameik Moore, and Odeya Rush) is spot on, the production is great, and is sprinkled with just the right holiday ingredients. Every character has a good backstory and does an exceptional job of conveying it. Moreover, it has a solid storyline which makes it one of our favorite Netflix Christmas movies.
Let it Snow captures the true essence of Christmas. We assure you that these 90 minutes will not be a waste of time.
Final Thoughts
With Christmas being just a couple of weeks away, leave it to Netflix to give you all of the season's greetings. On a chilly winter night, some vibrant holiday films can be as comforting as hot chocolate.
While you're home for the holidays, these Netflix Christmas movies will ensure that you have a holly, jolly Christmas. So, light up some scented candles, get your popcorn, and warm coffee. You're in for a night that will make your spirit bright!
---