The Internet of Things (IoT) has been considered the most important technology of the 21st century. The use of smart devices is becoming vital for seamless communication as well as improving marketing strategies. Many businesses are using IoT to increase business value and improve customer service. In this article, we will discuss the role and importance of IoT in marketing along with examples.
What is IoT in Marketing?
IoT connects various physical objects or devices with the internet. The devices are embedded with built-in software and sensors to exchange data. Marketers use IoT to identify different patterns to offer seamless customer interactions. It helps them predict customer preferences and lifestyles.
Let's understand it. For example, you bring a smart coffee machine for your freshly brewed coffee cravings in the morning. One day you run out of coffee, and your coffee machine alerts 'Amazon' that the 'XYZ' customer is running out of coffee. You will get an alert on your phone from a retailer about coffee deals. That's how IoT works in real life—to make life easier and faster to get solutions to.
The dynamics of marketing have greatly changed as a result of IoT. It has made people's lives easier. Marketers are making efforts to integrate IoT into their strategies and expecting the technology to take over marketing trends at lightning speed.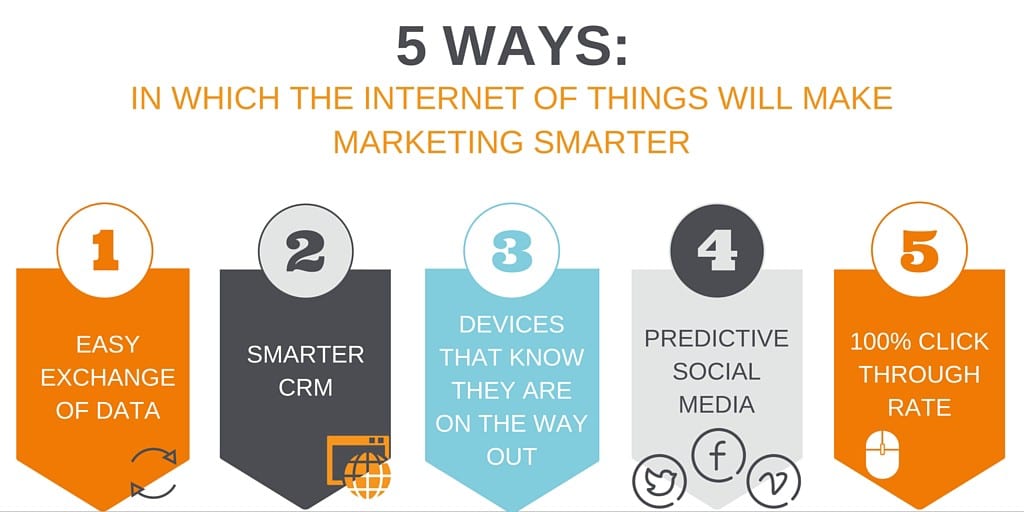 Importance of IoT in Marketing
IoT enabled devices work efficiently when the manufacturers add sufficient data about customers. The data is based on demographics, including age, color, and race. Once they collect data, they make changes as per the customer's requirements within the devices to enhance customer experiences. These devices have specialized sensors to transmit data. It helps detect the expected damage and alert the customer beforehand.
As IoT is all about offering convenience to the ultimate customer, this demand for convenience will only increase in the future. Let's discuss some of the best ways IoT will have an impact on marketers in business.
How Does IoT Impact Marketing ?
Real-Time Transactions
Customers today expect real-time responses to their queries from brands. What does that mean for the brands? It means that brands must take a vigilant approach to offering innovative solutions to customers. They must offer support in a moment of relevance, and it can be done with the help of the IoT.
For instance, if your smart refrigerator is running out of eggs for breakfast's scrambled eggs. The sensors in the refrigerator will sense it and suggest some nearby retail stores where you can get eggs. It will show personalized options as per your preferences. This is an example of an instant response.
Another example of a real-time transaction using the Internet of Things is hotel booking. Hotels offer a faster check-in process, allowing customers to make the best use of IoT from their smartphones to check in and get the keys. In future, customers will also be able to get custom check-in experiences. For example, number of beds, pillow type, and food preferences by customers.
Geofencing
Considering the importance of smartphones, businesses are making the most of it with the help of IoT. Geofencing is a location intelligence technique that uses user's smart device's built-in GPS to offer suggestions. Businesses use this technique to offer relevant, personalized suggestions near your business.
IoT informs businesses about buyers' spots and helps in sending product suggestions, offers, and discounts. It compels customers to visit the store to buy products.
Personalization
Businesses are making efforts to stand out among the competition by offering customized experiences. As the demand for personalization has risen, companies are using different tactics to stay ahead of the competition. Hence, companies are using IoT to meet customers' demands.
With the help of the IoT, companies and customers are more connected. Marketers gain useful data to improve customer experience by using a variety of fitness trackers, coffee makers, and cab booking services.
Best Examples of IoT in Marketing
Let's have a look at some of the best examples of integrating IoT in marketing.
Walgreens Cooler Ad Display
Walgreens is the second-largest pharmacy store in the US. The store opted to test digital cooler doors for in-store customers. The store partnered with famous brands like Nestle and MillerCoors and allowed them to test their products using IoT.
The digital coolers were integrated with sensors and cameras for facial detection. The aim was to detect faces and promote products according to the age and gender of the customer.
For example, a child could be shown different options for milk drinks or fruit juices. while older adults were shown display ads for beers and sodas. With such a targeted ad, customers' interests were translated into conversions and increased sales.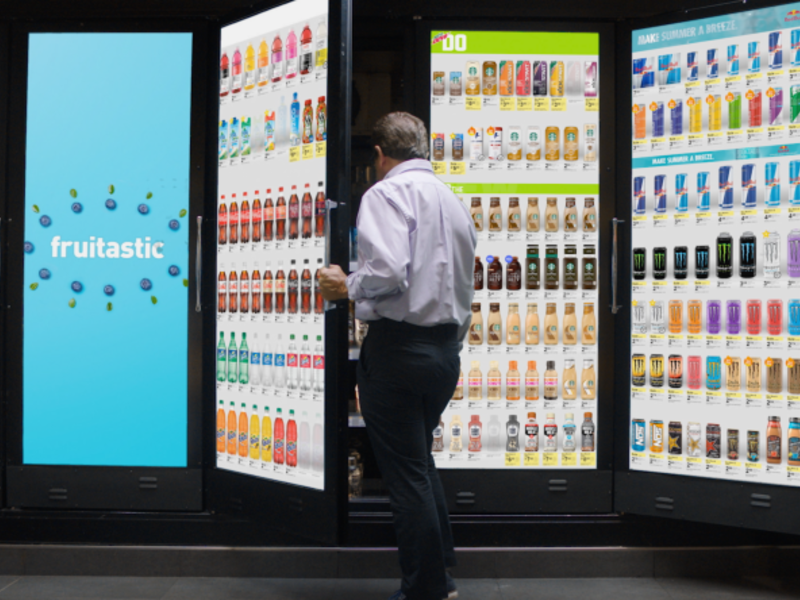 Nivea Wrist Strip for Children
Another great example of IoT in marketing is by 'Nivea'. As the marketing spectrum has shifted from print to digital, the brand has taken the essence of marketing to the next level.
Nivea Sun Kids started a combined campaign leveraging both offline and online marketing. The brand added a wristband to the magazine that could be peeled off and used on children's wrists by parents. To activate the band, parents needed to install the Nivea app.
The wrist bands were IoT-enabled devices. They had built-in GPS transmitters, which helped parents detect their child's location. It allowed parents to set a maximum distance their child could go. If the child crosses that distance, the app notifies the parents on their smartphone. It promoted the brand's reputation as an innovative brand.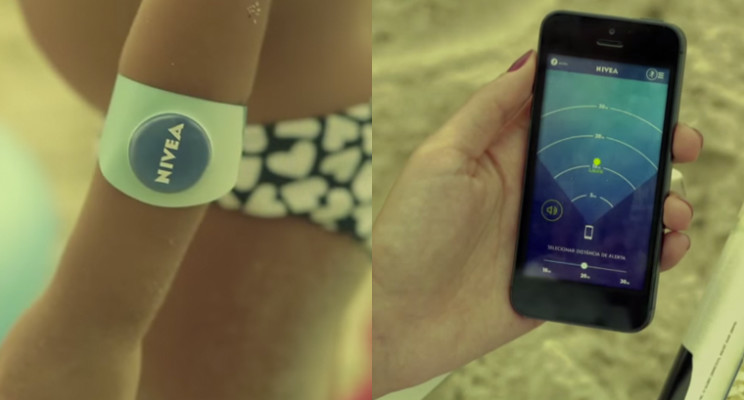 Is IoT Changing the Dynamics of Marketing?
As we understand the importance and utility of IoT in marketing, these examples are just the beginning. The future of marketing looks promising with the help of IoT. It will automate marketing and unfold opportunities to increase engagement. IoT helps marketers extract customer data to offer real-time responses. With 5G connectivity, every device will become even smarter and become a marketing need. Additionally, IoT will influence app development, which will help marketers respond instantly to customer queries.
---