If you're finding it difficult to convert website visitors into customers, try retargeting strategies. By doing so, you can win back the interest of your customers. With the assistance of advanced tools, you can jumpstart your remarketing efforts.
In a retargeting success research, it was revealed that 70% of marketers use this innovative strategy for the purpose of raising brand awareness. This shows the level of impact retargeting has on the success of a business. 
What Is Retargeting?
Retargeting is a marketing strategy that 're-targets' interested customers based on their website or app visit history. This is a clever process to improve the conversion rate. With the support of AI-driven tools, brand marketers can retarget customers like never before.
We've all received a follow up email at one point in our lives. Often, this has led us to make a purchase. These can give subtle, or not so subtle, reminders to online shoppers to return back to the website to make the purchase.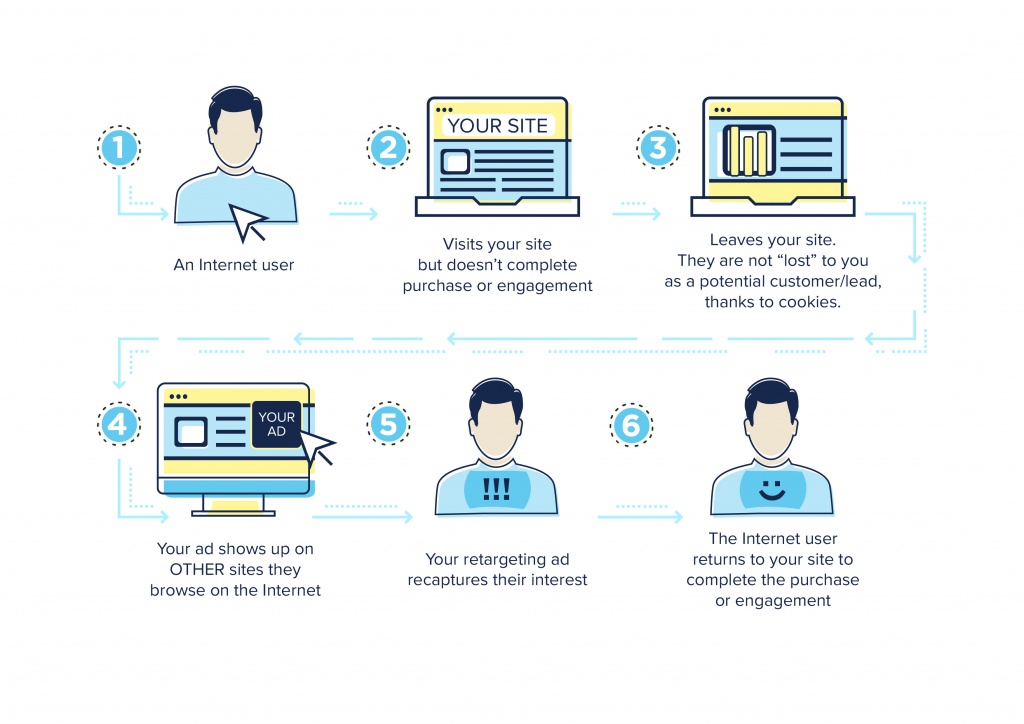 Top Retargeting Strategies
There's no handbook that marketers use to employ strategies. It is through experimentation that marketers learn what works for their brand. The strategies listed down below can serve as the beginning point for achieving your business goals.
Here are some of the top retargeting strategies that you can use to come up with the best campaign for your business.
Avoid Promoting Ad Fatigue
It's common for marketers to promote Ad Fatigue. This occurs when your ad no longer interests watchers. There is still hope as marketers can help users overcome this. For instance, by using creative graphic design in ads. This way, you can re-target a customer without boring them. Your ad should stand out from the hundreds of posts a user scrolls through on their feed.
It would be helpful to use a wide array of different ad designs so that users stay interested and engaged. This can contribute to a much higher conversion rate. The more unique your ad is, the greater probability of increasing the conversions
Optimize Retargeting
With advanced software, you can monitor your retargeting efforts. This can help you to improve your ads and to subsequently, improve the engagement level across this online platform. Each social media platform has a somewhat unique way of using retargeting. It would be best to go through the most popular platforms, in terms of engagement, to determine the right one.
To optimize retargeting, there is an increasing number of tools and creative techniques brand marketers can use. From in-built features like audience segmentation to area-specific targeting, the options are many.
Use Audience Segmentation
The retargeting process works by using audience segmentation. AI-driven software enables marketers to cost-effectively advertise on the relevant platforms. By running ads on social media platforms, users can rethink their decision to purchase or not purchase an item.
By grouping together customers with similar or shared preferences, marketers can work toward an effective retargeting strategy. Successful retargeting relies on audience segmentation. It is best for marketers to optimize this strategy.
Create Refreshing Ad Content
Retargeting efforts can often backfire. If you're using the same old design templates and text for retargeting, customers can get dismayed from buying the product even more. By using editing tools, you can come up with interesting and persuasive content.
If marketers fail to creatively market their brand, retargeting efforts can prove to be ineffective. By keeping up with the latest trends in ad design and paying attention to keywords, you can put out engaging content for consumers.
Offer Discounts
Who doesn't like a great deal on a product? If you're intending to retarget customers, try using discounts to incentivize them to make the purchase. As little as a 10% discount can work magic on customers.
This strategy can supplement retargeting efforts. Banner ads with discounts are a hit with social media users. This is why social media marketers should bring their A game when it comes to marketing campaigns. If one thing's certain, it's that discounts will always remain appealing to customers.
Use Split Testing
If you want your ads to be well-received by customers, make sure you optimize the ads. Split testing can refine your efforts and make your banner ads have a powerful impact on customers. This type of testing identifies any errors in the ads, which paves the path for improvement.
It is incredibly important to focus one's attention to the ad design so that no room is left for error. A/B testing is used by big brands to make their campaigns more relevant for social media users. This strategy applies to not only retargeting but even regular marketing. This strategy should be used at all costs as it can reap great benefits.
Monitor Retargeting Performance
To take it one step further, marketers can monitor the performance of their retargeting campaigns. This can help them make the necessary fixes to their ads so that their efforts can bring results. By doing so, retargeting can help businesses outperform their competitors.
As marketing becomes more competitive in a game, marketers must use everything in their arsenal to survive. Monitoring retargeting performance should be a top-priority for any business. If this aspect is overlooked, it can be detrimental to a brand's growth.
Types of Retargeting
The search for the retargeting software can be difficult. It is important to keep in mind a few things before selecting the right tools for your business. The type of retargeting you wish to achieve is an essential factor when picking and choosing the right AI software.
Search Retargeting
Keywords seem to be the magic elixir to marketing success. From SEO to retargeting, there are endless benefits. Search retargeting refers to the kind of retargeting where a search engine user's typed keywords are taken into account.
Depending on the type of words chosen by the user, certain ads start to appear on the online platforms. For brands that struggle to market their products and services in a fruitful manner, search retargeting provides them with an opportunity to take the lead.
Social Retargeting
This type of ad retargeting works on social media platforms like Instagram, Facebook and Twitter. For example, if you want to send a subtle reminder to a web visitor of the item of clothing they almost bought from your e-store, you can place social retargeted ads on their feed.
This can lead customers to reconsider their decision not to purchase. By tempting social media users with a creative ad, you can win their money. For marketers, this is the ultimate hack to successful advertising.
Site Retargeting
With the help of browser cookie technology, marketers retarget website visitors across other platforms. This type of retargeting can work like magic in ensuring the success of marketing campaigns.
By displaying paid ads on other online spaces, marketers can improve the site conversion rate by a mile. This can be extremely beneficial for eCommerce businesses. Website retargeting is a force to be reckoned with in 2023. The leading brands in the marketing game are using this strategy.
Email Retargeting
This is a classic retargeting strategy. By making use of emails, marketers can bring back the interest of customers. By displaying a product from a cart they abandoned, marketers can persuade them into making the final purchase.
There's a bunch of email retargeting software that can be used. To get the most benefit out of this type of retargeting, creativity should be employed. There are a number of fun elements that email marketers can use. For example, interactive content or eye-catching headlines.
Top Retargeting Software
If you're looking for retargeting software recommendations, try our top picks. To stay updated with the latest software, you should subscribe to marketing journals or blogs. This can help you remain informed.
Mailchimp
This is an incredible software that helps with retargeting efforts. It comes with many additional features like customizable templates that can help your business soar with success. All marketers need to do is connect Mailchimp to their e-store and let it work its magic.
This software sends out product retargeting emails to e-store visitors in an effort to reinterest web visitors. By doing so, it makes marketing campaigns victorious. This is a top-rated tool for all the right reasons.
RollWorks
RollWorks used behavioral targeting to promote a brand. With the help of its powerful retargeting features, it can redirect the attention of a web visitor into making a purchase. This can be highly effective.
RollWorks comes with other great features like reporting and analytics. This can help marketers make their campaigns more relevant and engaging. By investing in this retargeting technology, you would be doing your brand a huge favor.
AdRoll
With this option, marketers can use AI technology to their full advantage. Adroll provides marketers with the right options to retarget lost customers. This incredible technology can reap great benefits. It comes with a set of bonus features to help you with your efforts.
Adroll is perfect for site retargeting. Marketers can assess the performance of their campaign with the help of this amazing option.
OutBrain
From audience segmentation to geo-targeting, this technology does it all. OutBrain is also excellent for cross-channel retargeting. It can help marketers make their Ads visible to the relevant audiences. This software is accompanied with many essential marketing features such as A/B testing and retargeting ad personalization.
This software ranks top in retargeting options. It is opted for by many businesses because of its effectiveness.
Criteo
If you're looking for a software to help you with dynamic retargeting, Criteo is the best option. Dynamic retargeting is a highly powerful method of bringing back customers. With the help of Criteo, video ads can be shown to the relevant people.
This incredible software can boost the conversion rate significantly. It can help target customers on the site or the app. Criteo should be the go-to tool for your business.
ConvertFlow
Looking for on-site retargeting? Try ConvertFlow. This amazing tool can help with pop-ups and landing pages. For your retargeting objectives, Convertflow is here to save the day. By taking customer preferences into consideration, this software helps businesses to market in a cost-effective manner.
ConvertFlow is a great option for businesses that struggle to increase their site conversion rates. Invest in this retargeting technology now!
Brevo
If you find your email marketing efforts in a standstill, try using Brevo. This software can retarget lost customers with the help of Facebook Ads and emails. Brevo can also help businesses expand their clientele and grow their business. This can be a compelling way of ensuring success.
Brevo is accompanied with other incredible features like CRM. If you wish to have brand loyalty, Brevo is your friend. This is one investment worth every penny. You are bound to benefit from it one way or the other. Try Brevo now!
OptiMonk
This retargeting tool can help with on-site retargeting. OptiMonk. By using exit pop-ups, this powerful software helps businesses retarget customers before they close the website tab. It allows determined marketers to use audience segmentation to their benefit.
OptiMonk can make marketing more cost-effective for you. This fabulous software helps marketers realize their goals. It has become impossible to separate marketing success from the use of software tools. This is why all businesses should use tools like OptiMonk.
What Are the Benefits of Retargeting?
With retargeting, business owners can make their marketing far more effective. For example, social media retargeting is a cost-effective way to reel back in interested customers. There is a great list of software options that can assist marketers in their efforts.
This strategy can be incredibly rewarding for all those businesses who employ it. From improving the click-through-rate to expanding the clientele, this strategy helps with it all. 
Improves the Conversion Rate
Many startups struggle to keep up with a good conversion rate. To overcome this, retargeting is the way to go. Marketers can either choose to retarget via email or social media platforms. Either way, this strategy accompanies many benefits.
For any eCommerce store to make it big, the conversion rate needs to be optimized. Retargeting is proving to be the all-in-one solution to low conversion rates.
Have you tried retargeting for this purpose yet?
Increases the ROI
If you want to increase your ROI, retargeting can help you with that. For many eCommerce marketers, this is a sure-shot strategy to increase the revenue generated from a marketing campaign. By targeting interested customers on social media or other platforms, business owners are ensuring sales success.
If there's one common goal shared by all businesses, it's to maximize the ROI. This is where retargeting enters into the view. This amazing strategy can help business owners to speed up their sales process.
Establishes a Brand Image
If a customer is repeatedly reminded of a brand and its products or services, it's likely to leave a lasting impression. This can work in the favor of brands that hope to make a big name for themselves. By investing in retargeting strategies, brands can ensure a higher level of success.
For a brand to stand a chance against fierce competition in the digital age, they need to consider all options. For example, the use of retargeting software can help reinforce a brand's image. This can contribute to brand growth as well.
Business Growth
With retargeting, businesses can grow their brand. This strategy is highly effective in helping new businesses and old ones to establish a customer base. It is also cost-effective and works best for all types of businesses.
All businesses strive to grow their businesses and to explore new markets. Retargeting provides a clear way for that. Behavioral targeting works exceptionally well in this regard. Retargeting can be used to fulfill multiple business objectives, growth being one of them.
The Future of Retargeting
The use of cookies in marketing has become the subject of a heated debate. As zero-party data enters the picture, marketers are debating whether ad retargeting stands a chance or not? Is there a way for effective marketing and no-party data to co-exist?.
There are advanced retargeting technologies like Rollworks in the market. It is best for marketers to remain hopeful for the future of retargeting. With the help of innovation, common ground can be realized. AI advancement can prove to be of great help in this regard.
AI and Retargeting
As retargeting software becomes more advanced, thanks to advancements in AI, the marketing game has never been more competitive. By running paid advertisements, businesses can rise to success. AI-driven segmentation is proving to be a powerful strategy.
In 2023, retargeting strategies are going to lead the game. As AI technology advances, marketers are choosing to remain hopeful of its outcomes. It would be best to hope that AI will bridge the gap between the use of one-party/third-party data and retargeting.  
Featured Image: Neil Patel
---