The popular social media platform Instagram introduced a brand new feature within the application, known as 'Instagram Reels', in August 2020. The feature is Instagram's answer to TikTok – it allows users to share short, entertaining video clips of up to 60 seconds.
Like all features introduced by other social media platforms, Instagram Reels are prone to occasional functionality issues. This article will explore, in detail, the steps you can take to get your Reels back up and running. But first, let's understand more about Instagram Reels.
What Are Instagram Reels?
Instagram Reels are vertical short-form videos that allow users to unleash their creative side. You can record and edit brief video clips lasting between 15 and 60 seconds long. Instagram provides you with plenty of options to enhance these videos. You can insert fun transitional effects, modify the audio and blend multiple clips together to take your reels to the next level.
You can share reels with your followers and, if your account is public, make them visible to the wider Instagram community through the Explore page. Like TikTok, Instagram Reels are displayed in a vertical format, allowing users to see new reels through a scrollable feed.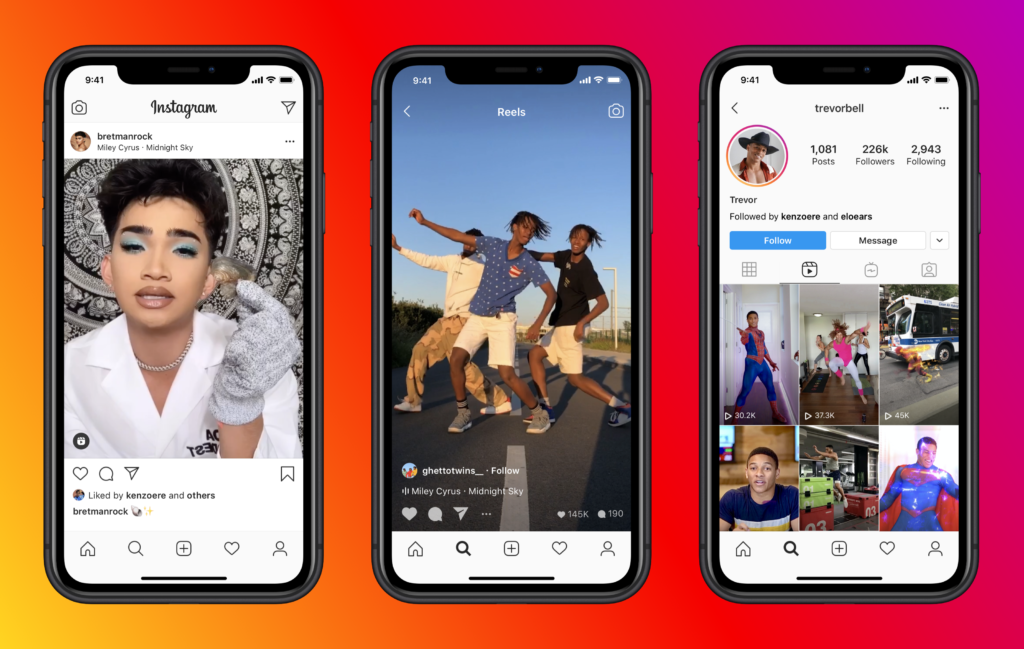 What to Do When Instagram Reels Are Not Working?
If your Instagram Reels are not working, there's nothing to worry about. Here are some fixes that could help bring your Reels back to life.
Update the Instagram App
If you can't find the Reels option on your Instagram at all, you might simply have forgotten to update your application. In that case, take the following steps:
Open your App/Play Store.
Search for the Instagram app.
Select Instagram and tap 'Update'.
Once the app is updated, open it.
Open the Instagram camera and check for the Reels option.
Log Out And Back In
You might have repeatedly heard the universal fix to every technology-related problem, "Turn it off and back on again". Well, it can work for your Instagram Reels too. Here's a possibility that a bug might have infected your application, causing the Reels feature to disappear or stop functioning. Try logging out of your Instagram account and logging back in again.
Uninstall and Reinstall the Application
If your application has indeed been infected by a bug and logging out and back in doesn't help, try uninstalling and reinstalling the application. It could simply be the case that the bug required complete erasure of the app from your phone.
Clear the Application Cache
In some cases, extensive cache accumulation might cause some of your Instagram app features to stop working, Reels included. Hence, it is advisable to delete this accumulated data from time to time. Here's how you can do it:
On your Android device, go to Settings.
Scroll down to 'Manage Applications'.
Scroll down to the Instagram app, or simply search for it through the search bar.
Open the application information page and tap on 'Storage'.
Hit the 'Clear cache' option found below.
Update Your Phone
If your phone isn't carrying the latest version of its operating software, that might be another reason behind non-functioning Instagram Reels. Make sure that your device has the most recent version of operating software installed to support the Instagram Reels feature. To do this:
Open your phone's settings.
Go to the 'Software Update' option.
Tap 'Download and install'.
Your phone will check for pending updates and install one, if available.
Report the Issue to Instagram
If you've tried everything mentioned above and are still out of luck, one option still remains: contacting Instagram directly. Here's how to do that:
Go to your Instagram profile.
Tap the three lines at the top right corner of the screen and select settings.
Scroll down and tap on the 'Help' button.
Then, tap on 'Report a Problem'.
On the reporting screen, explain your problem. Upload screenshots if you want.
Tap on the 'Submit' button.
Once you're done, Instagram will look into the matter and restore the Instagram Reels feature.
In Essence…
As we have laid out for you, there are several reasons that your Instagram Reels might not be working, and plenty of ways to fix the issue. Hopefully, once you have gone through this article, you'll be able to find a solution that works best for you!
Let us know which method worked best for you! If we missed an important trick, feel free to tell us about that too by leaving a comment below!
---