If you're looking for ways to score podcast sponsorships, you've come to the right place. With podcast marketing, you can explore opportunities to market to new audiences. This type of medium is proving to be of great value to brand marketers in recent times.
As podcast listeners flood platforms like Spotify, the timing has never been more perfect to strive for a sponsorship. 
What Are Podcast Sponsorships?
A podcast sponsorship can be defined as an agreement between two parties. By offering to cover the expenses of planning, recording and sharing a podcast, the podcast host must promote the sponsor. This agreement tips the scales more on the podcast host's side.
The podcast host gets to explore this medium for the promotion of their own brand as well as the sponsors while not having to worry about the hefty costs. There are no standard rules for a podcast sponsorship agreement. While some may offer to pay for the podcast creation others may offer something else.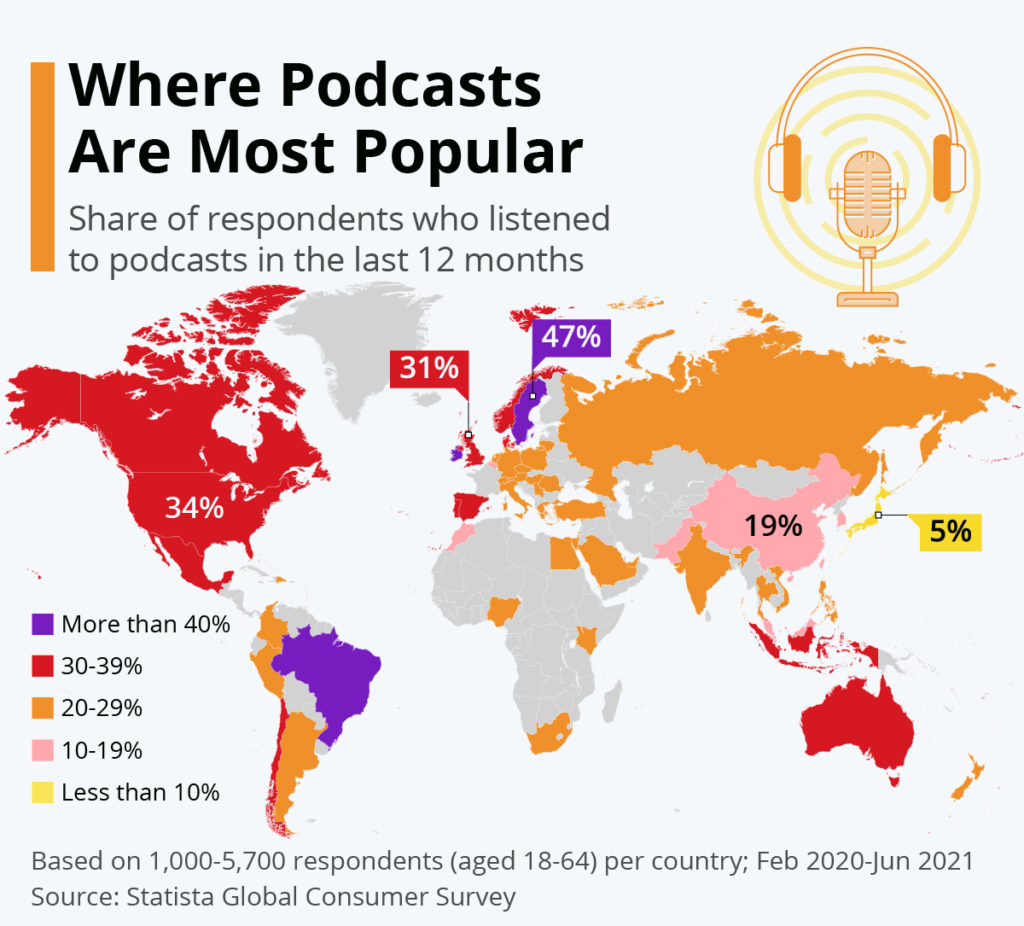 Types of Podcast Sponsorships
If you're just starting out your journey to podcast marketing, you need to learn about the various types of podcast sponsorships available for marketers. The most common type of sponsorship involves the explicit promotion of a brand or its products/services.
Here are some podcast sponsorship types you may be unfamiliar with.
Sponsored Episodes
If you've ever eye-rolled to an interruption in the middle of the podcast, you're not alone. With sponsored videos, podcast hosts often have to mention the sponsorship in the beginning, middle or even end of the episode.
The purpose of sponsored podcast episodes is to make a particular brand more visible. This can help with the brand image significantly. This type of sponsorship can be highly effective, which is why it is clear to see on popular platforms such as Spotify.
Post-Roll Ads
The use of post-roll ads in a podcast can be crucial in promoting a sponsor. Many businesses opt for this type of promotion because it can help drive sales. This is usually supplemented with a short review of the product(s) in the podcast itself.
Post-roll Ads are still popularly used in not just podcasts but also in other content types like videos. These can persuade customers into making a purchase like nothing else. These are highly effective types of ads that can work in the favor of sponsors.
Product/Service Review
Many sponsors choose the traditional route of requesting a review of their brand's product or service. By sharing their views on the brand, podcast hosts can effectively introduce the brand to a new audience.
This helps sponsors expand their clientele. For example, this type of sponsorship is popular within the tech industry. If there's a new gadget in the market, sponsors know where to go to increase visibility.
Top Strategies to Ensure Sponsorship
To get the most advantage out of this marketing medium, sponsors must bring their A game when approaching podcast hosts and vice versa. Here are some surefire sponsorship strategies!
Create a Compelling Proposal
To realize a successful podcast sponsorship, it is essential to create a compelling proposal. As a sponsor, you need to factor in the type of podcast, the audience and the budget. These are all primary considerations when it comes to securing podcast sponsorship.
To create a great proposal, it is essential to use a template. The structure of your proposal is of great importance. ChatGPT is a gift that keeps on giving. With this tool, you can create a proposal unique to your requirements.
Research the Podcast Audience
This strategy holds immense value. If you blindly approach a podcast host, just based on the level of their popularity, you are putting your brand at risk with ineffective marketing. This is why you must research the target audience of the podcast before sending them a pitch.
It would also help to go through the ratings and reviews of the podcast to determine whether or not they are fit for the promotion of your products or services.
Choose a Trending Brand
To realize a podcast sponsorship with success, it is important to have the latest information on podcast trends. If there's a new host making headlines in your industry, approach them at the first opportunity. This can help sponsors access a greater number of podcast listeners.
The brand of the podcast host is a crucial consideration. Sponsors must go all out in their research to avoid picking a host that may have stirred controversy in the past. It would also help to go through the most listened to podcasts of recent times.
Negotiate the Budget
The budget is always negotiable. This is why both sponsors and podcast hosts engage in tiresome negotiations. By going through the quantity, as well as the quality, of the audiences, sponsors can make an informed decision when picking the host of their choice.
If marketing to a specified audience can help a sponsor grow their brand, they should not hesitate to close the deal. There's a lot of revenue to be generated with the help of this marketing medium. The chances of growing your business are considerably high. 
Top Podcast Marketing Strategies
Now that you've scored a sponsorship deal, it's time to work on your marketing. Here's how hosts can help market the products/services of a business in an effective way.
Invest in High-Quality Equipment
It is incredibly important for hosts to use top-notch equipment for recording their podcasts. For example, investing in high-quality equipment can level up the podcast like nothing else. The use of an XLR microphone or an audio interface can level up the quality of your podcast recordings.
If a sponsor approaches you for a possible deal, you need to prove to them that you can create engaging audio content. Great quality audio is essential for this purpose. The production costs of a podcast may leave a dent in your bank.
Focus on the Theme
Most podcasts have a general theme. For example, there has been a great increase in health-oriented podcasts in recent times. These podcasts often promote brands from the same industry. Whether that's a health gadget or a new diet plan, the products/services promoted are interlinked to the theme of the podcast.
This is why you should focus on a theme, preferably one that has a large audience. By doing so, you can score the best sponsors.
Advantages of Podcast Marketing   
For startups, podcast marketing can be game-changing. However, it is a difficult task to reap the benefits of this marketing medium. There's a lot to consider and luck plays a huge role in the success of this type of marketing.
You'll never know if you never try! Here are some advantages of podcast marketing for your company!
Reach More Audiences
With podcasts, businesses have the chance to reach more audiences. This can work in the favor of brands who wish to expand their businesses in the hopes of establishing a loyal customer base.
This can be extremely helpful to businesses that wish to enter new markets and to reach diverse audiences. With podcast marketing, the sky's the limit for growth. If you want to market to a specified area, local podcast hosts should be your go-to.
Increased Web Traffic
With podcast marketing, you can direct listeners to your website. This can help you boost sales and expand your clientele. As a plus, you can even get email subscribers with the help of this tactic. Podcast hosts usually mention the web link in the podcast or in the description.
This strategy can be highly advantageous for website owners who are struggling with overstocked inventory. This underrated marketing medium can surprise you with its many benefits. Most brand marketers aim for this goal when creating a strategy for their brand. 
Podcast Sponsorships in 2023
In 2023, podcast sponsorships are expected to proliferate. If you're a business owner in the search for new opportunities for growth, podcasts are the way to go. You can write up a great proposal for a sponsorship with the help of Generative AI tools like Jasper.
Live podcasts are also proving to be a great option for many brand marketers.
Featured Image: Influencer Marketing Hub
---