In digital marketing, you might have heard remarketing and retargeting frequently. These terms are now being increasingly used by marketers to connect with potential and existing customers. These two terms deliver the same purpose (to get click-throughs and conversions). However, the use of these terms is completely different from each other and works in different scenarios. To have a deeper insight into remarketing Vs retargeting, we'll give our perspective on their differences and use in digital marketing.
Remarketing Vs Retargeting: Difference
Retargeting is a method of digital marketing in which you re-engage your users who have interacted with your brand online but never purchased.
Users' visits to your social profiles and website are favorable to your business. However, only 3% of users convert when they visit your profiles; to make the remaining 3% make a purchase, you need to have a solid retargeting strategy.
Marketers use this strategy by adding cookies to the website, as they help collect user data. Cookies help capture data about the user and the actions they take while on the website. It allows businesses to know the user's behavior and their interests, e.g., the product the user viewed.
On the other hand, remarketing is about taking action to re-engage your existing customers with creative marketing techniques. In this method, marketers re-engage users or customers who have purchased from your business in the past.
The most common yet effective way to remarket to your customers is by sending emails. Marketers often send monthly and weekly newsletters to hook them with company activities and promotions.
Importance of Remarketing & Retargeting
Both of these methods serve the same purpose but in different ways, making them equally important to incorporate into your digital marketing strategy. Considering them in your plan is important to reactivate your brand awareness and engagement process. Both remarketing and retargeting act as catalysts to ramp up your marketing efforts. Having them in place also helps with more conversions as you come back even stronger with new techniques that ditch the odd rules. 
Goals of Remarketing and Retargeting
We have learned about how both methods are used, and it is crucial to know when you should use them. Or what are the goals you should keep in mind when using these terms in your marketing campaign? Some of the main goals are mentioned below:
Creating Brand Awareness
These techniques help businesses generate awareness when they have to introduce new products and services. It is used to make website visitors or existing customers aware of your new products and services. This tactic is usually used in the regression method. whereas existing customers who have a personal history with your brand can also benefit from the remarketing technique. If your customers haven't heard of you in a long time, you can reactivate them with remarketing. To track how prospects responded to your awareness campaign, you can track impressions and engagement metrics.
The ultimate goal of any business is to attract more conversions. Digital marketers have the right tools for retargeting and remarketing to achieve a higher ROI and more conversions.
Conversion
Conversion is the ultimate goal of every marketing tactic, and these two methods are no exceptions. Every marketer wants the user to click their ad, whatever it is, and for this they use different techniques. Potential leads turn into customers when they are approached wisely, and that also raises their expectations. Both remarketing and retargeting are great methods to revive your brand.
Minimize Cart Abandonment
It is unpleasant to experience when a customer comes to your store, adds some items to the cart, and leaves without making a final purchase. It usually occurs due to limited payment options and expensive delivery costs. If a user makes a purchase of $10 by accumulating delivery costs of $2, they have to pay $12 as the final payment. It increases customer churn and cart abandonment.
Retargeting customers with discounts on things they showed interest in will encourage them to visit your business again. Similarly, with remarketing, you can re-engage your existing customers by offering various payment options and new promotions.
Announce New Products
Let's assume that you are an athletic or fitness brand. You have a range of athletic wear and fitness machines in your store from different vendors. When a user visits your store after knowing that you are a fitness brand, they look for specific machines to shop. They searched, but it ran out of stock. This is where retargeting works to announce that you have that item restocked. As you gain insight into their search intent and interest, with this method you can retarget those customers.
Similarly, if the same store has loyal yet repeated customers, marketers will send remarketing emails. This will inform existing customers about the store's new products.
How Does Retargeting Work?
Retargeting works by managing cookies on a website. Cookies are a tiny set of data that you can receive from customers' interests and preferences when they navigate your company website or app. Companies use them to identify the needs of bounced website visitors and serve targeted content to them.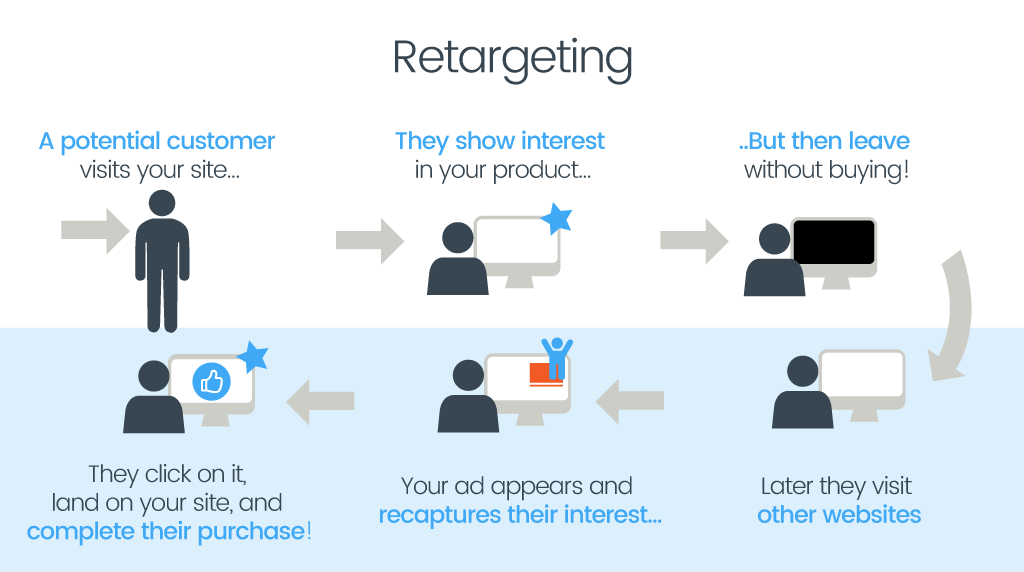 Best Practices Of Retargeting
Here are some best practices that'll help you make the most of a retargeting campaign.
Segment Your Audience and Craft a Message
To run a campaign, you must identify segments of your audience. For example, cold audiences are those who have only visited your homepage. Those who have navigated your product pages, on the other hand, are a hot audience. Once you have segmented your audience, you can streamline your script messages to retarget.
If you have different audiences on your website, diversify your message so that it resonates with each segment.
Use Dynamic Content For Ads
This tactic helps marketers retarget their potential customers with more power. They can customize ads as per the needs of the audience and show the products in which users have shown interest. Using dynamic ads makes people reconsider buying it. This time, the company comes with a force to show more recommendations that are worth trying.
Don't Overfeed Your Audience
It is crucial to put a cap on the frequency of ad delivery. Some businesses make this mistake to push their audience to visit their page or website. This approach can create weariness toward your brand. You need to control your ad stream so that you don't overaddress your prospects. Avoid placing multiple displays for the same ad on the same page. Have the right ad placement and delivery strategy for maximum impressions.
Run Multi-Channel Campaigns
You can target several platforms to display your retargeted ads. The most effective channels are Facebook and Google. If your target audience is more active on social media, use Facebook as your targeted platform.
Pros and Cons of Retargeting
Retargeting is a powerful approach in the e-commerce market; however, it does not promise to deliver excellence every time we use it. Here are its pros and cons that you should know before structuring your campaign:
Pros of Retargeting
Helps businesses Tell Deeper Stories
So, now you know the audience that has visited your website but left the check-out stage. It helps businesses push their brand message with strong force. You create more compelling content to engage them with your brand. Doing so will help you amplify your brand story and be open about it. Make ads in different bits and sync your story in them by relevant coherence.
Brand Recognition
By repeatedly showing ads on the timeline of the potential prospect, it builds brand recognition. When your ad shows up to the relevant users who have searched for the product but didn't end up purchasing it, they might consider you this time and prefer you over competitors.
Great ROAS
In retargeting, you are tapping already-interested customers. It will help you spend on a targeted and specific group of audiences. This way, you'll save money on ad spending. It is likely that they will click your ad this time.
Cons of Retargeting
Privacy Issues
When you send customized ads to the relevant audience, they might feel they are being spied on. It is recommended not to invade their online presence too much and disrespectfully.
How Does Remarketing Work?
At its core, the concept of remarketing is to tap those audiences that have previously interacted and made purchases with your business. This is the process where you re-market your new products and offer discounts to past customers through email. Marketers must think of it as up-selling or retaining customers.
Best Practices in Remarketing
When handled professionally, remarketing will help you enjoy the return of your past or existing customers. You have already drawn the attention of customers to your brand, but you still need to keep pushing it even better to retain them and allow frequent purchases.
Here are some best practices you must keep in mind when creating remarketing email campaigns:
Create a Catchy Headline for the Subject
The headline should draw the attention of your customer when they open their email inbox. It must resonate and create relevance for the customer.
Add Relevant Visuals
Choose visuals in your email that are relevant to the products that you are offering to compel the audience to make a purchase.
Add CTA
Get emotion flowing in your email content so that they navigate to click the CTA. Your CTA should be clear and drive the audience to the relevant product or service page. This practice improves brand reputation and image, as customers will perceive your brand as authentic.
Upsell, Cross-Sell, and Offer Discounts 
Based on the customer's preference, offer existing customers the chance to buy more appropriate products. You can give relevant recommendations that build upon their actual purchase. Make your loyal customers stick with your business by selling them complementary products and services. Alert them to avail discounts on special occasions or for whatever reason. You can run this type of remarketing campaign any time of the year.
Create Effective Landing Page
Remarketing works when CTAs drive traffic to the relevant landing pages. You must work to create an effective landing page so that customers reach the relevant information. When they arrive on the landing page, make sure to add creative yet compelling content by adding UGCs and reviews about specific products and services.
Use Analytics
Before you kick off your campaign, understand your customer's analytics. For example, you need to learn the audience type who visited and purchased. Also, you need to identify which product has gotten the most impressions. With Google Analytics, you can form a list of targeted customers who have made a final purchase. This tool allows you to create segments of your audience so that you can better customize your content.
"Your existing customers are your biggest asset and revenue drivers, retain them"
Pros and Cons of Remarketing
The pros and cons of remarketing are as follows:
Pros of Remarketing
Stay on Top-of-Mind
Remarketing helps brands stay top of mind with customers. It is highly likely that sending regular emails will make them buy your product or services again.
To Target a Specific Group
It removes the hassle of sending emails to everyone in your audience category. Instead, you choose to send emails to the only ones who have made purchases from your business.
Customized Content
You understand the preferences and behaviors of your customers based on their past shopping experiences. Remarketing helps you send customized product recommendations for future purchases.
Cons of Remarketing
Can be Ineffective
Apart from its potential to attract customers again, it might or might not work for some industries.
How to Measure the Success of these Methods
You can't make future decisions without knowing what works well and what underperforms. For this, you need to set metrics that will help you measure the success of remarketing and retargeting campaigns.
Below are some metrics you should determine to calculate what went wrong and what spearheaded your campaign.
Lead Conversion
There are a number of leads who showed interest after seeing your ads or emails. If your offer moves them, they may convert, and this process is called lead conversion. The higher the CPL, the higher the chance that your ad or email is successful in attracting visitors and existing customers.
View Through Conversions
This metric is important and extremely useful. A view through conversion is a conversion where a prospect or past customer sees your email or ad but doesn't click. They move to your website's landing page on their own without clicking on the CTA in ads or emails.
You can track the conversion by integrating a tracking pixel on your desired landing page.
Page Visits
This metric involves the number of visitors who visited a specific page or landing page from your ad or email. When pushing your remarketing campaign online, you need to have a clear number of page visits before and after the campaign so that you can measure the success of your campaign.

These marketing techniques can evidently increase your website traffic by attracting visitors through brand awareness.
Click and Open Rate
Every business wants to see a favorable yet high email open rate when they kick off marketing campaigns. You can calculate the before and after email open rates based on the number you received in your campaign.
Also, measuring email open rates helps you identify areas to improve by collecting data.
If personalized email content is receiving an 80% open rate, you must consider incorporating content that resonates with the audience's needs.
Cost Per Conversions
Another important metric to measure is the cost per conversion. CPC is the total amount of money spent on marketing campaigns and can be calculated by dividing the total budget of marketing with the total number of conversions. Measuring this metric helps you determine the rate of conversion generated. It helps you define the success of your marketing campaigns. You can further segment your CPC by targeting different audiences and platforms to examine which creates more value.
Increase Conversions With Retargeting & Remarketing Processes
Understanding the nuances of both these methods and their audiences is crucial for effective marketing funnel. Both remarketing and retargeting have their own unique benefits. Companies can use these two methodologies to attract customers to their businesses. The ultimate purpose of both of these methods is to generate more brand awareness and amplify conversions.
The best way to convert interests into leads is by offering customized content that resonates with the audience's interests. Moreover, testing your ads or email performance allows you to create engaging campaigns for your audience to persuade to convert.
Featured Image: Single Grain
---