TikTok — a social video sharing app whose main idea is to just create and share 15-second, lip-synced to your favorite songs or movie dialogues. Who thought it would become one of the most valuable startups in the world and its popularity would even go beyond Gen-Z? 
You might just know about TikTok from the memes, but there is so much more to it! If you're entering into an era of creativity, this article is all that you need to know about how to become a TikTok star!
TikTok is one of the most popular social apps for people under 24 years of age. It has been downloaded over 2 billion times from the App Store and Google Play, as per Sensor Tower Store Intelligence estimates. In Q1 2020, it was downloaded 315 million times, that's a record most downloads for any app in a quarter ever.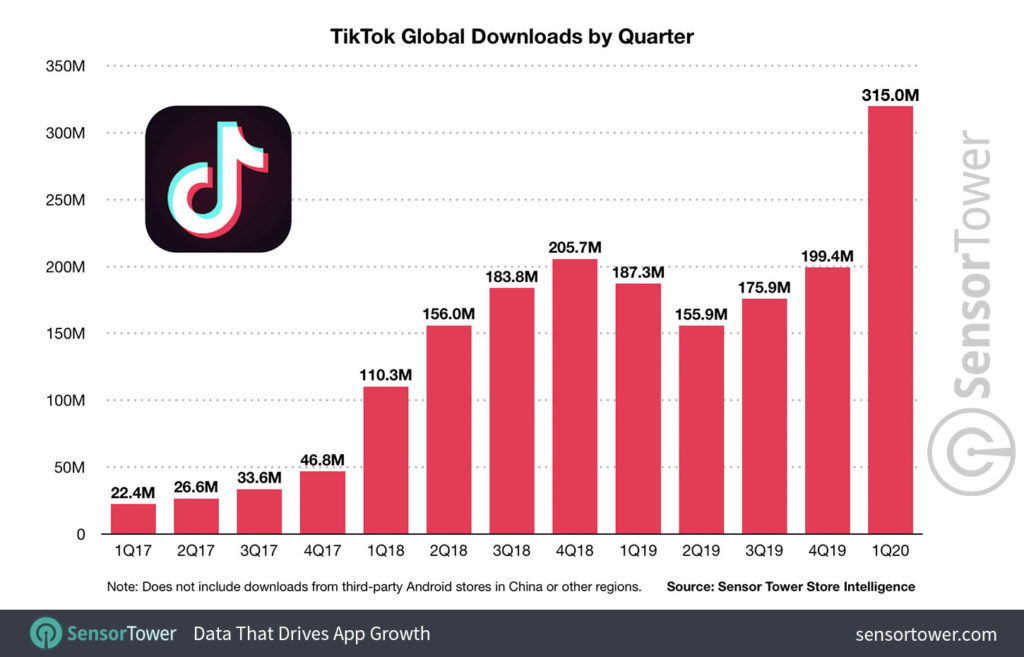 If you think this simple app is just famous amongst teenagers, then you're wrong. Huge corporations like Coca Cola, Nike, and even Google have run their advertising campaigns. You'd even see influencers like the Kardashians creating paid content and posting it on the platform. 
So, a platform as simple as TikTok is no longer being used for just the purpose of "having fun," but rather another concept to it has also been introduced; TikTok for Business. Many small and large businesses are now exploring this option and jumping onto the bandwagon as well. 
Understanding TikTok might be a little tricky in the beginning since it is mostly right-oriented, but you'll get the hang of it eventually. Considering the hype of this social networking service, if you're someone who is new to the app or is thinking of making their first-ever TikTok video as well, then just follow some of these simple and easy steps. 
Filming and Sharing your First TikTok Video
You can create a video on TikTok by capturing, recording or selecting from library multiple images or videos. Lets see how to do that:
Image-Based Video
Starting from the basics, first, tap on the plus sign at the bottom of the screen when you launch the app. The app will now ask for access to your microphone and camera. All you need to do is allow access to it. If you're looking to make an image-based video clip, just simply tap on upload. Now, choose the images that you'd like to add to your video. 
Additionally, you can also add a template to your video by choosing one of your choice. Once this is done, tap on sounds and choose a song of your choice as your video's soundtrack. Next, tap on effects. This would enable you to apply any kind of visual effects, transitions, or splits to your video by simply choosing and dragging to any part of it. After this, you have the option of adding text or stickers if you'd like. Tap on the respective option and choose the desired font style or sticker of your choice. Finally, you can add filters and even crop the video if you want to. 
Pro Tip: Make sure to adjust your clip before adding any kind of effects to it; otherwise, they will be lost. 
Once you're done with all of this, just tap on next, and you'll be directed to the post screen. Now just add a trending hashtag (see How to Make Your TikTok Go Viral? section below), a description, and you're all set to get on the road of becoming a TikTok star! If you have some popular TikTokers as friends, you can tag them as well.
Moreover, TikTok also allows you to control who'd be allowed to watch your video. The default selection is "Public", which you can change to "Friends" or "Only Me." You can enable or disable comments, duet, and stitch permissions. 
Shooting a Video Clip
Just as mentioned above, tap on the plus sign at the bottom of the screen. The camera will automatically open, revealing a red dot as an indication for you to start recording your video. 
There are two ways the user can go about it; either shoot a video or choose an existing video you may have made and upload it. The app provides both options. 
In case of choosing an existing video, tap on upload, and then the next steps are the same as what has been guided for an image-based video, like trim, rotate, change playback speed, and more. However, in this case, you get two more additional features; voice effects and voice over. 
Just like Snapchat, TikTok also offers an array of AR features that can be used in videos to add real effects like changed hair color, eye color, and more. To make use of this feature, tap on effects so that you can browse them. The World tab provides environment based options, a delicious-looking slice of augmented-reality pizza, and more. The app even has special effects that have been designed to be used on dogs and cats. You can also choose and select the speed of your video by tapping on speed; 0.3x, 0.5x, 1x, 2x, 3x, set it to whatever speed you find appropriate. 
The second way of making a TikTok is to record a video, for which you tap on the red button in the middle of your screen. One thing that would be recommended in this case is to first choose and add a song by selecting the sound button. The reason for this is because it would help you to lip-sync, dance, or even skit with the music on time. If you want to beautify yourself, there's a beauty button on the right side of the recording screen, which helps to erase or minimize any dark shadows under your eyes. 
Next, you can add any filters that you want to, which, unlike Instagram, have just been numbered instead of being assigned fancy names. When recording, are you confused about how to dance and record a video at the same time? Well, TikTok's most important feature is that it lets you put on a timer, instead of holding down the record button. This is what enables the users to dance or add a skit to their favorite song. You can choose the effects next and add as per your wish.
TikTok Video Length
In the beginning, it was mentioned that TikTok just allows you to record 15-second clips. However, one thing that probably most users are not aware of is that you can also connect multiple clips together to form a 60-second clip. So, in total, the app allows you to record a 60-second clip. The app allows to Trim video from start or end to make it precisely fit in the allowed time duration.
Experimenting with TikTok Duets
Now that the basics have been explored, duets are something that can also be talked about. Experimenting with duets (an option that you get at the end when the user is about to post their video) splits the screen in half and allows the user to sing the same song as another creator (in case you'd want to have a duet with yourself ). However, at the same time, having the duet option chosen also allows other users to post their video along with yours, in a split-screen arrangement, playing both the videos simultaneously. 
How to Make Your TikTok Go Viral?
If you believe your video is engaging, trendy, and interesting then you can try the following steps to make it viral. But, remember there's a lot of competition so as you post so TikTok algorithms will try to show it to a selected random user, and if they like it the algorithm will promote this video for you to more users.
TikTok challenges are always something that needs to be kept an eye upon. These are what really make videos go viral. Picking a popular song and recording your video to it is what will help you in making your video viral. 
When you tap on sounds, there's an option of discover. This section has all the trending songs that you can choose from, along with checking out songs from Apple Music or device music if you're using an Android. 
TikTok doesn't have the option of providing you with full-length songs. You will only find short-clips there, which can't even be edited. However, there is a hack that can be followed as a solution to this problem. Many TikTokers play a certain song or a portion of it, which is not available on TikTok, from another device while they are recording. The app then registers that part or song as an original sound, which then can be used by other users as well. However, let's try and not violate any copyright laws or rules and regulations when working your way around this. 
READ: TikTok selects Oracle as its partner for US operations
On the same music streaming menu, you will come across songs that are trending as #TikTokChallenges. These challenges are what actually unites the TikTok community and what has made it become famous to such an extent. These challenges are also often being sponsored by advertisers. An example of this is the Google Hashtag that was highly trending; #HeyGoogleHelp. 
At the same time, there are a lot of challenges and hashtags that aren't even sponsored and are instead just created by the TikTok community themselves. They still manage to go viral! To keep tabs on the trending challenges, just tap the magnifying glass present at the bottom of the home screen. Moreover, there's a search bar present at the top of this same menu that can be used to search for specific creators, sounds, or hashtags. 
To sum it all up, all you really need to know about TikTok is finding the trending things. If you're able to do that, the rest of it is not difficult at all. So, keep your eye out for such hashtags, challenges, and soundtracks if you aspire to be a TikTok star and go viral. 
Featured image: Costfoto/Barcroft Media/Getty