Virtual reality (VR) has emerged as a game-changer in the real estate industry. It offers a plethora of benefits that redefines the way properties are showcased, marketed, and experienced.
You slip on a pair of sleek virtual reality goggles and suddenly find yourself transported to the sun-soaked terrace of a luxurious penthouse overlooking a bustling cityscape. You can almost feel the cool breeze on your skin as you step into the elegantly furnished living room, taking in the stunning panoramic views. This is the virtual reality (VR) world in real estate, where imagination meets innovation and properties come to life with a touch of digital magic. Gone are the days of flat images and dull floor plans. VR is revolutionizing how we experience and interact with real estate.
Beyond virtual tours, VR is utilized for interactive floor plans, 360-degree visualizations, and even staging properties with virtual furniture. The options are limitless, and forward-thinking real estate professionals are harnessing the power of VR to stay ahead of the curve.
Let's first understand what virtual reality in real estate means.
What is Virtual Reality in Real Estate?
Utilizing immersive technologies, such as virtual reality headsets and 3D visualization software, to create lifelike and interactive virtual experiences of properties is known as virtual reality (VR) in the real estate industry. Without having to visit physically, it enables potential buyers, investors, and even architects and designers to tour homes as if they were digitally present in person.
By offering a compelling experience that improves visualization, spatial awareness, and decision-making, virtual reality in real estate elevates the conventional property viewing process to a whole new level. Users can virtually walk through rooms, inspect details, personalize designs, and sample various environments before making any commitments. It provides a dynamic approach to present homes.
Let's delve into the benefits, uses, and examples of VR in real estate to witness its transformative impact firsthand.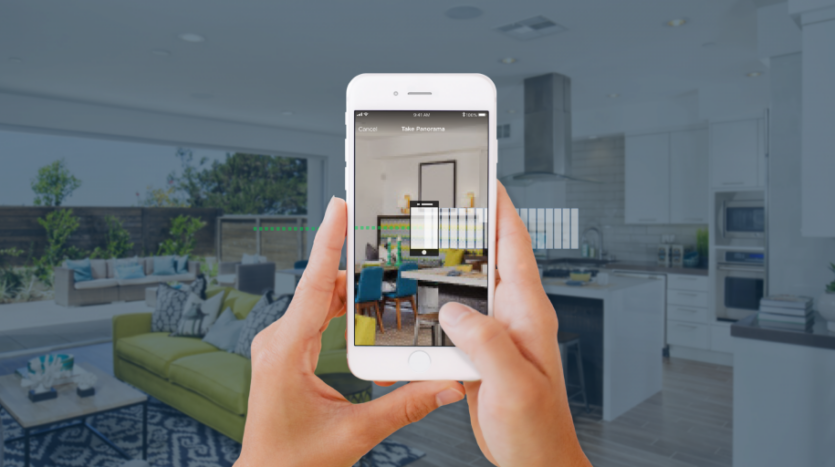 VR in Real Estate: Benefits
The real estate sector can profit from virtual reality (VR) in a number of ways:
Detailed Virtual Tours
Step into your dream home without leaving your couch! Virtual reality gives potential buyers the power to explore houses in an interactive way. It reveals every nook and cranny of a property, helping you make informed decisions. Users with VR headsets may wander through rooms, gain a genuine sense of space, and thoroughly investigate assets. Buyers can narrow down their alternatives before visiting properties in person, saving time and money on travel.
Higher Level Decision-Making
The use of VR in real estate helps purchasers make better decisions. Buyers can get a feeling of scale, space, and design features by viewing houses in a virtual setting. They can judge the atmosphere and picture how the furnishings and décor might look in the room. Decisions on purchases are made with greater assurance and knowledge after this immersive encounter.
No More Countless House-Hunting Road Trips!
With virtual reality in real estate, agents can showcase and sell houses from anywhere in the world. It's like a teleporter that saves time and cuts down on travel expenses.
Save Money
Bye-bye, hefty printing costs, and wasted brochures! Virtual tours are the eco-friendly way to go. Instead of shelling out for fancy print materials, you can provide clients with jaw-dropping 3D virtual tours that they can access from the comfort of their devices.
Homeowner Feels
Feel like a homeowner before you even sign on the dotted line! When buyers experience a property in a fully immersive 3D environment, they start picturing it as their own. You put on a fictitious set of rose-colored glasses that will make you swoon over your future house.
Reach
When you use virtual reality, the entire world is your playground. Due to the disappearance of distance, you may easily draw international buyers and vendors. It's a global open house that attracts buyers from every corner of the globe.
VR in Real Estate: Challenges
In order to work on the solutions and maximize the benefits, it is wise to consider some of the issues facing the real estate sector.
Privacy and Security
Real estate companies handle sensitive data. The data includes any private information on employees, tenants, and vendors. The information must be kept secure, while related tenant and vendor systems must not be accessed.
Technology Adoption Resistance
Resistance to technology adoption is a major problem, and in order to get the most out of workplace solutions, it is crucial to find ways to overcome it.
Cost
Real estate companies must invest in technology if they want to be more technologically savvy. To incorporate cutting-edge technologies, real estate companies must find ways to reduce costs.
Uses of Virtual Reality in Real Estate
Beyond the uses already listed above in benefits, virtual reality (VR) has a huge range of applications. Let's investigate some further:
Real Estate Development and Planning
VR technology lets architects and developers view and fine-tune their plans in a virtual environment. Buildings can be made into 3D models, which can then be walked around to evaluate various elements, including lighting, materials, and space planning. As a result, they are able to make better choices while planning and developing.
Auctions
Auctions of virtual property have grown in popularity in the age of technology. With VR, prospective purchasers may take part in virtual auctions from any location in the world. Through a VR platform, they may visually see homes, submit offers, and participate in a lively auction. This promotes market accessibility and transparency and offers appealing options for real estate investment.
Property Management
Property management and maintenance crews may find virtual reality to be a useful tool. Managers can conduct virtual inspections, spot maintenance issues, and schedule repairs or renovations by building virtual versions of their facilities. Time is saved, inconveniences to renters are reduced, and property management procedures are improved.
Home Staging and Interior Design
VR enables these professionals to present their skills in a virtual setting. By furnishing and decorating homes online, they may produce immersive experiences. Clients can use this to experiment with numerous styles, imagine various design alternatives, and arrive at well-informed conclusions regarding the aesthetics of their homes.
Education and Training Programs
Virtual reality offers a lot of potential for real estate education and training programs. Aspiring real estate agents can become fully engaged in situations like property tours, negotiations, and customer contacts. This practical experience improves learning outcomes and equips students with the issues they will face in the workplace.
Applications in Commercial Real Estate
VR is not just for homes. It has important uses in commercial real estate as well. Businesses can use virtual reality to show prospective customers or tenants of their workspaces, retail locations, or event facilities. They may then see the layout, determine whether the space is suitable for their purposes, and decide whether to rent or buy it with knowledge.
Interactive Property Customization
Interactive property customization options can be provided via virtual reality. In order to assist them in visualizing their ideal house. Buyers can virtually change features of a property, such as wall colors, flooring types, or kitchen layouts, and instantly view the changes.
Architectural Plans
VR technology is utilized to produce lifelike renderings of architectural plans and building designs. In order to help them make more informed judgments before the actual building starts, buyers can tour virtual models of properties that are still in the planning or development phase.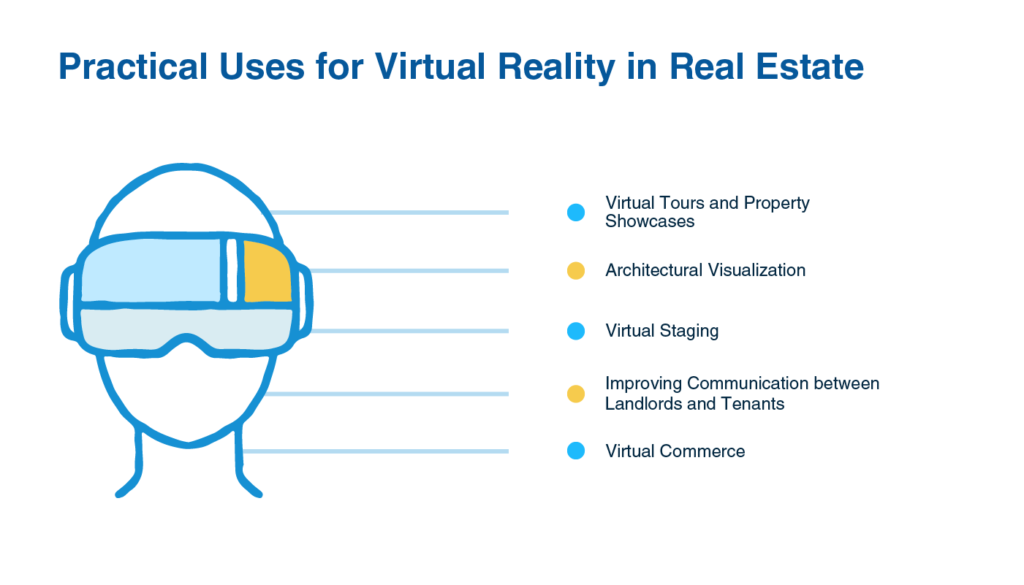 Apps and Software Used
Numerous software programs and virtual reality (VR) apps have been created with the real estate sector in mind. Here are a few well-known examples:
Matterport
Matterport is a leader in 3D virtual tour technology. Using their technology, real estate brokers may create interactive, engaging experiences with houses. Users can virtually go through homes and explore various rooms to get a full sense of the location.
Roundme
Roundme is a platform specifically designed for building and disseminating interactive VR tours. It provides real estate professionals with a user-friendly interface that enables them to submit panoramic photographs, add hotspots for navigation, and build captivating virtual experiences. Potential buyers can easily view properties with Roundme's support for virtual reality headsets.
EyeSpy360
A full VR platform called EyeSpy360 offers tools for building virtual tours and walking through properties. It has features like interactive floor layouts, customized hotspots, and 360-degree photo and video recording. Agents can take prospective purchasers on live virtual tours of properties with EyeSpy360's additional support for live virtual tours.
Cupix
A cloud-based technology called Cupix makes it possible to document properties and create 3D virtual tours. It automatically creates interactive walkthroughs by stitching together 360-degree photographs using computer vision technologies. Cupix provides elements that improve the whole virtual experience, such as measurement tools, annotations, and floor plan overlays.
VPiX
A virtual tour platform that serves the real estate sector is called VPiX. Users can use panoramic photographs to build high-resolution 360-degree tours. In addition to interactive floor plans, embedded films, and hotspots for more information, VPiX offers a variety of customizing choices. Additionally, the platform offers analytics to monitor user activity and assess the efficiency of virtual tours.
Realvision
Realvision offers a range of VR and 3D visualization tools for the real estate industry. Their technology allows users to create interactive virtual tours, floor plans, and 3D models. It also provides 360-degree images and tools for measuring spaces to enhance the viewing experience.
These software platforms are specifically designed to meet the needs of real estate professionals, providing them with the tools and capabilities to create captivating virtual experiences for showcasing properties and engaging potential buyers.
HomesInfra
Perhaps the element of construction and interior design that you dislike the least is that. However, HomesInfra is a fantastic answer for all of your interior design and building-related issues, from start to finish.
Virtual reality's sophisticated technology enables real estate agents to maximize their efforts. HomesInfra provides the best experience as a result. High-quality articles about the issues and solutions in real estate are also included in the app. Install the app if you're new to real estate and read the articles to learn useful information.
iStaging
With the help of this software program, you can create a 30-rendering of any residential or business place so that clients may see it and interact with it. Using augmented or virtual reality (VR) technology, iStaging develops immersive digital architecture. With the use of this program, you may use a smartphone or tablet to take 360-degree pictures of a home that is up for sale. You can also include objects in the 30 images for your clients to see. Augmented reality makes it possible for this to happen. Floor plans may be converted into 30 presentations for your clients with iStaging. Additionally, for better marketing, you may transform the images of any component of your building into 30 models.
VR-All-Art
Real estate and architectural visualization immersive experiences are the main emphasis of the VR platform VR-All-Art. It has features like interactive elements, customizable surroundings, and virtual walkthroughs that may be added to enhance the virtual experience.
Transported
Real estate agents may create virtual property showings and immersive tours using the Transported VR platform. Users can contribute captions, videos, and photographs to provide details and highlight the features of the property.
Examples of VR in Real Estate
Let's have a look at examples of VR in real estate below:
Oculus Venues
Oculus Venues is a technology that enables people to participate in virtual reality during live events like real estate presentations. For distant participants, it offers an immersive and interactive experience.
Sotheby's International Realty
In its property listings, Sotheby's International Realty has adopted virtual reality. They use VR technology to produce realistic virtual tours of expensive properties so that potential buyers may view them from a distance.
Zillow 3D Home
Popular online real estate marketplace Zillow has included VR in its platform. Using 360-degree cameras, their Zillow 3D Home feature lets sellers make virtual tours of their properties that give buyers an engaging viewing experience.
REWIND's Real Estate VR
A creative company called REWIND provides virtual reality solutions for many different industries, including real estate. For real estate developers, they have created virtual reality experiences that let prospective buyers tour new properties before they are really built.
Redfin
Another well-known real estate firm, Redfin, offers a VR walkthrough option for certain of its listings. Buyers can virtually explore properties offered on the platform using VR headsets or other compatible devices.
REA Group
Australian real estate firm REA Group has incorporated virtual reality technology into its home search process. Users get access to VR property tours, which makes listing exploration more engaging and immersive.
VR in Real Estate: A New Era of Captivating Experiences
Virtual reality's adaptability creates a wide range of opportunities for the real estate industry. VR keeps reshaping the business by improving experiences, boosting productivity, and extending opportunities across design, development, marketing, and education. Moreover, we can anticipate many more cutting-edge applications that will revolutionize how we interact with real estate as technology develops and VR becomes more widely available.
Featured Image: Entrepreneur
---