Marketing dynamics have shifted tremendously in the past decade. From digital to influencer marketing, brands have encouraged the adoption of these techniques. Similarly, when we talk about social media apps, Snapchat comes to mind. Speaking of marketing, at one time Snapchat was considered an app with lots of filters to play with. However, brands soon realized its potential and its growing user base. It's no longer an app with disappearing messages; the app is now being used by brands to grow their businesses.
Moving forward, in this article, we will discuss some Snapchat marketing ideas and techniques.
Snapchat: An Overview
Before you learn how to leverage this tool for marketing, let's have an overview of what Snapchat is. Snapchat is a short-form video creation app. With trendy and quirky filters, you can send videos and text messages that disappear in seconds. Now, the app has introduced a 24-hour photo or video replay feature. Its instant disappearing feature makes it the perfect platform to share authentic content.
Snapchat Marketing
Video content marketing has surpassed other forms of marketing. Due to its rising popularity, Snapchat has become a friend of many businesses. It helps build relationships with mobile users. But for effective marketing on Snapchat, you don't need to just sign up and start marketing. You must understand your marketing objectives, target market, budget, and channels.
The app is suitable for lifestyle brands because it is more committed to temporary snaps and quirky filter-enabled content. For example, apparel, fashion accessories, food, travel, and fitness. When you navigate to Snapchat's "Discover" option, you will find plenty of stories related to these industries. Too professional businesses will only get disappointment from such a platform. If your business's product resonates with your customers' daily life needs, it is the right platform.
Why Is Snapchat Important for Marketing?
As we discussed above, its disappearing feature creates curiosity among followers. It provokes the fear of missing it on the snap. Here are some benefits you can get from Snapchat marketing.
Content expires quickly, and your followers can't access it after a certain time. It creates urgency to see the content. So, it ensures that marketing content cannot be missed on Snapchat.
Its editing options are amazing. You can, for example, add current location, time-based filters, and use lenses to draw attention. Influencers at store venues also use branded filters for business promotion.
You can set a specific group of followers to receive branded snaps.
Snapchat focuses more on creative ideas over quality. Unlike Instagram, you must be flawless from every angle in order to promote your brand. In Snapchat, however, it is the opposite, which makes it more natural.
Speaking of Snaps, 'Snap Ads' have a 5x higher click rate than the average click rate on other social media platforms. Since it has a high swipe-up rate, it makes it easier to promote business. To create hype through a Snap Ad, you must start the process a week before your launch date.
Snapchat Marketing: Statistics
Here are a few statistics you need to know that highlight the opportunity to market on Snapchat.
Snapchat has currently more than 300 million monthly active users.
Average number of Snaps created daily is 3 billion.
More than 20% of US social media users use Snapchat.
Snapchat has more users than LinkedIn, Twitter and Pinterest.
An average Snapchat user uses the app almost 20 times in a day.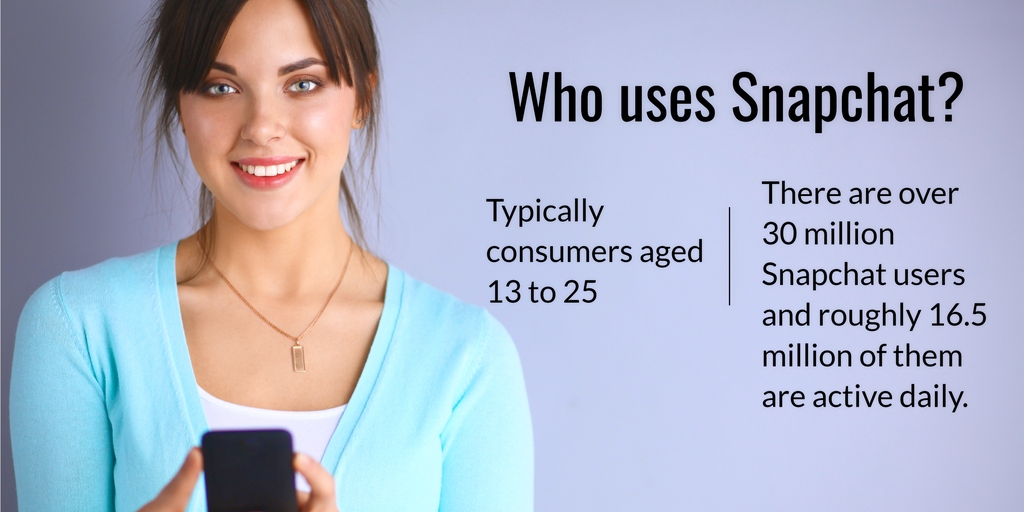 How to Use Snapchat for Marketing?
For a business account on Snapchat, you don't need to go through details about your email, birthday, and more. It means your professional account is not different from your individual one.
Once you've signed in, let Snapchat's Business Manager feature do the rest for your business. The feature allows you to run ads, get analytics and insights, and more.
To enjoy the seamless marketing experience on Snapchat, you need to set up a business account.
Best Tactics For Snapchat Marketing Strategy
Following are some of our recommended tactics for working your way out Snapchat marketing strategy:
Behind the Scenes (BTS)
It is one of the most common tactics to promote your products and services before their launch. Posting BTS videos allows the audience to experience the journey the product went through to make it a success for the customer. Such videos are usually organic and authentic. If it has a celebrity appearance, it creates more curiosity and makes the audience feel connected.
Takeovers
You might have found influencers appearing on a brand's official Snapchat account. Well, that's a Snapchat takeover to promote brand accounts. For example, a brand might arrange these takeovers in advance for promotion and pay the influencers. It builds up a brand's following and generates trust among customers. It is usually used for store raids and launch events to boost engagement and outreach.
How-To-Videos
How-to videos are an exceptional form of customer support. Creating these short instructional videos helps customers understand the technical aspects of the products. For example, sales reps can provide tutorials about the most popular searches about a product. How-to videos should be crisp and interesting so that they catch attention.
Posting User-Generated Content (UGC)
Posting screenshots of reviews and testimonials from your customers can boost trust in your brand. It is the best way brands use Snapchat for marketing. They ask customers to send in their reviews of products and services. Also, they encourage them to mention the brand's name in their snaps. The most common application of this strategy is to link it to a giveaway contest. The best review and tutorial win the prize to create additional interest and attract more submissions.
Best Tips for Successful Marketing on Snapchat
If you are looking to use Snapchat for marketing, you must take time to strategize. Here are some quick tips you can implement to make your marketing efforts a success.
Always Plan Your Content
Snapchat marketing necessitates the development of a comprehensive strategy and plan. Plan your content, its type, format, and timeline; this will help you understand what and when you need to post. When you have everything prepared in advance, it helps you create quality content for your audience.
Post Content Regularly
Consistency is an important aspect of marketing. If you want to make your marketing stand out from the competition, you need to get rolling every day. Be in the eyes of your audience whenever they open Snapchat. This way, your brand will interact with the audience and help you build a following.
Be Creative—Build a Narrative
Snapchat stories are great vehicles for building a narrative. For example, for your new product launch, you must offer a personal touch to your marketing. A 15-second series of snaps can't sum up the detail that your product possesses. If it has a unique feature, create different snaps for specific features.
Use Both Images and Videos
To make the most of your Snapchat marketing, use both images and videos. If one thing is unresponsive, other things can attract followers and get engagement. It increases engagement and makes brands come alive in the eyes of the audience. Using multiple multimedia formats would not hurt when there are billions of views in a day.
Is Snapchat Effective for Marketing?
As we understand Snapchat marketing in depth, is it effective for marketing? Brands with a lifestyle niche can flourish in their marketing efforts by using Snapchat intelligently. It is about how you take your creativity to the next level to make it successful. One of the best ways to use Snapchat for marketing is to use business filters and influencers to promote your products and services. If your target audience is on this platform, start creating snaps and bless their feeds.
Featured Image: Webappick
---