People love to experience things before making a purchase. Creating fun and engaging experiences help brands to connect with the audience. Offering the right experience ensures that customers want to learn more about your product. Regardless of any technique, it's always about the experience itself. This whole marketing process comes under the umbrella of experiential marketing. This marketing strategy invites audiences to experience products and services in real-time. The idea is to create tangible experiences that have a lasting impact on the consumers. 
Understanding Experiential Marketing
Experiential marketing campaigns offer prospects or potential customers with real-time experiences. The purpose of this type of marketing is to raise awareness, build loyalty and increase conversions. The experiences are either offline or online.
In recent years, more opportunities have emerged for experiential marketing. For example virtual experiential marketing. After COVID-19 pandemic, many businesses have chosen to offer virtual experiences. Virtual experiential marketing as the name implies, allows the customers to experience virtually. Whereas offline experiences include events like trade shows, live on ground events and conferences.
When we talk about event-centric experiential marketing, it's not festivals or concerts. It's more about interactive sessions between a brand and consumer.
Experiential Marketing Vs Traditional Marketing
Traditional marketing aims to focus on advertising and selling products and services. The ultimate target is always selling a product rather than offering the opportunity to experience the product. As we know marketing has taken to the next level. Personalization is becoming a norm in every business. To provide personalized experiences, brands engage audiences through experiential marketing. This marketing goes beyond just selling a product. It provides an opportunity to the people to experience the product in real-time in both tangible and virtual ways. These experiences leave a lasting impact on people's buying decisions.
Contrary to traditional marketing, Experiential marketing meets customers on a personal level. Additionally, customers' experiences have taken a large role because of massive information available on the internet. People can now experience products with just a click.
Why Is Experiential Marketing Important Today?
Experiential marketing is refreshing and allows brands to boost loyalty among customers. It helps brands to make a lasting impression and closely know its audience.
Additionally, you don't always have to take part in experiential marketing. Sometimes, a word-of-mouth makes a big difference and works the same as you have experienced in person. For example, an ice bucket challenge took social media by storm. It was an experiential marketing campaign to bring attention to Amyotrophic lateral Sclerosis disease. People in large numbers accepted and experienced this challenge.
It is also important because it turns customers into promoters. Experiencing the product generates organic reviews. So, when people experience the product, they share it on their social media platforms. Marketers never want to miss the opportunity to generate organic content. 
Types of Experiential Marketing
Product Showcase Event
It is the most common type of experiential marketing. Before the pandemic, we used to experience products in real-time both in a tangible way. The idea is simple, you have to set the stage for users and place your exclusive products to experience. Some brands hold events on exclusive spots with specific guest lists. While others choose malls and public places to grab the attention of the audience.
Brand Activation
It is more like a product activation. This type of marketing takes place when a new product is launched. It helps brands to showcase their product and services. For example, if we discuss the launch event of Samsung new Note series, it allows audiences to experience the product. This activation event enables brands to interact with the people and to let them see the best offerings of your brand.
Pop-up Shops
This marketing technique is used to interact with your customers in real time. The ideal places to consider arranging these shops include:
Empty storefront
Art galleries
Trade shows
Arranging these activities is fun and can reach wider audiences. Let's take an example of the ever-famous TV show 'Game of Thrones'. The popular donut shop 'Dunkin Donuts' used a famous tagline of the show 'Winter is coming'. The shop placed hanging on their doors on the first day of winter. As a result, people got attracted to their brand and it ultimately improved their sales.
Festivals
Festivals are another way to experience products and services. But how? Now brands capitalize every opportunity to be in the game. Festivals and carnivals attract a large number of people from different demographics. Companies sponsor the whole or part of events. Sponsoring events allow companies to create awareness and generate leads. It is also an effective form of experiential marketing.
Guerilla Marketing
It is an experiential marketing strategy in which companies use unconventional ways to promote their product and service. The purpose of this type of marketing is to generate curiosity and deliver the message to a wider audience. It relies on inventive terms to elicit surprise and shock about the product or brand. It is highly effective to create publicity.
How to Develop an Experiential Marketing Strategy
Know Your Audience
For every strategy, you need to know your target audience. Some companies generate ideas and want to offer something unique to the customers. Well, uniqueness is good, but does your product resonate with your audience? Marketers spend a lot of time trying to figure out the answer to this question. Make sure you know the important element of your strategy, your audience. Know who your ideal buyers will be and what type of marketing a brand requires. Once you know your audience's interest and preference, you will be in a position to create effective experiential marketing strategy.
Set a Clear Message
Unclear message is more like traveling without knowing your destination. Your experiential marketing campaign and your message must entail brand's values and style. Whatever product you choose to market, it should not compromise on the message.
Develop a Valuable Campaign
When developing a marketing strategy, you must keep in mind that your campaign provides value to the potential customers. After the pandemic, the lifestyles of millions have changed dramatically. People want to experience something educational that adds value to their lives. So, brands must keep campaigns close to customer's preferences and create humanized content.
Engage People With Campaign
To achieve increased engagement, you need quirky and fun elements so that it grabs people's attention. Experiential marketing is all about experiences, keep it unique so that it brings fun to the people.
Set a Budget
You need to set a realistic budget for your marketing campaign as we know experiential marketing budgets fluctuate. For example, for a week-long brand activation, it includes logistics, moving parts and food costs for the teams managing the campaign. Similarly, large scale events have to bear the costs of location, food, event management and others.
Use Cross Channels Marketing for Your Campaign
For effective and bigger ROI, you need to implement a cross channel marketing strategy. It means, the campaign should not be restricted to the physical location only. When your campaign is active, you need to use tools to go online on your social media platforms. Your event/campaign needs to be experienced by a wider audience.
Examples of Experiential Marketing
The reason for the success of business relies on having strong connections and productive experiences. Experiences help brands establish loyalty among customers and make campaigns successful. Let's find out how brands have strengthened their connection with their audience.
Red Bull SkyDiving Stunt
Red Bull is known for its strong and fierce characteristics. The brand has always been seen taking part in sports events, especially 'Formula One' racing events. Lately, the brand pulled off the reins of impossibility and set a branded mission. The campaign was aimed to deliver the brand's message 'Red Bull gives you wings'. It sent the sky diver to the highest ever point to free-fall. The goal was to break the skydiving record with Felix Baumgartner. The event was live streamed on a YouTube channel and smashed records for live viewing and obtained more than eight billion viewers. 
KFC x Jack Harlow
You might be wondering what KFC – Jack Harlow have in common? Yes, the fried food chain wanted to attract younger customers. Considering this, the brand partnered with Grammy winner Jack Harlow and launched a food truck. The truck first appeared on Jack's first hometown show. Later, large trucks showed playing tracks of Harlow around the city. This impressive campaign gained audience's interests and generated big ROI for the brand.  
How Apple Integrated Experiential Marketing into its Strategies?
Taking the effectiveness of experiential marketing into account, Apple took the customer experiences to the next level. The brand had to survive even though it was hit hard by the deadly pandemic all over the globe. It decided to adopt this strategy and offered an immersive virtual experience for its new products. The aim was to offer a real time experience to the customers to enhance their loyalty.
As an established brand, Apple believed that its customers will be its driving force. Offering such experiences, it has observed that its customers have become an advocate for the brand. Also, whenever customers enter the store, they are stimulated by the experience. They are welcomed in a pleasing way in their store. As a result, Apple achieved more footfall in their stores.
Moreover, in order to show what Apple can bring to the table, it created a 'genius bar' to improve its customer experience. 
M&M: Flavor Rooms
Here's another colorful and sweet example of experiential marketing campaigns by M&M.
The company set up pop-up shops in New York for people to choose the next flavor. The rooms were set up in different colors with quirky decors and exotic fragrances for each flavor. People who were passionate about this candy brand experienced that campaign. People enjoyed and shared their experiences on their social media. It generated curiosity and built more audience for the brand.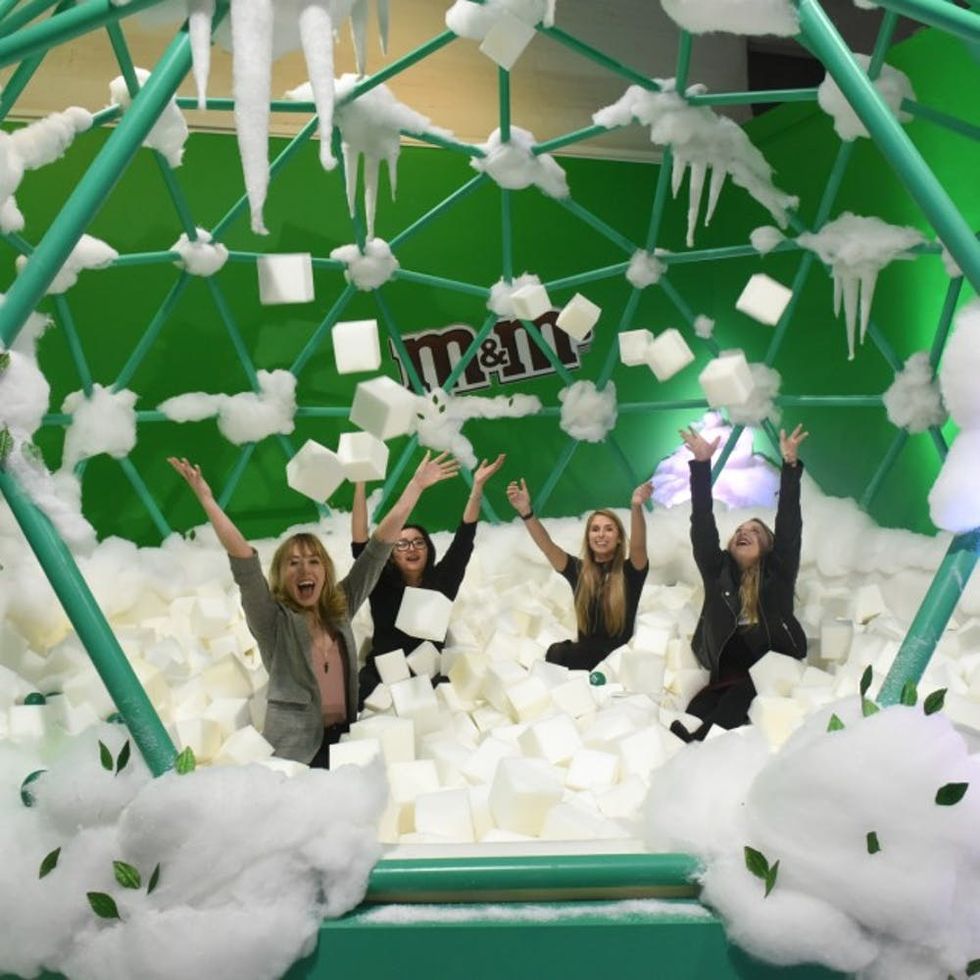 Nike Streamlined Shopping Experience for Walk-in Customers
In today's fierce competition, Nike used experiential marketing in its marketing strategies. It opted to offer personalized experience to its customers' stores. So, the brand went beyond just athletic wear. It created in-store experience zones equipped with treadmills, basketball courts along with professional coaches to help customers in their shopping journey. For deeper understanding, let's take an example, if a person wants to buy shoes for the gym, they would use a treadmill to see how it works in real life. Offering real time experiences have generated customer loyalty and trust for the brand. 
Benefits of Experiential Marketing
Experiential marketing has become a buzzword for brands to foster memorable experiences for their consumers. Here are some benefits that are making a difference in marketing campaigns.
Creates Brand Awareness
This engagement marketing helps companies create brand awareness. Brands want people to know about their values and mission. They achieve this with the help of experiential marketing. Offering such activities help build relationships with the consumers and create awareness at the same time. One of the best ways to make your message more relevant is to know your audience.
Builds Positive Brand Image
We all believe that the first impression is the last impression. Brands work hard to create unforgettable impressions. Brands create experiences memorable with visual elements, interactions, activities and giveaways. When these measures are taken properly, it leaves a lasting impression on consumers.
Consumers Experience Products Directly
Experiential marketing provides an opportunity to try before you buy. Establishing experience zones for consumers enables them to experience products firsthand. When consumers experience products in real time, brands can get feedback instantly.
Increases ROI
It creates awareness, loyalty, drives leads and boosts conversions. When consumers experience products in real time, they make decisions instantly. As a result, it leads to more purchases and growth of business.
What Makes an Experiential Marketing Campaign Successful
Following elements makes experiential marketing successful.
When the brand is well represented, on-point and relevant campaign messages.
When experience is remembered by people. Engage audiences in unexpected ways to create curiosity. Deliver best beyond conventional advertisements techniques.
When the experience is measurable, it means knowing the head counts, post-event survey checklist. The event could be measured through social media by tracking designated self generated hashtags.
Enhance Customer Loyalty Using Experiential Marketing in 2023
Now, we know about how experiential marketing works, it is equally important to know how it will work in 2023. As experiential marketing is all about experiences, it comes with activities and events. However, this year, marketers will carry these experience zones to the next level with the help of advanced AI tools. Though tangible experiences play a great part in influential marketing, virtual reality and AI will take this to the next level.
Additionally, this marketing helps customers make valuable yet memorable experiences with the brand. It creates a likelihood of increased loyalty and brand advocacy in future.
Featured Image: Peekage
---