In the past few years, we have seen a rising popularity of influencer marketing. More brands are adopting this creative yet impactful practice of attracting sales and increasing awareness. Brands have been using this technique in their marketing campaigns to get the best ROI. The global influencer market is expected to rise by $22 billion in the coming years. So, if you want to increase your audience, generate new leads, and increase sales, you need to jump on these influencer marketing trends in 2023.
What Is Influencer Marketing?
Influencer marketing is a type of unconventional marketing that comes from influencers for brands. Influencer marketing's main aim is to endorse products for brands to create awareness and promote their brands. As we live in the age of social media, influencers are someone who are trusted the most by their followers. Influencers use their social platforms to make recommendations and engage their audiences. It makes it easy for the brands to develop a relationship with customers in a less expensive way.
10 Top Influencer Marketing Trends to Watch in 2023
To know what's coming for the influencer market in 2023, you must stick with the article. Here we will discuss and shed light on upcoming influencer marketing trends.
TikTok Will Offer Advanced Features
TikTok has been the most popular influencer's platform. The short-video platform has promised to offer unique features for influencers. There will be more actionable features to increase sales in the most entertaining way. With a more formal advertising network, brands are rushing to use the services of influencers on TikTok. This will lead to an increase in marketing on TikTok this year. Brands that are targeting youth or Gen Z will likely hire services from this platform.
Influencers will use those features to create engaging and personalized videos. Using new features will enable influencers to draw more attention by offering solutions.
Hashtags Will Stay
Hashtags are important to increase reach. They take the reach of videos to the next level due to their searchable capabilities. Including hashtags in your content means that you are part of the viral conversation happening on social media. It increases video engagement and ultimately drives sales. Some popular hashtags to get most reach for your videos include:
#StoryTime
#POV
#ExpectationsVsReality
#MustHaves
#TikTokMadeMeTryIt
#FactOrCap
Specified Niches
Brands will look for more specialized niches. Finding a specific niche has long been advised for influencers. Not every influencer is capable of endorsing a specific product or service. Making niches specific will help brands scrutinize influencers and make better decisions.
Influencers will need to strike a balance between creativity and intrusiveness. With extreme targeted content, customers might feel it is exaggerated. For example, if an influencer is endorsing beauty products and cryptocurrency at the same time, it is a big deal for audiences. A specialized niche is important as influencers have their own specific audiences. Brands will expect relevancy, connection from their partnership. So, it is expected that businesses will likely make offers to the influencer with a specific niche.
Live Influencer Streaming for Shopping
Brands collaborate with influencers for live commerce and shopping. Influencers live stream the products and attract audiences to buy specific products. When an influencer's followers get into the live stream, they know about the product and the brand. Also, with the help of live stream shopping, influencers are given leverage to introduce their own shopping codes to get discounts.
Brands offer exclusive discounts and free shipping to followers of influencers. This helps brands attract sales and increase the revenue stream for their campaign.
Stricter Regulations for Influencers
As we have seen a rise in popularity for influencer marketing, it comes with challenges too. Now social media platforms as well as state laws direct influencers to clearly state the advertisement. Influencers, for example, must state that a brand has sponsored them. These laws come into consideration when influencers are found selling good but inappropriate products.
Considering the major impact and power of IM, more regulations will be introduced by the state. Influencers will be required to abide by the regulations set by the authorities. We have seen a positive attitude among influencers towards following rules and regulations.
Breakthrough in Podcast Content
The audio now gets more advanced than just listening to the radio. Audio content has made a breakthrough in the last few years in the form of podcasts. Influencers are taking this stage to the next level. Podcasts are one of the most popular yet rising trends in influencer marketing.
Podcasts are becoming essential food for marketing. Influencers using platforms like YouTube, Amazon, and Spotify host interesting podcasts. Brands reach out to influencers hosting podcasts to feature their product in their recordings. Brands choose specific slots to feature their products. Influencers charge brands either for running the ad or simply educating about the product within a specific time slot.
Influencer-to-influencer Collaboration
There will be an upward trend in this type of collaboration. When influencers collaborate on a project, everyone benefits. Such collaboration helps other influencers create a fan base. It also helps in building engaging content for the brand to reach a wider audience. When the followers of both influencers sign in to their live stream, it increases the number of views. Hence, it drives more engagement.
Demand for Micro- and Nano-Influencers Will Rise
In contrast to mega influencers, nano and micro influencers are more niche-focused. These influencers have an authentic yet loyal fan base. Considering this, brands will likely collaborate with small influencers. These influencers usually promote brands' products and services. This way, brands spend less, get more reach and engagement, and build trust among customers. Because of their niche-focused content, brands reach this group of influencers to increase conversions.
Brands will choose a number of small influencers over one mega influencer. Choosing multiple influencers increases the reach of content, which results in increased revenue. One other great factor for choosing this pool of influencers is that they charge less.
Long-term Influencer Collaborations
Influencer marketing has been a thing for the past few years. However, brands have realized their importance after achieving company objectives. It is expected that brands and influencers will collaborate for the long term. It is like a brand ambassador. A brand ambassador serves the business for years or months.
Employees as Influencers
More lifestyle brands will look for employees with charming and confident personalities. In pursuit of authentic promotion, brands will use employee's social platforms for promotion. As employees are company workers, they will likely take part to update their profiles with the company's product and services. This way, it promotes authentic content and builds customer's trust for the brand.
Are You An Influencer ? Check Where You Fall In Following Categories
Nano Influencers (1K – 10K Followers)
Micro Influencers ( 10K – 100K Followers)
Macro Influencers (100K – 1M Followers)
Mega Influencers ( 1M + Followers )
Influencers According to Niche
Gaming Influencers
Beauty Influencers
Fashion Influencers
Sports & Fitness Influencers
Photographers
Bloggers & Vloggers
Travel
Parenting Influencers a
How to Identify Fake Influencers
With advanced tools and technology, it becomes easier to identify fake influencers. One of the best ways to identify fake influencers is by their following, impression and whom they follow. Their following is often fake, generated and boosted by using tools. They usually don't have organic reach and impressions are drastically lower than original followers.
Also there are other factors which can help you identify fake influencers that include, comments and engagement rate. You must be careful when selecting influencers for your campaign. They can ruin your strategy and also you will likely lose your money.
Quick Tips to Find Authentic Influencers for Your Campaign
Nowadays, everyone is popping out as an influencer. With auto-generated followers, they claim to have a huge follower base. That's not true, and don't get misled. Here are some quick tips for picking the right influencer for your next marketing campaign.
Choose Your Niche
Before you jump into choosing the influencer pool, first you need to determine your niche. If your brand is tech-focused, opt for tech bloggers. Doing so will help you reach the targeted audience.
Look for Relevance
Relevance is another way of choosing the right influencer. For example, don't look at the number of followers; rather, pick the one whose interests, values, and followers resonate with your brand. So, do not pick a beauty influencer when you are promoting new keto foods.
Consider Following
The next step is important, yet it needs proper consideration when choosing an influencer. Make sure the follower count does not influence you emotionally. Check the followers using different tools to see if they are authentic or worth investing in.
Know Your Campaign Goal
Different campaigns have different goals. For example, if your goal is to create awareness, then mega- and macro-influencers will be beneficial for you. Or if you want to focus on your target audience, micro- and nano-influencers will increase conversions.
Check Engagement Rates
Engagement is one main factor in driving more conversions. Before you utilize influencer marketing services, check the engagement rate of previous posts. Influencers promote brands every other day; it's always a good idea to assess the traffic and engagement of previous campaigns. The metrics you'll get will help give you visibility into your engagement rate. You can use tools or hire professionals to look over this task.
5 Best Successful Influencer Marketing Examples
The trend of influencer marketing is gaining traction among businesses. Here, we have picked some top examples that have proved influencer marketing is the future.
Dunkin' Donuts X Charli
Dunkin Donuts has been active in engaging influencers in its campaigns. In 2020, DD started a social media campaign for its limited edition coffee drink inspired by the favorite drink of Charlie D'Amelio. Charli, the most followed person on TikTok, has over 140 million followers. DD launched a coffee drink with the name 'Charli," which consisted of brewed coffee, milk, and caramel syrup. Charli announced the product on TikTok by creating different videos around it. She posted different content pieces with the hashtag #CharliXDunkinContest. The overall campaign was a big hit and increased sales by 45% the day it was released. Also, the company witnessed a more than 50% increase in app downloads.
It proves that influencers are becoming key growth drivers for businesses.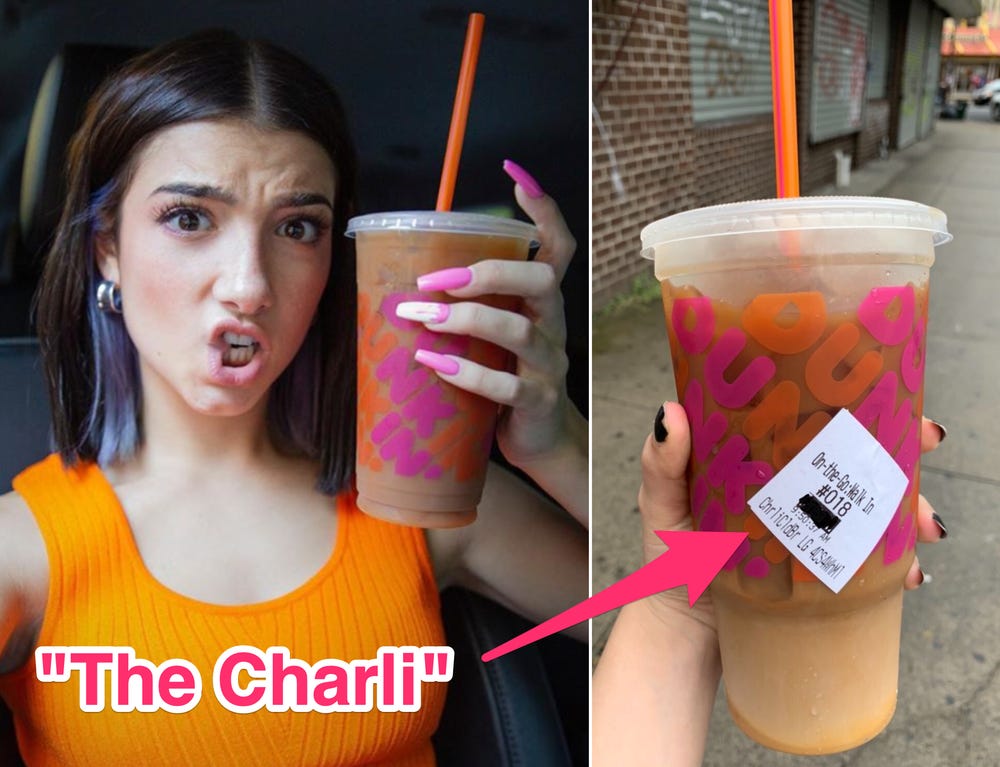 Benefit Cosmetics X Crocs
It is evident that when we talk about influencers, the first thing that comes to mind is beauty bloggers. However, to some extent, this is true. You can find countless beauty and fashion influencers on social media who are doing well. The Benefit cosmetic brand didn't miss the opportunity to utilize those astounding influencers. Benefit partnered with Crocs (a sandal brand) for a campaign led by some top MUAs. Manny, the known beauty influencer with over 4 million followers, worked strategically for the campaign. The campaign was about a challenge to use benefit cosmetics while wearing Crocs on your hands.
The purpose of this challenge was to raise awareness of the new blingy limited edition Crocs. The challenge campaign received over 6 million views on TikTok.
It shows that choosing the right influencer comes with many advantages for businesses.
Levi's: Buy Better, Wear Longer
Levi's influencer marketing campaign is another great example of IM. Considering the rising environmental concern, the brand came up with sustainability. Gen Zers are well versed in and aware of environmental problems. That's why they demand more sustainable products. Levi partnered with rapper Jaden Smith and influencer Emma Chamberlain. The campaign aims to raise awareness about sustainability and encourage buyers to shop for recycled products.
Emma Chamberlain has over 11 million YouTube subscribers and 14 million on Instagram. Whereas, Jaden Smith has over 17 million Instagram followers and 8 million on Twitter, demonstrating genuineness in his content.
Sony PlayStation Virtual Reality Headset
Sony launched an influencer campaign for its virtual reality headgear. The company hired some top gaming influencers to launch the campaign. It included micro-nano and mid-tier influencers from Canada.
The aim of the campaign is to provide seamless gaming experience to the users using Sony products. Each influencer used to post one static and one video loop for the product. Influencers took great part in it by creating fun, engaging content while using VR.
The designated hashtags for the campaign were #PlayStationVR #ITriedPSVR and #PSVR for Instagram. The campaign generated great ROI on its investments on influencer campaigns. It received more than a 4% engagement rate.
McDonald's x Travis Scott (Cactus Jacket)
McDonald's partnered with Travis Scott (an American rapper) to promote his favorite meal from the burger chain. The month-long campaign promoted a meal consisting of a quarter-pounder with cheese, bacon, and lettuce. The meal also came with medium-fried vegetables and a BBQ dip.
The campaign also promoted merchandise introduced by Scott inspired by McDonald's. Scott launched a new line of merchandise under his label, Cactus Jack. The range of merchandise was quite expensive. The items included a t-shirt, lunch boxes, socks, a nuggety body pillow, and more. Both brands supported charitable contributions throughout the campaign.
Increase Sales With Influencer Marketing Campaigns
As we understand the upcoming influencer marketing trends, you can use them to translate your efforts into revenue. For businesses, making the right choice requires diligence. Brands need to adapt to changing trends. For impactful results, you need to take a look at "How to Choose the Right Influencer."
The use of AI will also assist in assessing the campaign and identifying if the influencer delivered as per expectations. This way, you will pick the best candidate for your next marketing campaign. If the collaboration does well, e.g., by increasing brand awareness and conversions, you may take the partnership forward.
Featured Image: Influencer Marketing Hub
---